Earlier today one of the most sought after collectables for the C64 computer was unearthed from storage: the CMD RAMLink by Creative Micro Designs. This unit has 4 Mb installed (can be upgrade to 16Mb) and works great: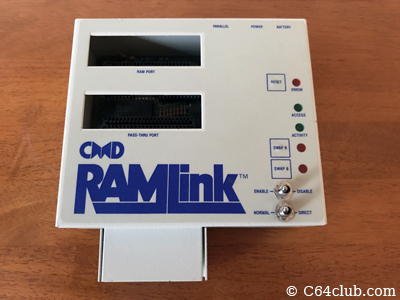 This unit was buried in a box that had a ton of random stuff that was picked up about 5 or 6 years ago in a large Commodore lot of hardware and software. Sometimes boxes of items are donated or purchased in lots and we don't always know what we'll find inside.
The RAMLink was one of several RAM expansion products made by Creative Micro Designs (CMD) for Commodore's C64/128 home computers. The RAMLink was intended as a third-party alternative, successor and optionally companion to Commodore's own 17xx-series REU RAM expansion cartridges.

Provides its own copy of JiffyDOS, allowing accelerated operation with any other JiffyDOS-equipped disk device, as well as shorthand commands (DOS Wedge) to conveniently access any other connected storage devices.
The CMD RAMLink includes drivers to allow GEOS to use its memory as either a replacement for swap space or as a regular 'disk' drive. Fun times ahead!
If you're are interested in retro computer or video game items going to a good cause by making a donation to help support the club, please let us know by using our contact form.