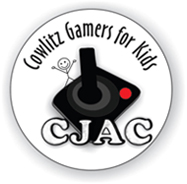 Hey Commodore friends, it's time to mark your calendar, the 3rd Annual Cowlitz Gamers for Kids Classic Video Game Show is happening April 28th in Kelso, WA.
Cowlitz Gamers for Kids will be on Saturday, April 28, 2012 at the Three Rivers Mall located in Kelso, Washington.
The event will take place inside the mall in the space formerly occupied by Emporium. Kelso is about 1 hour north of Portland or 2 hours south of Seattle on I-5.
Three Rivers Mall 351 Three Rivers Dr. Kelso, WA 98626 – get directions and see map.
Doors open at 10:00 AM until 5:00 PM. Admission is a suggested donation of $5.00 USD to CJAC, although we invite you to contribute more if you can! The event is child-friendly so please feel free to bring the entire family!
Showing our support for the Childrens Justice and Advocacy Center:
The Commodore Computer Club is a confirmed vendor and 50% of the proceeds we earn at our booth will be donated to the Childrens Justice and Advocacy Center (CJAC).
If you're looking for great deals on Commodore computer items, other retro gaming stuff like Atari, Nintendo, etc., and want to help a good cause, be sure to stop by our vendor booth.
About the Children's Justice and Advocacy Center:
It is CJAC's mission to provide children who have experienced sexual or physical abuse a coordinated community approach to investigation, prosecution and treatment that promotes their safety, healing, and well-being. CJAC is operated out of the Cowlitz County Prosecutor's office.
What Can You Expect:
The show will be held in a much larger 20,000 square foot venue this year. Like last year it will feature classic video game vendors, a freeplay gaming arcade, and a video game tournament.
Freeplay Arcade and Video Game Consoles:
The freeplay arcade will be bigger than ever with tons of classic consoles and, new for this year, full-size arcade cabs!
Full-Size Arcade Games!
This year's show will feature at least 8 full-size retro arcade games, all set to freeplay! It'll be like the 80's all over again. Arcade games are provided to the show courtesy of Minus World.
Classic Game Tournaments:
One tournament announced so far: R.C. Pro-Am for Nintendo Entertainment System.
Charity Silent Auction:
Several sponsors have donated classic gaming systems for a silent auction. All attendees can participate. The auction runs from 10:00 AM when the doors open until 1:00 PM. Simply write your name next to the bid you want to make on the bid sheet. Highest bid at 1:00 gets to purchase the item. All proceeds from the auction go directly to CJAC.
Expect a lot of good deals on classic video game merchandise. In addition to outside video game vendors, there will be T-shirts and other merchandise specifically made for the event that will also be sold specifically to support CJAC.
For more information and up-to-date changes and additions to the 3rd Annual Cowlitz Gamers for Kids Expo, feel free to check out the official Cowlitz Gamers for Kids page powered by the Portland Retro Gaming Expo.
If you like this post, please consider subscribing to our full RSS feed. Be sure to also Like Us on Facebook and Follow Us on Twitter.