Greetings program! On April 12, 2010 the Commodore Computer Club and Users Group AKA the C64 Club was founded in the Vancouver, WA – Portland, OR (PDX) area.
The C64 Club is looking for like minded people with an interest in Commodore computers. If this sounds like you, please read on…
Mission:
If you have an interest in the Commodore 64 (C64), SX-64 and Commodore 128 (C128) and all the various hardware that comes with that, like 1541 disk drives, modems, 1702 monitors, etc, then the Commodore Computer Club and Users Group is for you.
We also discuss the Commodore Amiga, VIC-20, Commodore 16 (C16), Plus/4, CBM PET and even the C64 Direct-to-TV (C64DTV) designed by Jeri Ellsworth. If it's Commodore related, we discuss it at our meetings.
The goal of the club is to have monthly meetings and discuss cool things that are still happening in the scene as well as share project ideas or concepts and to inspire each other for new ones.
Membership Information:
Currently, membership into the Commodore Computer Club and Users Group is free, but dues may be collected in the future. We do accept donations.
Donations:
We gladly accept donations to the Commodore Computer Club which can be in the form of money (cash, checks or PayPal), hardware, software, books or magazines.
If you're interested in making a donation to help support the club, please contact us.
About The Founder: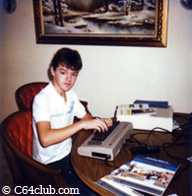 For a little background about myself, I've been involved with the Commodore 64 computer for over 30 years now, basically since I was a little kid (see picture to the left).
I received my first Commodore 64 back on Christmas morning, December 1983 from my grand parents.
Prior to getting my own C64 computer, I had been using Apple II Plus and Apple IIe computers in Elementary school. I really enjoyed programming with Logo back then.
In the early 1980's I was a Sysop and ran various BBS's and did a lot of programming on and for the Commodore 64 computer. I was also a founding member of USA (United Sysop's Association), a group of like minded BBS operators.
Fast forward to present day and I'm still plugging away on my original C64 and doing repairs for family, friends and of course club members.
Copyright:
All website content with the exception of private works and corporate trademarked logos are the property of Commodore Computer Club (USA) unless otherwise noted and may not be used without express written permission.
Final Thoughts:
The Commodore Computer Club and User Group meetings are open to anyone with an interest in Commodore technology. Our attendees come from a wide variety of backgrounds, and all are welcome. Come to learn, come to share. It's all for the love of anything Commodore related.
Thank you in advance for your time and consideration.