It's time to showcase all 12 Activision cartridges officially released for the C64 computer that are now in the Commodore Computer Club's personal collection: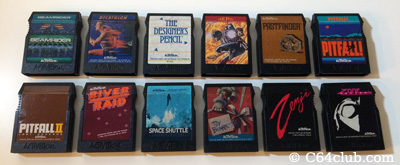 For those who might be wondering, H.E.R.O. was the last cartridge needed to complete the Activision set. Finding it CIB back in early 2016 was just an added bonus.
If you are wanting to complete this set yourself, you should be aware that H.E.R.O. and Pastfinder were probably two of the hardest Activision cartridges to track down for the Commodore 64.
Below is the complete list of the Activision games included in this totally rad collection:
Beamrider
Decathlon
Designers Pencil (Garry Kitchen)
H.E.R.O. (John Van Ryzin)
Pastfinder (Tim Wilson)
Pitfall (David Crane)
Pitfall II: Lost Caverns
River Raid (Carol Shaw)
Space Shuttle (Steve Kitchen)
Toy Bizarre (Mark Turmell)
Zenji (Adam Bellin)
Zone Ranger (Dan Thompson)
Fun fact: Founded in October 1979 by David Crane, Activision was the first third-party video game cartridge publisher.
OK, now to go play some Activision C64 games on cartridge…
If you like this post, please consider subscribing to our full RSS feed. Be sure to also Like Us on Facebook and Follow Us on Twitter.