Recently I acquired a beautiful Commodore Amiga A600 NTSC computer with hard drive (A600HD) that's in perfect looking and working condition. It even has the original factory box: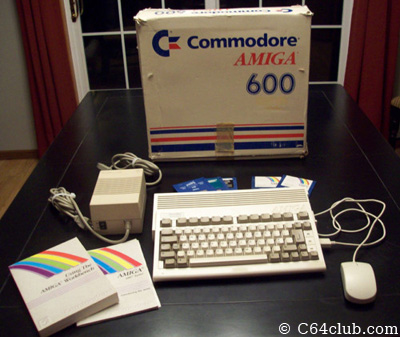 As you can see from the picture, it's complete with the original power supply, mouse, owner's manual and the "Using The Amiga Workbench" book.
The A600 is super clean, however I still need to clean up the Amiga box a bit by removing some various pieces of tape, but nothing that my trusty heat gun can't handle.
At some point for a future Commodore computer project, I'll probably modify this A600 with a Compact Flash drive, but for now I'm going to keep using the stock factory hard drive.
I'm pretty excited about having this Amiga 600 computer. I'll be sure to show it off at upcoming Commodore Computer Club meetings.
If you like this post, please consider subscribing to our full RSS feed. Be sure to also Like Us on Facebook and Follow Us on Twitter.