As most people know know, we represented Commodore computers at the 2010 Portland Retro Gaming Expo September 18 and 19, 2010.
Below are more of the pictures that our club took showing a lot of great moments of people of all ages enjoying Commodore computers, games and accessories.
Here is a picture showing off one of three tables we had for the Commodore Computer Club and Users Group at the 2010 Portland Retro Gaming Expo: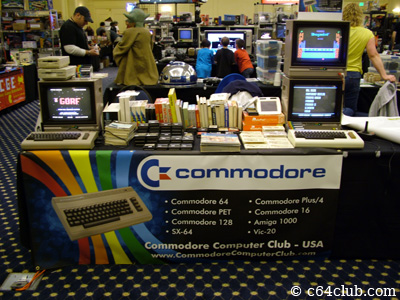 Portland Retro Gaming Expo banner flying high showing off the new PRGE logo: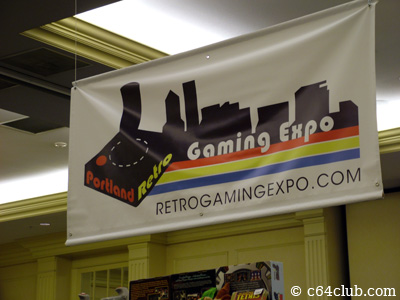 Matt Hunter from Mechlo.com testing out the Commodore 64 "Incredible Musical Keyboard" by Sight and Sound which we had for sale at our Commodore Computer Club booth: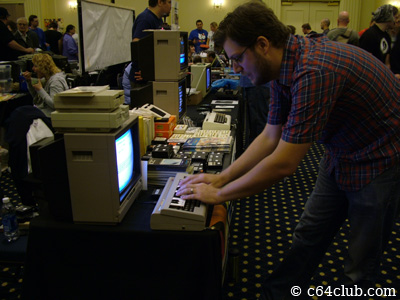 These two boys were playing Omega Race on the Commodore 64 computer: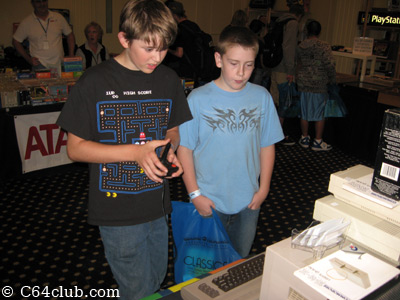 Another picture showing off more of our Commodore computer vendor space at the Portland Retro Gaming Expo: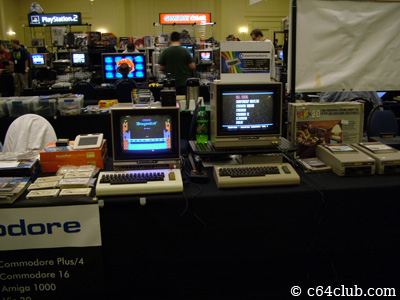 11 year-old Abby with a hip hat and colorful shirt playing Dragonfire on one of the many Commodore VIC-20's we had for people to use and play with: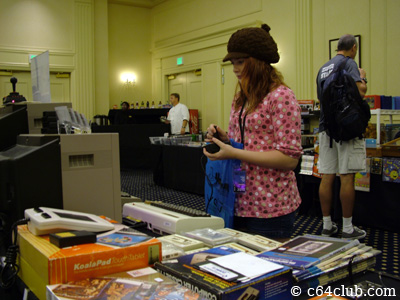 8 Year-old Dade from Vancouver, WA playing the game Frogger on a 1983 Commodore 64: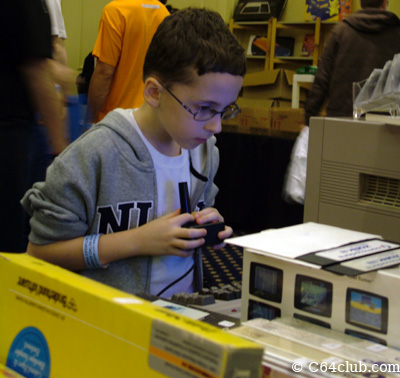 This guy and girl were so happy to score a handful of Commodore VIC-20 game cartridges along with a RAM expansion cartridge too: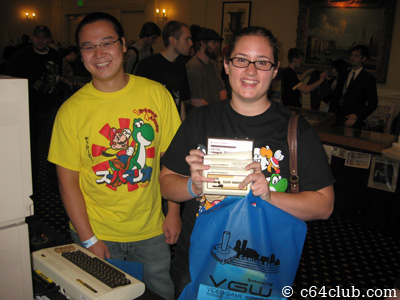 This guy was awesome. He had the Commodore 64 boot screen on his T-shirt. This is one blue screen that we can all live with on a computer: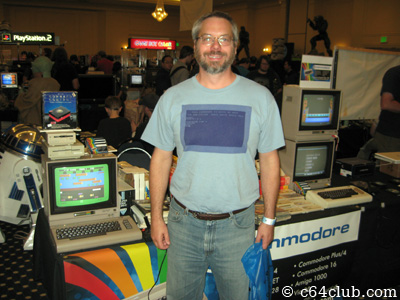 At our Portland Retro Gaming Expo 2010 Commodore Computer Club vendor area I had the opportunity to meet Imagic's founder Bob Smith who programmed the game Dragonfire: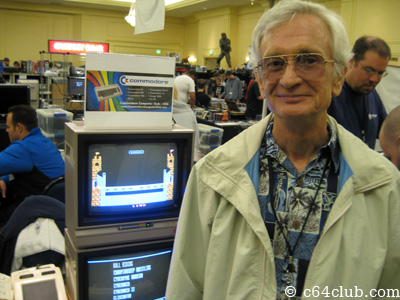 A lot of people dressed up like characters from various video games. Check out Chun Li from Street Fighter fighting game series: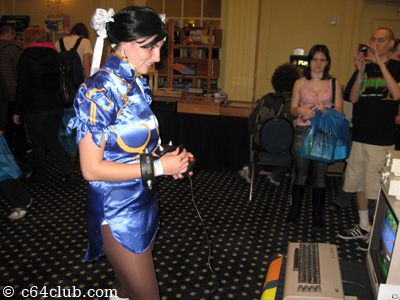 Chun Li from Street Fighter playing Frogger on a C64. Check it out, you can see R2 from Star Wars in the background: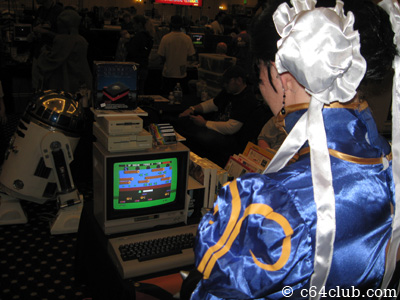 This girl with amazing red hair played the Commodore 64 game Popeye for a good 20-30 minutes before she finally ran out of lives: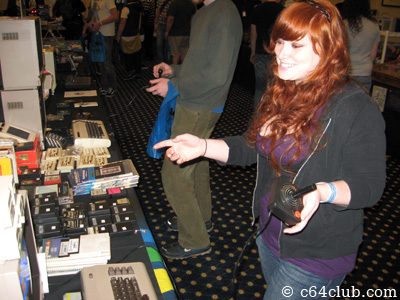 Our Portland Retro Gaming Expo Commodore vendor table showing off a few Koala Pads (boxed and loose), a pile of VIC-20 cartridges and other goodies: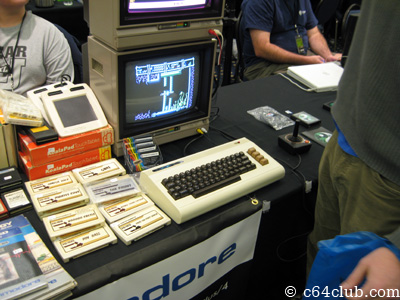 The Vancouver, Washington Commodore Computer Club vendor booth and exhibit area seems to go on forever in this picture: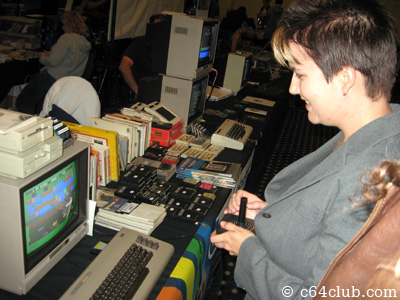 Apparently Red Bull "gives you wings" at the PRGE 2010 Commodore Computer Club booth while playing Frogger on the C64: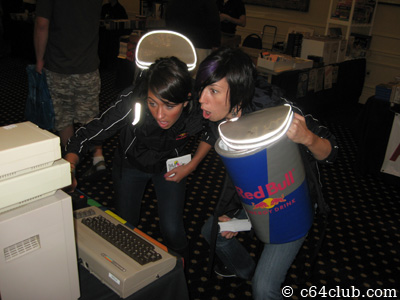 Lots of free Red Bull going around thanks to the "Team Red Bull girls" while people played games on Commodore 64 and Vic-20 computers: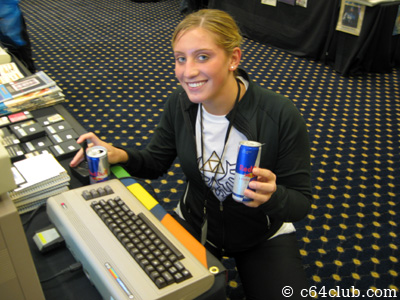 While people played various Commodore games at our vendor booth, I noticed a lot of cool shirts, like this Nintendo Zelda "Triforce of Wisdom" T-shirt: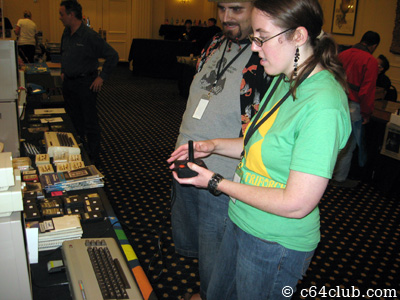 A family from the Portland Metropolitan area having a good time while using various Commodore computers at our PRGE 2010 vendor booth: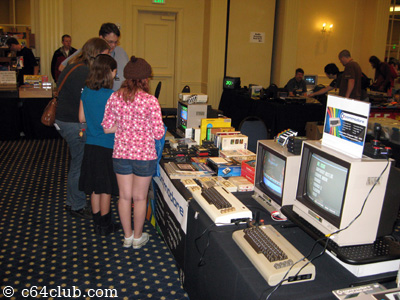 This guy definitely has Pac-Man fever via one of our Commodore 64 computers: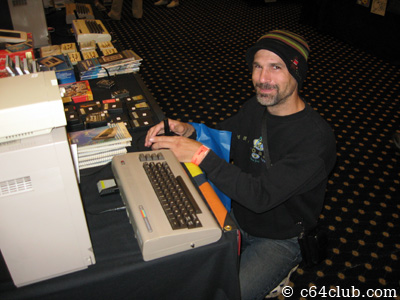 A couple people having a relaxing time playing 8-bit Commodore video games: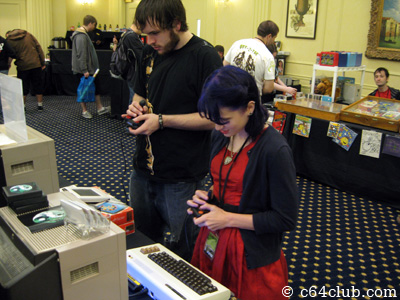 Homer Simpson likes Commodore computers, especially playing C64 video games: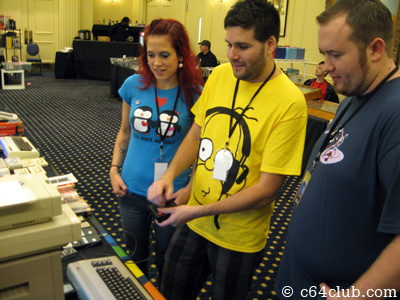 A girl dressed up like a video game character (which one I don't remember):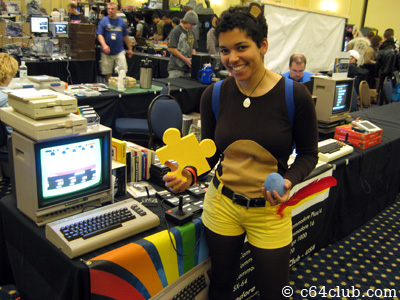 Check out this guys Portland Arcade Collectors T-shirt… awesome: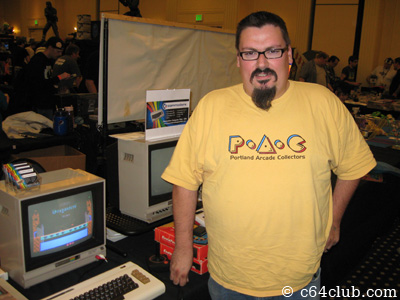 One of the people from the Billy Galaxy – Portland, OR vendor booth enjoying some Commodore computer video games: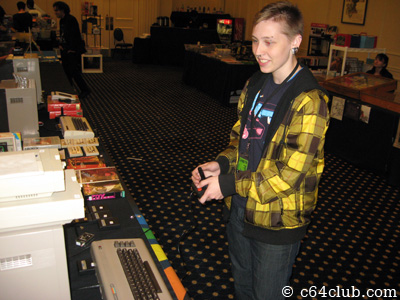 Thank you again to everyone who came out to the 2010 Portland Retro Gaming Expo and supported the two-day event and for also spending a lot of time at our Commodore Computer Club vendor area.
In closing, if you would like to experience more Commodore computer goodness, feel free to come check out one of our club meetings. We would enjoy seeing you again and sharing the awesome retro Commodore computer experience with you.
If you like this post, please consider subscribing to our full RSS feed. Be sure to also Like Us on Facebook and Follow Us on Twitter.