The C64 Club is always looking for pictures of anything "Commodore" related and from time to time our members send in some pretty cool pictures to be posted on the club website.
A few great examples come from Commodore Computer Club member Kevin Savetz:
On March 14, 2015 at approximately 11:01 pm a C64 Club member from Southern California took the following picture down on the Newport peninsula: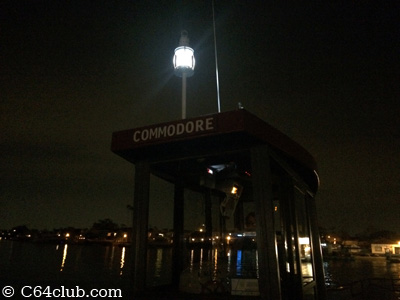 Yes! An actual boat, well ok, a ferry named "Commodore" was spotted going from Balboa Island to Newport Beach, CA. So awesome!
The Balboa Ferry is steeped in history, making its first appearance in 1909
Here is a pretty good source if you'd like to learn more about the Balboa Island Ferry.
If you are ever in Southern California, specifically Orange County, you should check out the Balboa Peninsula and take a ride on the ferry. There are 3 boats in the fleet: the Admiral, the Captain and of course our favorite, the Commodore.
If you like this post, please consider subscribing to our full RSS feed. Be sure to also Like Us on Facebook and Follow Us on Twitter.