The Hitchhiker's Guide to the Galaxy advertisement:
Now for a limited time only when you rush your Hitchhiker's Guide to the Galaxy order to Megadodo Publications, you'll get our special gift to you, enough throw-in items to fill an attic!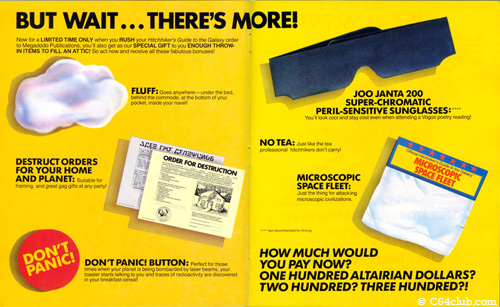 So act now and receive all these fabulous bonuses!
FLUFF: goes anywhere – under the bed, behind the commode, at the bottom of your pocket, inside your navel!
DUSTRUCT ORDERS FOR YOUR HOME AND PLANET: Suitable for framing, and great gag gifts at any party!
DON'T PANIC! BUTTON: Pefect for those times when your planet is being bombarded by laser beams, your toaster starts talking to you and traces of radioactivity are discovered in your breakfast cereal!
JOO JANTA 200 SUPER-CHROMATIC PERIL-SENSITIVE SUNGLASSES:*** You'll look cool and stay cool even when attending a Vogon poetry reading!
NO TEA: Just like the tea professional hitchhiker's don't carry!
MICROSCOPIC SPACE FLEET: Just the thing for attacking microscopic civilizations.
*** Not recommended for driving.
How much would you pay now? One hundred altairian dollars? Two hundred? Three hundred?
If you like this post, please consider subscribing to our full RSS feed. Be sure to also Like Us on Facebook and Follow Us on Twitter.