Do you own one of Jim Brain's EasyFlash 3 cartridges? Do you like the arcade game Donkey Kong Junior? Would you like to play it on your C64 computer? If so, this blog post is for you!
Check out some of the amazing gameplay footage below showcasing this arcade perfect port for the Commodore 64: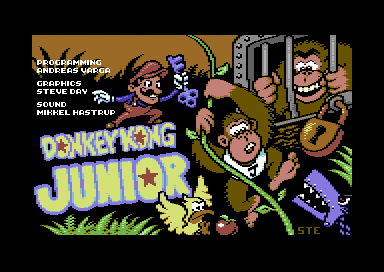 As of today, you can now download the Commodore 64 Donkey Kong Junior port for the EasyFlash 3 cartridge. It works on both NTSC and PAL machines.
This classic game has it all! Colorful sprite graphics, fast free-directional scrolling, three-channel SID music and great sound effects are all accounted for in this retro port of Donkey Kong Junior.
Once again, for those who missed it above, here is the download link for Donkey Kong Junior EasyFlash 3 cartridge image. Enjoy!
If you like this post, please consider subscribing to our full RSS feed. Be sure to also Like Us on Facebook and Follow Us on Twitter.