Say "hello" to the Crystal Castles Prototype Serial #0067 by Atarisoft for the Commodore 64: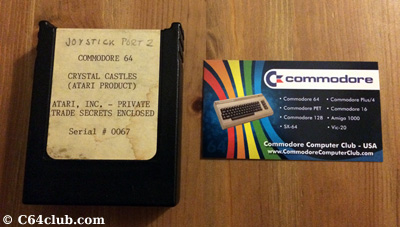 In doing some research, there were apparently only two prototypes of Crystal Castles known to have surfaced since the 1980s:
#0008 (in a private UK collection since 2002)
#0053 (recently sold on eBay January 23, 2016 for $404.00 USD)
Here's a picture showcasing the Commodore 64 Crystal Castles prototype cartridge #0008: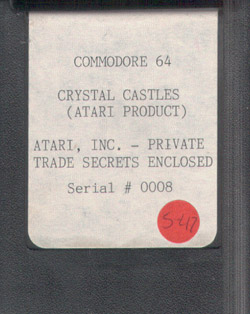 Here's a picture of the C64 Crystal Castles prototype cartridge #0053 from the eBay auction: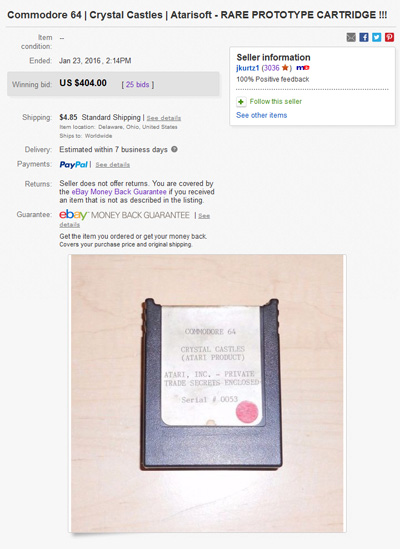 And now #0067 as seen here on the Commodore Computer Club website.
Something interesting to note, Atarisoft only published the following 12 official Commodore 64 cartridges between 1983 and 1984:
Battlezone
Centipede
Defender
Dig Dug
Donkey Kong
Galaxian
Jungle Hunt
Moon Patrol
Ms. Pac-Man
Pac-Man
Pole Position
Robotron: 2084
Notice that Crystal Castles never had a official release on cartridge for the Commodore 64, just the small handful of prototypes that have surfaced.
According to Wikipedia Crystal Castles for the Commodore 64:
Simpler graphics, but the gameplay is quite close to the original. There are actually two versions: one by Atarisoft that wasn't released at the time but purchased by US Gold and released in Europe in 1986; and one by Thundervision in the US in 1985.
So there you go, two versions for the C64: one by Atarisoft that wasn't released (this prototype version) and the US Gold (Europe) / Thundervision (USA) version.
Fun fact: Crystal Castles was only officially released for the C64 on floppy disk and cassette tape.
If you like this post, please consider subscribing to our full RSS feed. Be sure to also Like Us on Facebook and Follow Us on Twitter.