The date 10/10/10 only happens once every hundred years, so the Commodore Computer Club of Vancouver, WA decided that we needed to do something special, so we had a "Nerd Holiday" party and setup a special meeting at Pied Piper Pizza to celebrate.
Below is the meeting recap with pictures showing some of the geeky fun we had at our 101010 "binary code" geek-a-thon. This special meeting was from 5:00 pm to 10:10 pm

There are only 10 types of people in the world: Those who understand binary and those who don't as seen on one members t-shirt worn at the meeting: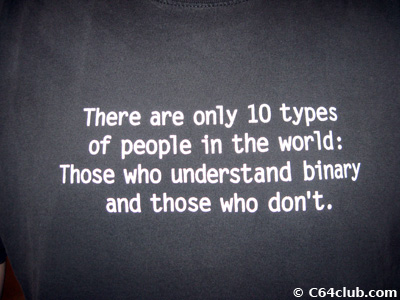 Check it out, a 100% complete and working 1977 Commodore PET computer with datasette brought to the meeting by Earl Evans of the Retrobits podcast: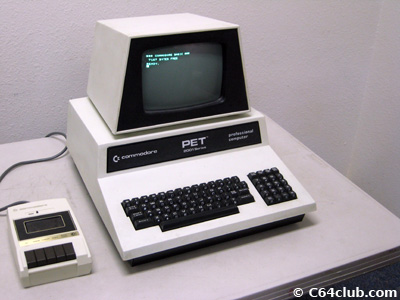 Members watch a live presentation of our Commodore internet homebrew PCB project that will be fully disclosed at our upcoming official first Friday of the month meeting on November 5: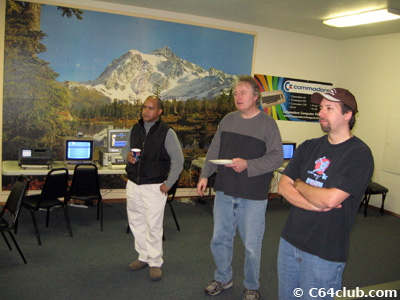 Note: Due to ongoing development and testing, at this time we won't be posting pictures of the board or how it works but if you come to our next meeting, you can see it and ask questions.
In the picture below, Commodore Computer Club member Ivan brought his C64 setup which includes a 1541 disk drive, 1702 monitor, MPS 803 printer and a couple joystick controllers: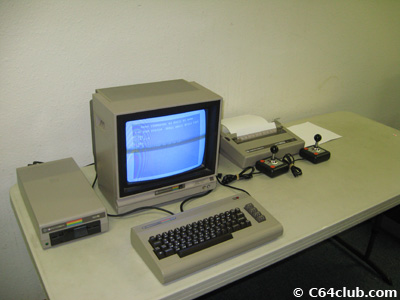 Some of the hardware setup at our 101010 meeting included a Commodore SX-64, Commodore 64 with 1702 monitor, Commodore VIC-20, another C64 and a Commodore 64c:
Commodore User Group and Computer Club members (from left to right) Jeremy, Earl Evans and Ivan sitting down and relaxing discussing various retro computer topics: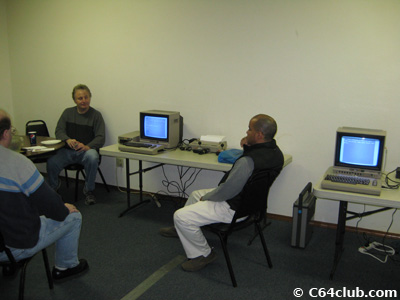 An original C64 INFOCOM floppy disk for the 1984 video game Hitchhiker's Guide To The Galaxy: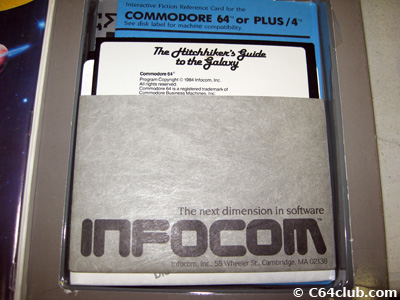 Playing Hitchhiker's Guide To The Galaxy. Check out the complete in box version of the game next to the Commodore 1702 monitor: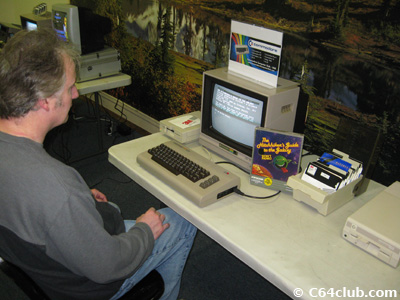 Anyone up for a little multi-player Zork on the Commodore 64? Yep, another Commodore Computer Club project: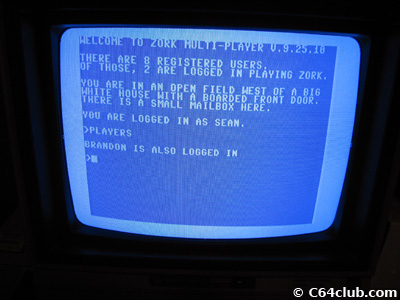 We busted out the Epyx 1984 Preview Disk and did a little break dancing: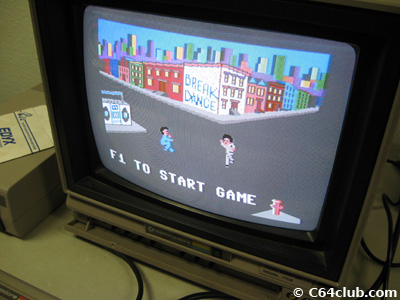 Brandon playing Jumpman Junior on his Commodore 64 computer: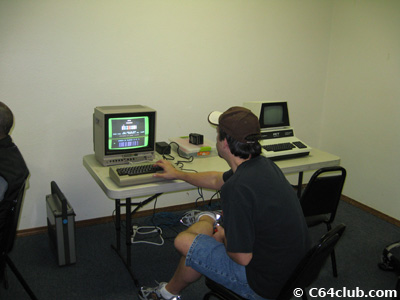 Jeremy having a good time playing the classic game Choplifter which was a Commodore computer club favorite at our 101010 meeting: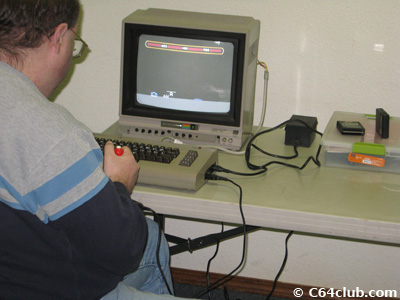 Up close with Earl Evans playing Hitchhiker's Guide To The Galaxy… 42 (101010), which represents the "Answer to the Ultimate Question of Life, The Universe, and Everything":
We thought it would be pretty cool to reprogram the game Lunar Lander to say that it was by CommodoreComputerClub.com as seen in this screen shot: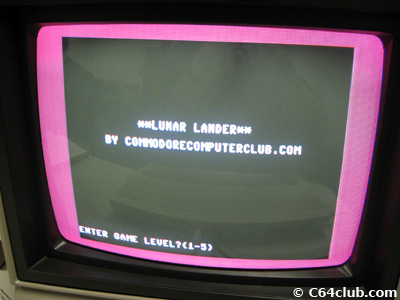 The 1977 Commodore PET computer is alive: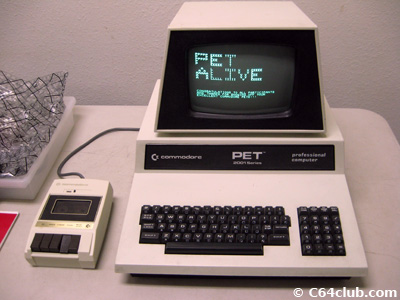 Thank you to everyone who came out to our 101010 Commodore Computer Club meeting, especially Kelly House, reporter for The Oregonian.
If you didn't make it to this special celebration, be sure to attend our upcoming November 5th, 2010 meeting so you can check out our Commodore internet homebrew PCB project.
If you like this post, please consider subscribing to our full RSS feed. Be sure to also Like Us on Facebook and Follow Us on Twitter.