At the 2010 PRGE we showed off our brand new 6′ by 3′ full color Commodore Computer Club and Users Group banner: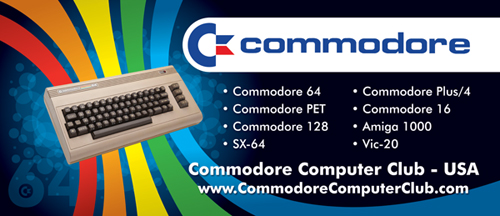 We had the honor of representing Commodore computers to thousands of people over the two-day event, which was a huge success for everyone involved.
The above image is just a low resolution version but for those who attended the PRGE 2010 this weekend got to see the actual vector based banner up close and personal.
If you didn't attend the expo and missed seeing our banner debut, you can check it out at our Commodore Computer Club meetings which happen the first Friday of every month.
Over the next few days after I catch up on some much needed rest, I'll be posting a lot of pictures and detailed recap of this years Portland Retro Gaming Expo, so stay tuned.
If you like this post, please consider subscribing to our full RSS feed. Be sure to also Like Us on Facebook and Follow Us on Twitter.