Last month (May 2010) I was doing some searching for used Commodore computer equipment to help out the Commodore Computer Club and Users Group and found a listing for a former Commodore group that had "Commodore items" to pass along.
I made contact with them to see what the deal was and if I could get a detailed list of what they had Commodore 64 related. They were unable to give me a detailed list but they did provide me an address, a date and time to show up (Saturday May 29, 2010 – 11:00 am PST) and mentioned that "I should have a big trunk in my car".
After the 6 hour 382 mile round trip, a full tank of gas and spending most of that Saturday between driving and loading everything up, my wife's car looked like this: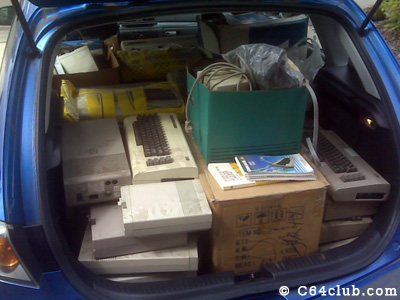 Basically it was decided to use my wife's car since it's a hatchback and the rear seats fold down. Man her car was really loaded down LOL!
The end result of the Commodore computer haul for the trip was multiples of the following:
Commodore 64's
Commodore VIC 20's
Commodore 128's
1541, 1541-II and 1571 Disk Drives
Brand new blank 5.25 floppy disks
Various Commodore manuals and magazines
Boxes of cables and power supplies
Loose Commodore chips and PCB boards
A couple Atari 2600 joysticks
Most of the stuff has already been passed around to members of the Vancouver, WA and Portland, OR Commodore Computer Club and Users Group but I did keep some of it for my personal collection and also for repair parts down the road.
If you have anything Commodore related that you would like to sell or trade, please let us know by using our contact form or leaving a comment below.
If you like this post, please consider subscribing to our full RSS feed. Be sure to also Like Us on Facebook and Follow Us on Twitter.