Our October 1, 2010 monthly Friday night Commodore Computer Club and Users Group meeting was a huge success! We raised the bar for future meetings that's for sure

First off, "Thank you" to EVERYONE who came out to our Vancouver, WA meeting from near and far. People from all around the Pacific Northwest were in attendance. Cool!
Here's a quick list with some highlights from our recent Commodore Computer Club meeting:
Repaired a Commodore SX-64 (bad Kernal ROM)
Atari 8-bit computer games verses Commodore 8-bit computer games
Did some "file sharing" on the Amiga 1000
Played Zork I and discussed our upcoming multi-player release
Copied tons of C64 programs using the MSD SD-2 Super Disk Drive
Found a mystery Vic-20 cartridge (ended up being Frogger)
Plenty of tasty Pied Piper Pizza, fried chicken and refreshing drinks for everyone
From the list above, you can see there was a lot of memorable things taking place. We actually reached the banquet room capacity for this meeting which is awesome!
Because of the huge amount of hardware, software and people at our recent meeting, we'll be using the larger banquet room for all future Commodore Computer Club meetings.
Ok, now it's time to check out some of our meeting photos below. Enjoy!
Classic Commodore 64c with matching 1541 disk drive, MSD SD-2 Super Disk Drive and original 1983 Commodore 64 connected to a 1581 disk drive: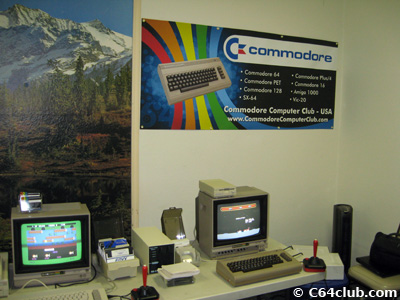 From left to right: Kevin Savetz with his Atari binary shirt, 8 year-old Jonathan playing Frogger and Dan wearing his awesome Vic-20 pin: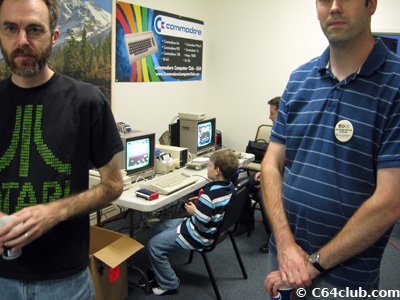 PDX Commodore Users Group and Computer Club guests playing some Pinball Spectacular on the Commodore 64. This game uses the paddle controllers: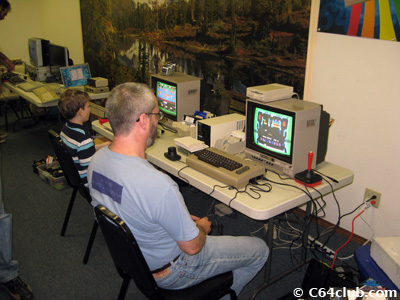 Commodore Amiga 1000 computer with two disk drives fired up and ready to start copy partying like it's 1985:


Dan from Hillsborro, Oregon brought his Amiga 1000 to the Commodore computer club meeting which is in amazing shape, complete with mouse and beautiful matching Amiga color screen: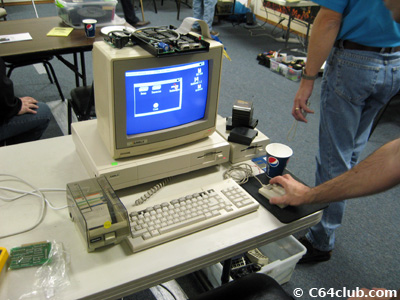 A few of the Atari 8-bit computers Kevin Savetz had on display, which were hooked up and working 100%. You can see Q*Bert playing on one of them: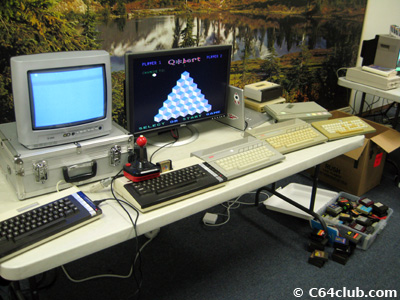 Playing Zone Ranger on the Commodore 64 computer: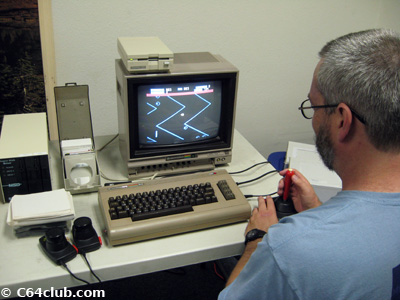 Asteroids Cabaret being played on the Commodore Amiga 1000 computer: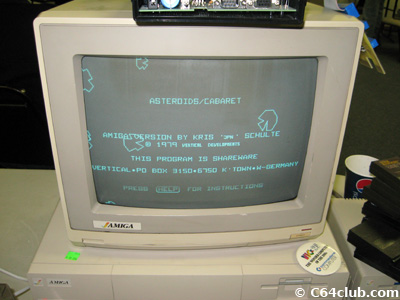 Jasper brought his Commodore 128 and a 1702 monitor along with some game cartridges he picked up from the Commodore Computer Club at the 2010 PRGE: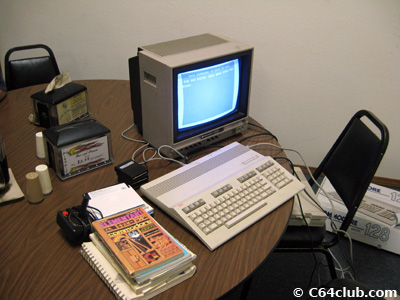 Playing Dragonfire designed and programmed by iMagic on a Commodore Vic-20 computer: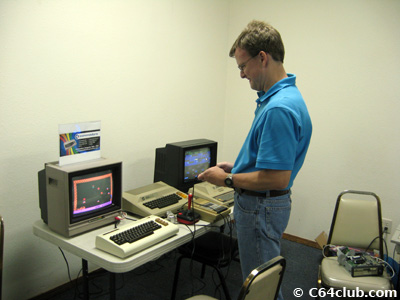 Kevin Savetz doing his vintage computer presentation featuring Atari 8-bit computers:
Commodore Computer Club members and guests listening to the vintage computer history presentation by Kevin Savetz: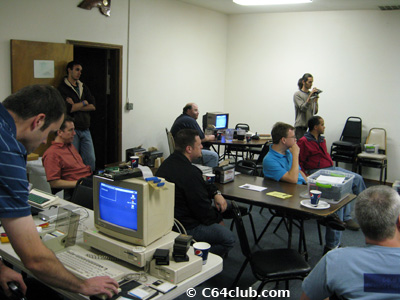 The Atari 8-bit presentation by Kevin Savetz was video taped and will be available to watch online soon after a little editing: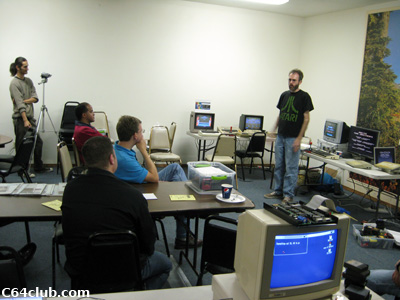 Kevin Savetz answers questions and chills out with Commodore computer club members and guests after his vintage computer presentation: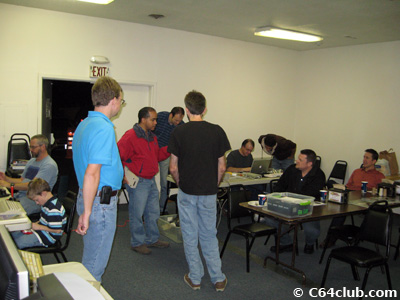 Jasper in total amazement after playing Dragonfire on a Commodore Vic-20: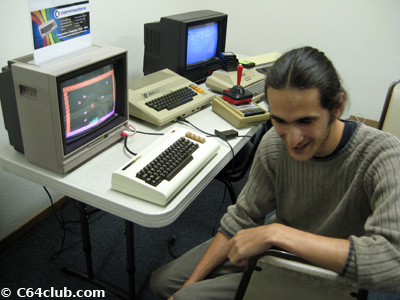 Up close and personal with the "Wonder computer of the 1980's" Commodore Vic-20 button: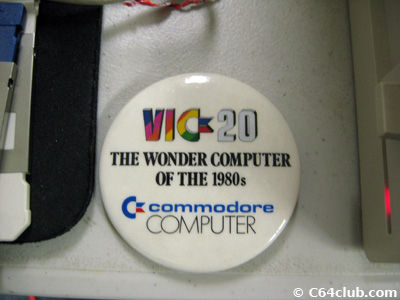 Once again, "thank you" to everyone who came out and showed their support and excitement for the Commodore Users Group meeting in Vancouver, WA. It's very much appreciated.
Our next scheduled meeting will be Friday November 5, 2010, so mark it down on your calendar. As always we hope to see you at the next meeting! Come to learn, come to share.
If you like this post, please consider subscribing to our full RSS feed. Be sure to also Like Us on Facebook and Follow Us on Twitter.