Here's a picture from an early 1980's advertisement showcasing a family enjoying the Commodore SX-64 Executive Computer: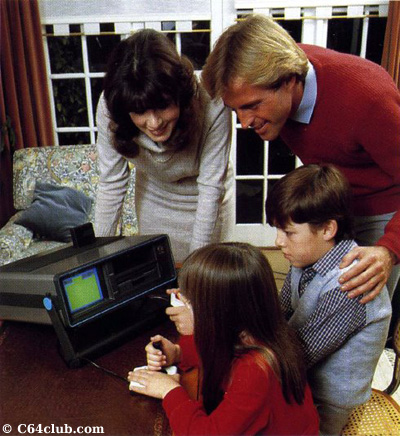 The Commodore SX-64, also known as the Executive 64, or VIP-64 in Europe, is a portable, briefcase/suitcase-size "luggable" version of the popular Commodore 64 home computer and holds the distinction of being the first full-color portable computer.
The SX-64 features a built-in 5″ composite monitor and a built-in 1541 floppy drive. It weighs about 25 pounds. The machine is carried by its sturdy handle, which doubles as an adjustable stand. It was announced in January 1983 and released a year later for around $995.00 USD.
If you like this post, please consider subscribing to our full RSS feed. Be sure to also Like Us on Facebook and Follow Us on Twitter.