It's time to showcase the Commodore Computer Club's Top 5 Fun Facts about Garry Kitchen's GameMaker released by Activision in 1985.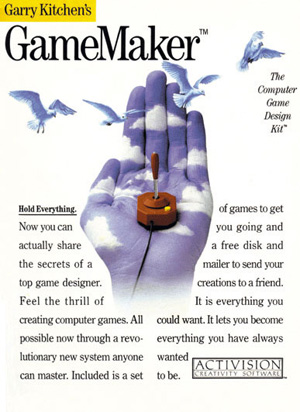 Without any further ado, here are the C64 Club's Top 5 GameMaker Fun Facts:
Garry Kitchen's GameMaker is an Integrated Development Environment (IDE) for the Commodore 64, Apple II and IBM PCs.
The software is notable as the first high-level all-in-one game design product aimed at the general consumer.
Of the three supported platforms the C64 version is arguably the most feature-rich, as it takes advantage of the advanced SID sound chip and color capabilities lacking in the Apple II and early PC hardware.
These include sprites, music, and background elements for loading into GameMaker.
To demonstrate the versatility of the program, the software package includes several demonstration files to get you started in making games, one of them being a recreation of the David Crane classic Pitfall!
Do you have any stories that you would like to share about using GameMaker on a Commodore 64 computer? Maybe you made some arcade games or demos with it back in the day? If so, the Commodore Computer Club would like to know, so drop us a comment below.
If you like this post, please consider subscribing to our full RSS feed. Be sure to also Like Us on Facebook and Follow Us on Twitter.