Today (April 12, 2014) marks the 4-year birthday of when the C64 Club also known as the Commodore Computer Club (USA) was founded.
For the celebration, we had a tasty Commodore Club themed cake: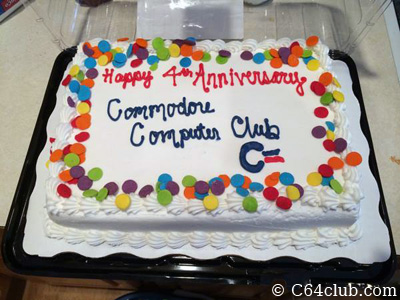 We enjoyed the above cake at the 4 year anniversary first Friday of the month C64 Club meeting that took place on April 4, 2014.
Pictures and recap from our 4 year anniversary meeting to follow soon in another blog post.
If you like this post, please consider subscribing to our full RSS feed. Be sure to also Like Us on Facebook and Follow Us on Twitter.