Earlier today long-time Commodore Computer Club member, friend, Atari enthusiast and Terrible Nerd Kevin Savetz sent in the below picture: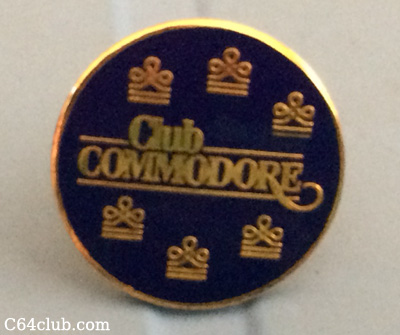 When asked for specifics on the origin and history of this awesome Club Commodore pin, Kevin said in part:
My mom found this pin in my grandfathers stuff. It's probably from 1950. Some yacht club thing I guess.
So after doing a little research on what "Club Commodore" means, I found the following in a Wikipedia article:
Yacht clubs are organized like any other club or organisation with committees, chairman, directors, etc. Due to the connection with the sea and hence the navy, the various posts use naval terminology. For example the chairman/CEO is the Commodore. Usually, under the Commodore there are also the Vice Commodore (in charge of land-based activities) and the Rear Commodore (in charge of water-based activities).
How cool is the idea of Kevin's grandfather maybe being a "Commodore" or chairman/CEO of a yacht club? Pretty cool!
What's really exciting is knowning that Kevin has some "Commodore" related things in his family history. See Kevin, Commodore isn't so bad Mr Atari *grin*
Thank you again Kevin for sharing this pin with the C64 Club and your family history with the pin.
If you like this post, please consider subscribing to our full RSS feed. Be sure to also Like Us on Facebook and Follow Us on Twitter.