Greetings Program. Our next Commodore Computer Club meeting will be Friday, July 1, 2011 from 6:00 pm PST until 12:00 am PST.
Typically Commodore enthusiasts, hackers, club members, friends and guests from the Portland, OR metro area show up between 6:30 pm – 7:00 pm PST.
For over a year now our monthly Commodore club meetings take place at Pied Piper Pizza in Vancouver, WA which is about a 30 minute drive from downtown PDX – Portland, Oregon: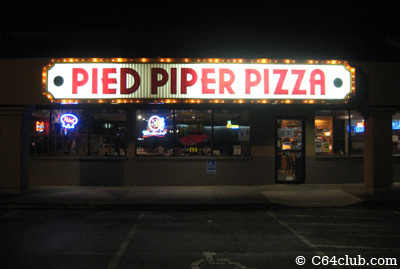 Pied Piper Pizza – 12300 NE Fourth Plain Rd. – Vancouver, WA 98682 – Get directions
Once inside Pied Piper Pizza, head straight back past the dart boards to the private banquet room #3. Look for Commodore computers. If you can't find it, ask someone at the counter.
The following hardware, software (cartridge and floppy disk based) will be at the July 1, 2011 Portland metropolitan area Commodore Users Group and Computer Club meeting:
Gold label Commodore VIC-20 computer
VIC-20 Mega-Cart: The ultimate cartridge for your Commodore VIC 20
Commodore 64 computer and 1541 disk drive (both have JiffyDOS)
50+ C64 retro gaming arcade and utility cartridges
C128 Commodore 128 DCR with external 1571 disk drive
Commodore 16 (C16) computer (complete in box)
C64 Direct-to-TV C64DTV (hardware design by Jeri Ellsworth)
Commodore Plus/4 computer
100+ floppy disks with various games, programs, and utilities
If you have any Commodore hardware, software, or other retro computing goodness (books, toys, gadgets, etc.) please bring it along. There's always a lot of room, tables and electrical outlets.
Along with the above retro hardware and vintage classic software, you can also expect to enjoy the following:
Various member presentations
The buy, sell, trade and free tables
Tinker time: hacking, coding, exploring new hardware
Cleaning of equipment
Computer repair and service
Raffle drawing with awesome prizes
It's totally cool to bring your girlfriend, boyfriend, wife, husband or kids with you to the meeting, so please don't let that stop you from coming. All are welcome. The more the merrier!
For additional details, what to expect at our meetings, directions, etc, please check out the Commodore Computer Club meetings page.
We look forward to seeing you at the next Commodore Users Group and Computer Club meeting on Friday July 1, 2011. Come to learn, come to share.
If you like this post, please consider subscribing to our full RSS feed. Be sure to also Like Us on Facebook and Follow Us on Twitter.