Greetings program. Welcome to the game grid. The next Commodore Computer Club meeting is scheduled for Friday, May 4, 2012 from 6:00 pm PST until 12:00 am PST.
C64 club members, friends and guests from the Portland, Oregon and surrounding areas show up between 6:30 pm – 7:00 pm PST.
Our monthly meetings have been taking place for over 2-years at Pied Piper Pizza located in Vancouver, WA which is approximately 30 minutes from downtown PDX – Portland, Oregon: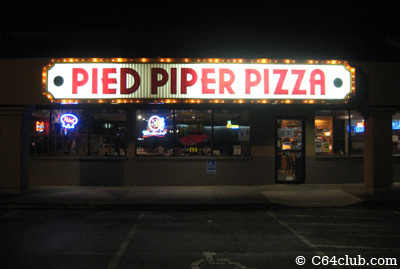 Pied Piper Pizza – 12300 NE Fourth Plain Rd. – Vancouver, WA 98682 – Get directions
Once inside Pied Piper Pizza, head straight back past the dart boards to the private banquet room #4. Look for Commodore computers. If you can't find it, ask someone at the counter.
What You Can Expect To See, Hear and Enjoy:
The following retro hardware and software will be available to enjoy at the May 4, 2012 PDX Commodore Users Group and Computer Club meeting:
Commodore VIC-20 computers
VIC 20 Mega-Cart loaded with 100′s games
Commodore 64 (C64) computers with JiffyDOS
Commodore 64C (C64C) computer
C64 EasyFlash cartridges loaded with retro video games
The "Wives Club" (board games, cards, wine, etc.)
Nintendo Super Famicom Console (Japanese SNES)
Of course there is always more hardware, software and gaming fun brought to the meetings by our members and guests that we don't have listed, so come and be surprised!
Presentations, Demos, Member Showcase, Etc:
As for presentations, indeed we do plan on having a few C64 Club member presentations and also showcasing some cool hardware and software.
We always plenty of room, tables and electrical outlets, so if you have anything (game consoles, rare retro items, etc.) to show off or enjoy with other members, please feel free to bring it along.
Retro Gaming And Computer Marketplace – Buy, Sell, Trade or Give it away for free:
For those who frequent the meetings know, there are always good finds to be had at our buy, sell, trade and free tables, so remember to bring any Commodore, other 8-bit computer or gaming console items you want to sell, trade or give away.
There will also be a few Commodore Flyer Internet Modem and Disk Drive Emulators for sale at the meeting too. Flyer sales provided by Retroswitch.com – bringing it back!
Bring your Family and Friends:
As always it's perfectly fine to bring your husband, wife, girlfriend, boyfriend or kids with you to the upcoming meeting. All are welcome. The more the merrier!
Need more information?
To find out more about our meetings, get directions, etc, please check out the Commodore Computer Club meetings page.
We look forward to seeing you at the next Commodore Computer Club and Users Group meeting on Friday May 4, 2012. Come to learn, come to share.
If you like this post, please consider subscribing to our full RSS feed. Be sure to also Like Us on Facebook and Follow Us on Twitter.