Hey Commodore computer hackers and enthusiasts, here are the highlights from our No April Fools April 1, 2011 Commodore Computer Club and Users Group meeting:
Commodore 64 Silver Label found in the wild for $1.25 USD (and it works)
Presentation of Epyx Programmer's BASIC Toolkit
Cool looking Fractal Landscapes generated on a C64
CDTV Multimedia Developer Reference Manual on hand
Getting to watch our geeky women using soldering irons
Played games using the C64DTV designed by Jeri Ellsworth
Discussed the upcoming 2nd Annual Cowlitz Gamers for Kids Expo
Tinker Time: Hacking, Coding, Exploring new hardware, Cleaning of equipment
Played games via the C64, SX-64, Amiga 500, Amiga 1000 and VIC-20 computers
A lot of great Commodore buy, sell, trade and free deals took place
Lots of tasty food and beverages provided by Pied Piper Pizza
Below are some of the fun and exciting moments captured on camera at our April 2011 meeting. We hope that you enjoy the photos.
Kevin Savetz sporting his Activision Grand Prix T-Shirt while playing with an Amiga 500 Commodore computer: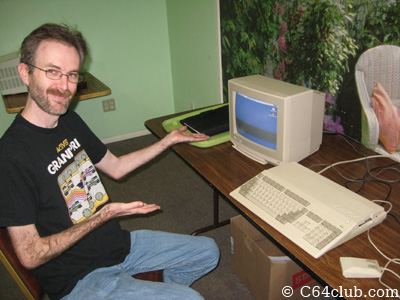 Playing a little Zone Ranger on the Commodore SX-64 computer: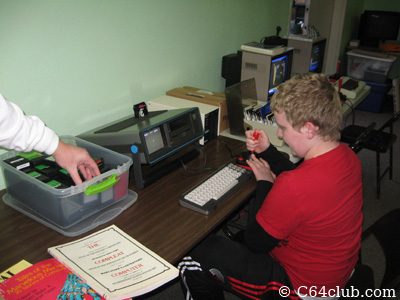 The super rare Commodore 64 silver label computer. This unit was found at local Goodwill distribution center for only $1.25 USD. The best part? It fired right up and worked perfectly!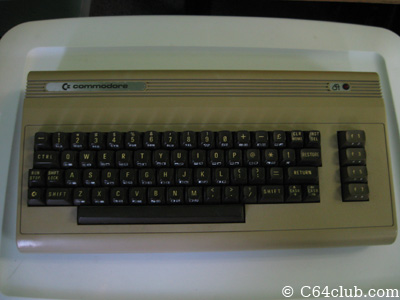 A Vancouver, WA PDX Commodore Users Group favorite, Atari's Pole Position ported to the Commodore 64 being played on a C64c computer: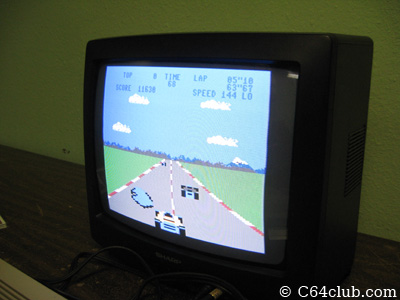 Space Taxi for the C64 and Dig Dug for the VIC-20 being enjoyed by Commodore Computer Club members: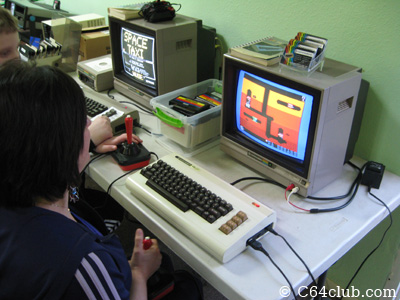 John Hancock's recently acquired Amiga 500 with external floppy drive and Amiga monitor: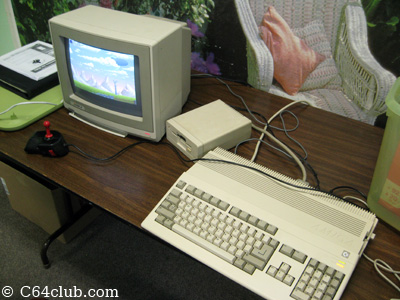 Check out the Commodore Amiga CDTV Developer Reference Manual. You needed this back in the day to develop games, utilities and educational software for the CDTV: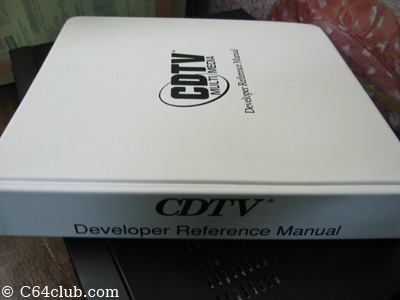 Commodore Computer Club USA member Chris playing Pac-Man on the Commodore VIC-20: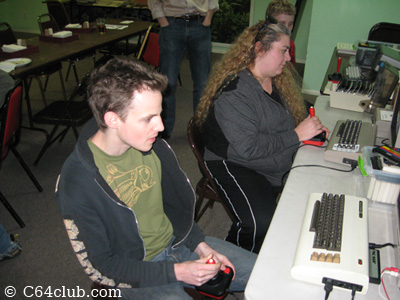 Everyone had fun wheeling and dealing at the buy, sell, trade and free tables that have become a staple at our monthly Commodore Users Group meetings: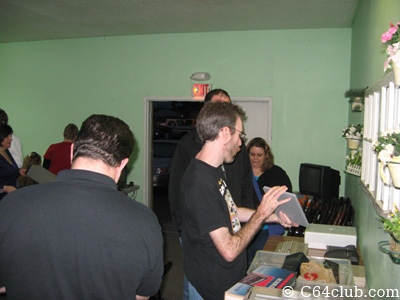 Gregory playing the disk version of Kung-Fu on the JiffyDOS enabled 1541 disk drive and Commodore 64 computer: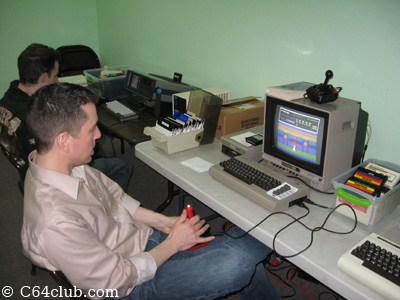 Playing some Gyruss on the Commodore 64c computer while other members watch and learn from Gyruss master Gregory (yes, we have two Gregory's in the club):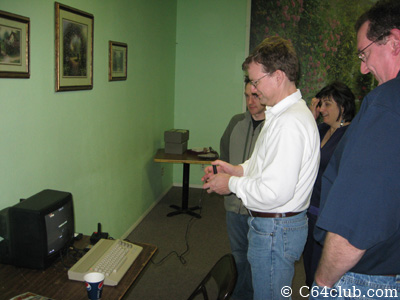 Justice and John Hancock watching club members Dan and Katie playing some games on the Amiga 500 computer: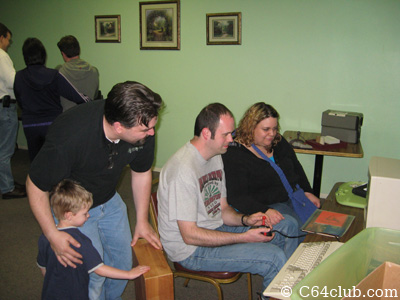 "Stay for a while… stay forever!!!" – Impossible Mission being played on the Commodore 64 computer: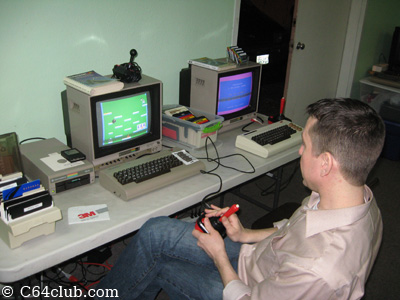 John Hancock discussing the upcoming Cowlitz Gamers for Kids Expo: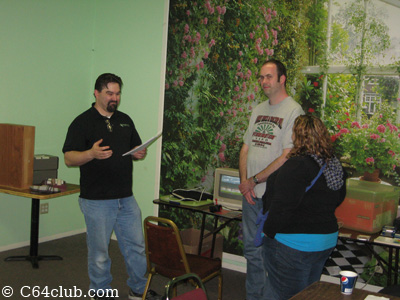 Commodore Computer Club and Users Group members having some food, chatting and having a fun time at the meeting: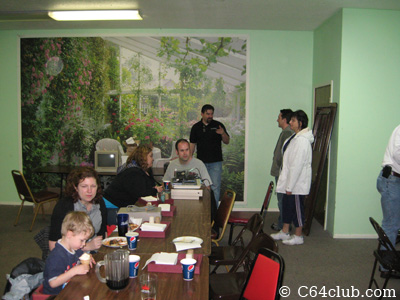 Kevin Savetz laying hands on a Atari 800 computer brought to the meeting by Chris. At least it's connected to a Commodore 1702 monitor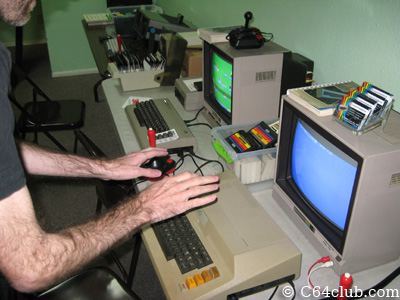 Playing some Pac-Man on the rare Commodore 64 Silver Label computer:
Gregory and Ivan in the background while Dan teaches Katie and Rebecca how to use a soldering iron. Too bad Jeri Ellsworth wasn't in attendance at this meeting as her soldering skills would have been greatly appreciated: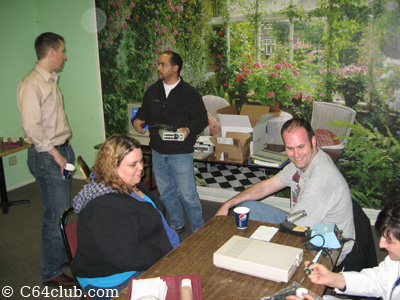 How cool is this? Tommy presented some of his awesome Fractal Landscape creations from back in the day: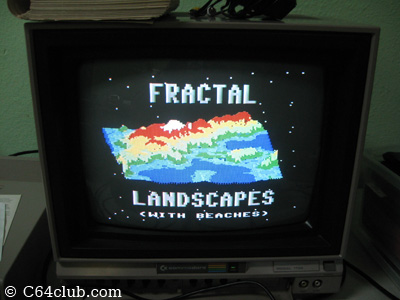 They took forever to render it seemed, but here is one of Tom's Fractal Landscapes being generated in real time: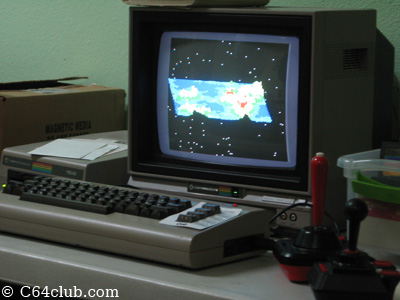 Who knew that Saddam Hussein stuff was hidden on the CDTV Welcome CD as an Easter egg? We surely didn't either until Tom brought in this magazine article and we tried it ourselves: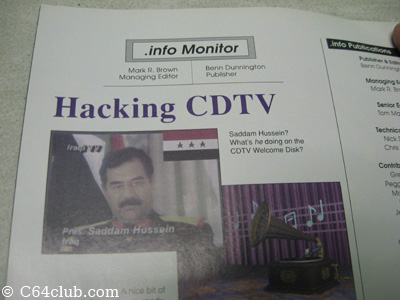 Playing some games on the Commodore C64DTV designed and created by Jeri Ellsworth: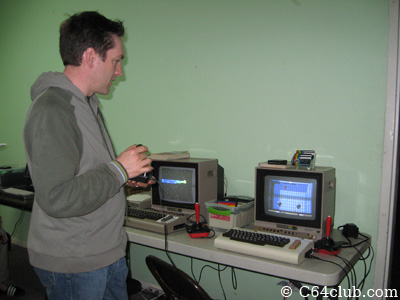 Tommy and Ian doing a little programming on the Commodore SX-64 portable computer using the Epyx Programmer's BASIC Toolkit: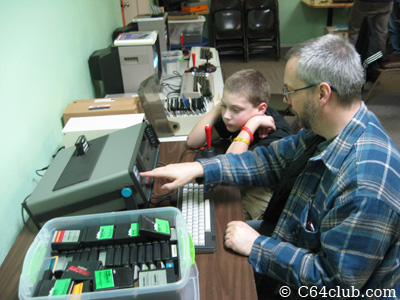 Here is part of what they were programming, the words Nintendo 3DS in various colors (hard to see in the picture):
Tower Toppler is a pretty rad game. It's one of the many loaded up on the C64DTV: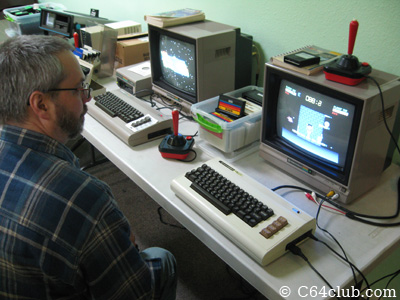 Programming with Epyx Programmer's BASIC Toolkit on the Commodore SX-64 portable computer: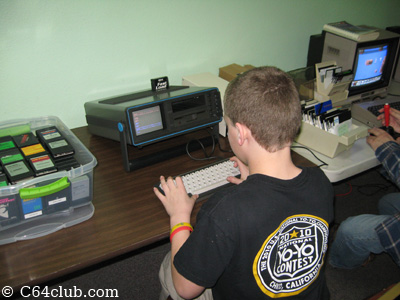 Here's a new old stock CDTV remote controller model number 252594-02: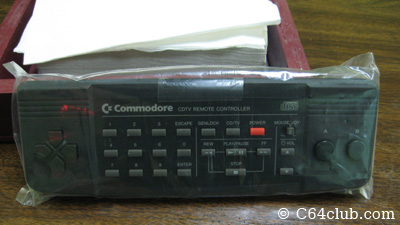 Paradroid lowest score of the day goes to Commodore Computer Club member Morgan: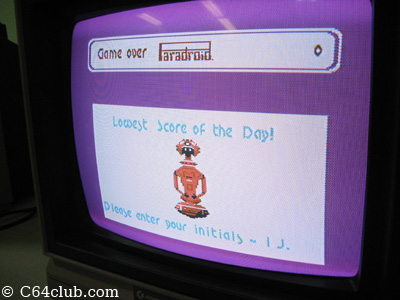 As always, a big "Thank you" to everyone who came out to the Commodore Users Group meeting in Vancouver, WA. Your continued support of the Commodore Computer Club is much appreciated.
Our next scheduled meeting will be Friday May 6, 2011, so mark it down on your calendar. As always we hope to see you at the next meeting! Come to learn, come to share.
If you like this post, please consider subscribing to our full RSS feed. Be sure to also Like Us on Facebook and Follow Us on Twitter.