Below are the highlights from our April 6, 2012 Commodore Computer Club meeting:
Celebrated our 2-year anniversary of the C64 Club being formed
Game time with Commodore Flyer's
VIC 20 game time using the Mega-Cart loaded with 100's games
Played games on multiple Commodore 64's and 64c's
The "Wives Club" (board games, cards, wine, etc.)
Show and Tell with club member hardware, software and more
Tinker Time: Hacking, Coding, Exploring new hardware, Cleaning of equipment
Retro computer and gadget presentations:
From printed book to Kindle
Bigtrak Jr. programmable robot vehicle
How-to make Commodore video cables
Hands on with Sharp Twin Famicom AN-505
PDX Commodore Computer Club members and guests also enjoyed:
Nintendo Super Famicom console (Japanese SNES)
Retro Vectrex console gaming fun
A lot of buy, sell, trade and free deals took place
All you can eat Pied Piper Pizza dinner buffet
Check out some of our Commodore C64 Club meeting pictures below. Enjoy!
As always a really nice turn out at the Commodore Computer Club. Here we can see C64 Club members, guests, friends socializing:
C64 Club member Scott with his recently acquired vintage retro Atari calculator: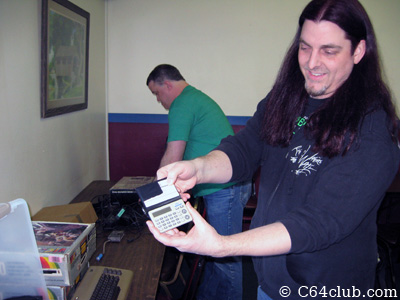 Captain Morgan scoping out the goodies on the Commodore Computer Club buy, sell, trade and free tables: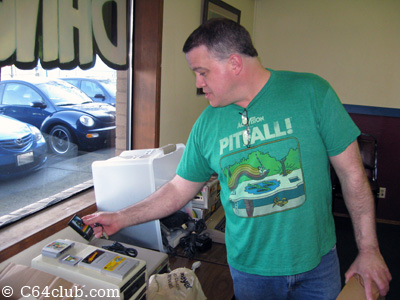 Multiple Vectrex consoles (thanks Recycled Gamer), Nintendo Super Famicom, Commodore 64 and VIC-20 on hand for people to have some retro fun: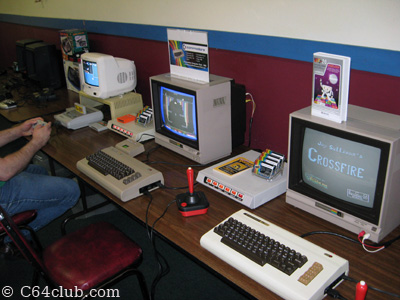 Another angle showing all the awesome retro computer and gaming console goodness at our recent C64 Club meeting: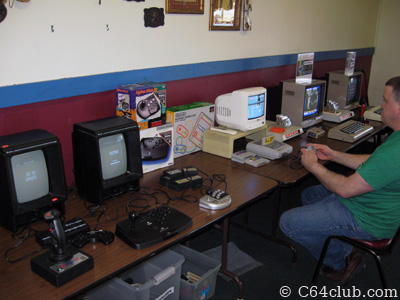 Check it out, the BigTrak Jr. that Kevin Savetz did a Presentation on: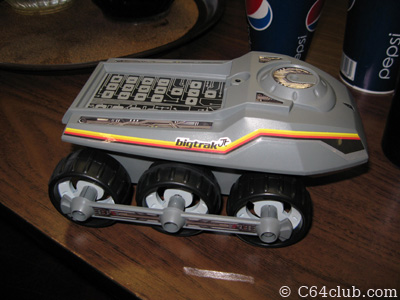 Here we can see Kevin Savetz (of AtariArchives.org fame) programming the BigTrak Junior to attack his classic retro Vans slip on shoes: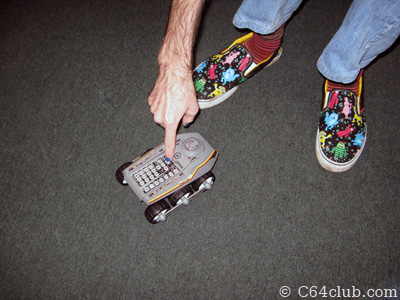 One of our newest Commodore Computer Club members blew the dust off his complete in box C64, 1702 color monitor and 1541 disk drive playing a golf game: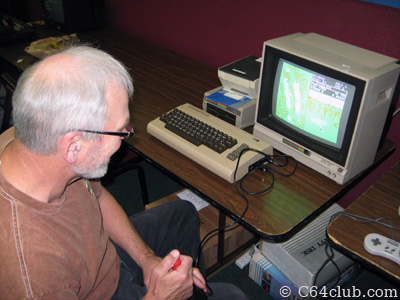 Greg N. checking out the complete in box C64 that was on the buy, sell, trade and free tables: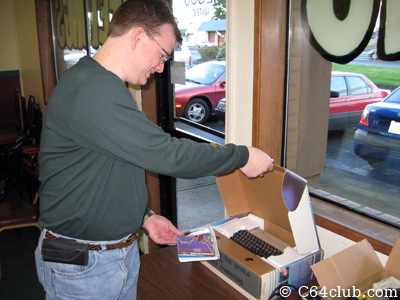 Scott and Kevin socializing about how much they enjoy Commodore computers, but how both of them really like Atari computers and consoles too: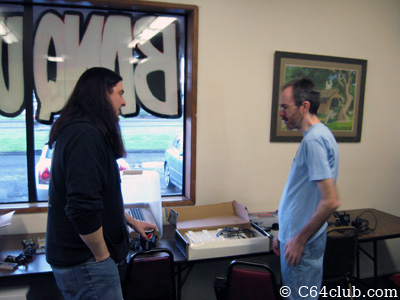 From time to time Greg N. likes to bring his classic Atari 2600 to the meetings. His is actually a Sears Tele-Games version of the 2600: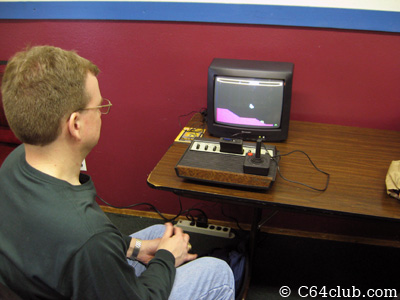 Here's an Amiga 500 that got some play at the meeting along with a classic Nintendo NES and other retro consoles for Commodore friends to enjoy: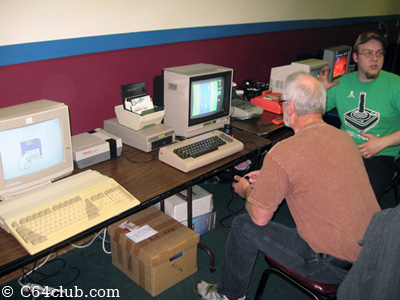 Evan playing Metal Slug on the Super Nintendo that Chris T. converted into a NeoGeo game console. Even the controller was modded to have lighted buttons: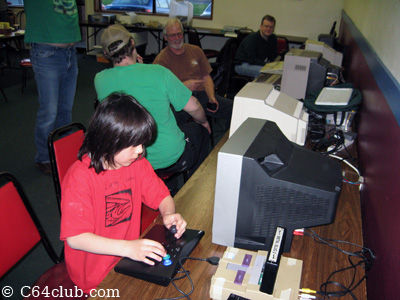 Chris T. enjoying the Commodore VIC-20 and the club favorite VIC 20 MegaCart loaded with 100's of games to play: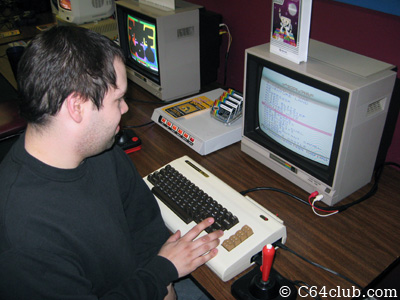 Chuck aka Recycled Gamer showing off his awesome homebrew modded controllers for the Vectrex game console: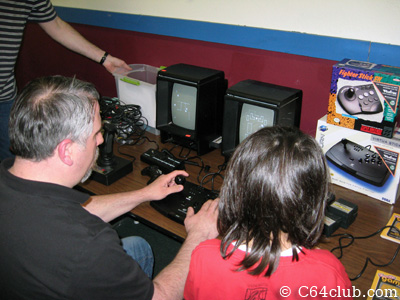 Everyone at the meeting enjoying all the awesome stuff available on the C64 club's buy, sell, trade and free tables: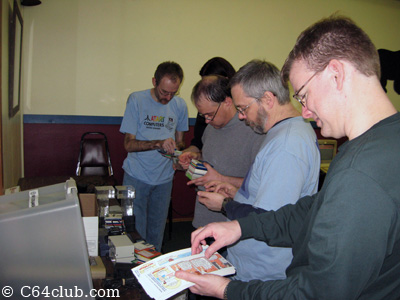 Kevin Savetz showcased how he converted a paperback book to a pixel perfect Kindle version. The best part? It's now available for download: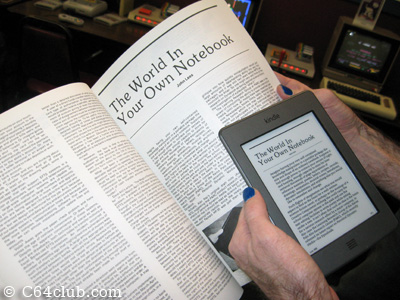 Yep, the wives club was in full effect. Card games and bread sticks, a fun combination for sure:
Ian with the Commodore Flyer and one of his favorite games Space Taxi: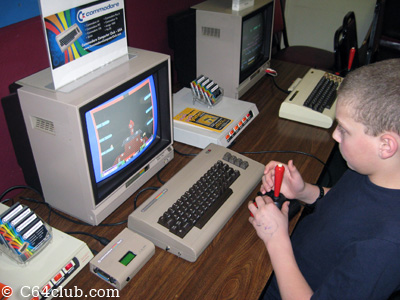 Up close and personal with the Super Nintendo that Chris T. converted into a NeoGeo game console next to a stack of NEO GEO cartridges:
Ryan showcased his Sharp Twin Famicom AN-505 to the Commodore Computer Club. This is an awesome floppy disk based Nintendo game console: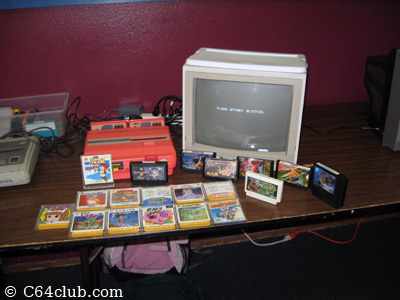 Club member Michael D. learning about custom made Commodore 64 and VIC-20 video cables from one of our founder members Dan: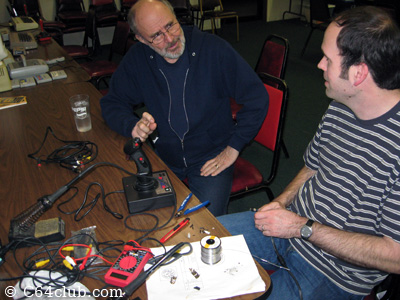 Tommy and Ian with enjoying a little gametime on Ryan's Sharp Twin Famicom AN-505 console: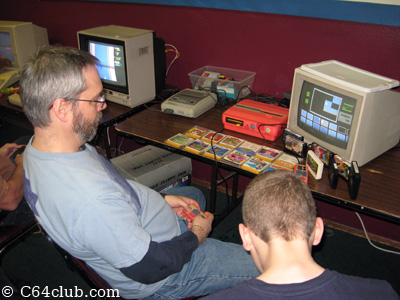 Always willing to be in pictures because he's a good sport, club member Tommy did "good" while playing games as seen on the monitor: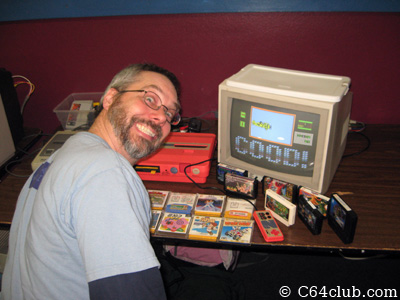 Dan doing a little solder repair on one of Conrad's vintage computers at the tinker time table: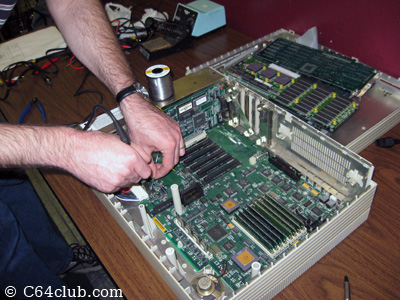 The Nintendo Super Famicom console was a huge hit! Here you can see Seth playing Super Donkey Kong on the Super Famicom (SFC):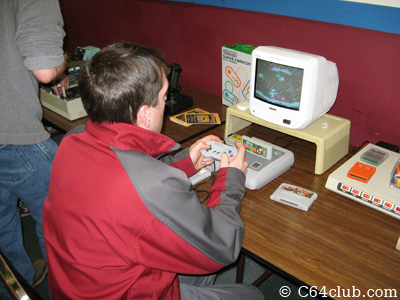 PDX Commodore Computer Club and Users Group members have fun while playing games during gaming time: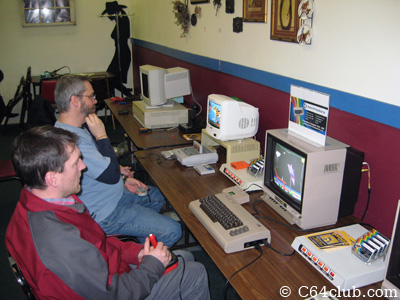 Tommy giving Super Donkey Kong 3 a try. Not too many people actually enjoy this third installment of the Donkey Kong Country series: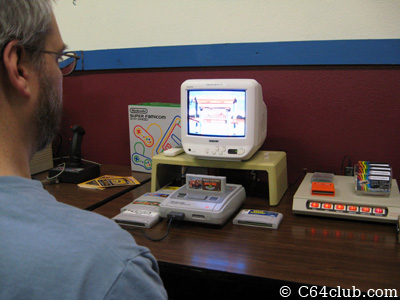 "Thank you" to everyone from the Pacific Northwest and beyond who continues to support and attend our Commodore Computer Club meetings. It's greatly appreciated.
Our next scheduled meeting will be Friday May 4, 2012, so be sure to mark it down on your calendar. We hope to see you at the next meeting! Come to learn, come to share.
If you like this post, please consider subscribing to our full RSS feed. Be sure to also Like Us on Facebook and Follow Us on Twitter.