Greetings Commodore Friends! Below you can check out the pictures showcasing our August 1, 2014 Commodore Computer Meeting, enjoy!
One of the earlier members to the club, Tommy playing a Commodore Computer Club favorite, Space Taxi on the JiffyDOS enhanced C64: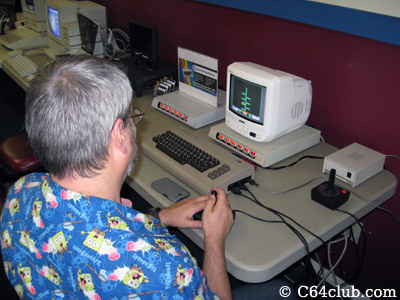 One of the many boxes of Commodore loot for our buy, sell, trade and free tables: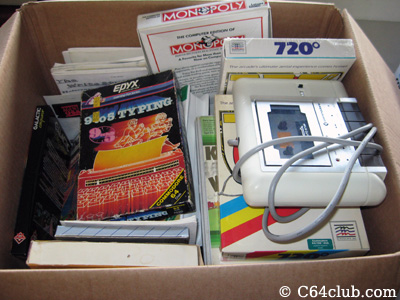 C64 Direct-to-TV C64DTV (hardware design by Jeri Ellsworth):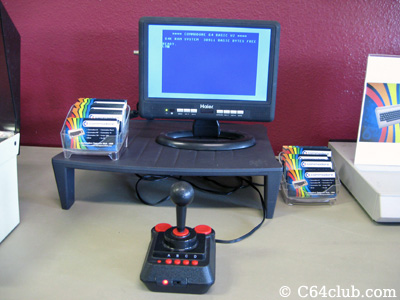 In all the years Tommy has played Space Taxi, this was the first time he had ever finished the game. Just look at his excitement! Congratulations Tommy!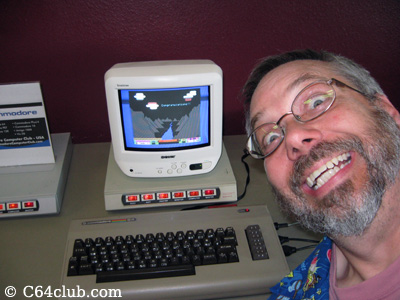 Captain Morgan enjoying a cool refreshing beer (yes he's at least 21 LOL) while playing games on the Apple IIgs at the meeting: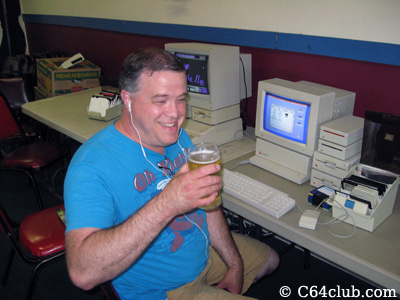 Various club members and guests socializing while setting up computers and consoles to enjoy: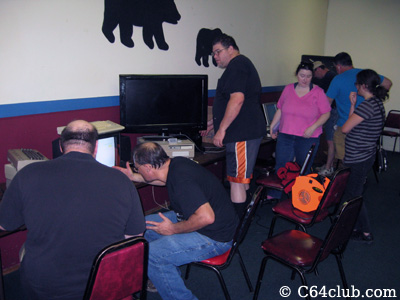 Here we can see C64 Club member Jeff setting up 3 Commodore 128 C128 computers: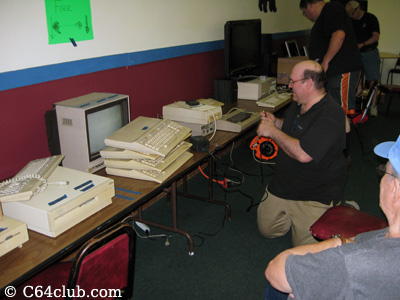 Check it out, a custom Atari Jaguar with Jaguar CD add-on being showcased at the meeting courtesy of Paul, one of our newer members to the club: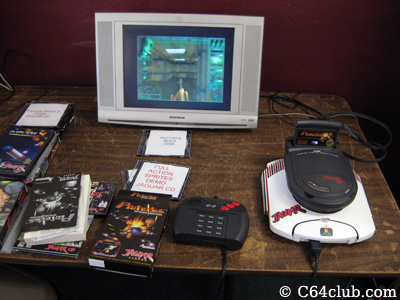 Up close and personal with Paul's Atari Jaguar CD console setup in a white dental case: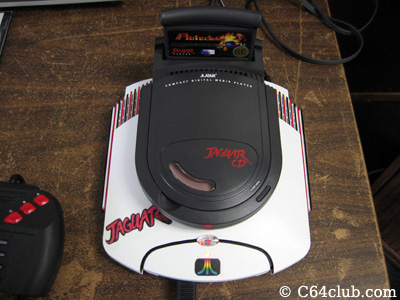 Tommy and Paul checking out the Atari 800XL computer presentation:
At the meeting both Conrad and Paul are enjoying some tasty food provided by Pied Piper Pizza. We can see Paul giving a big "thumbs up" for Commodore computers and Conrad: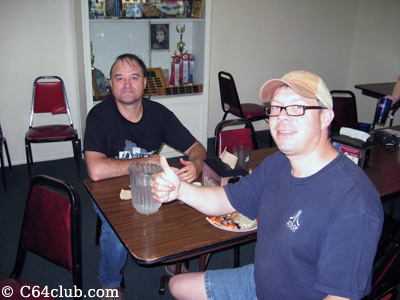 Members Michael, Dan and Mike socializing at the monthly C64 Club meeting: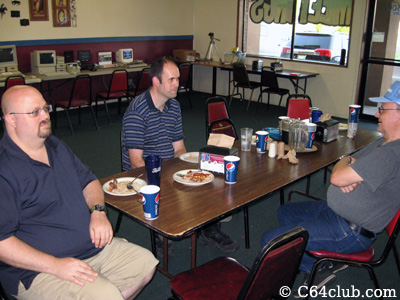 A club favorite, Lemmings being played on a Commodore Amiga 500 computer: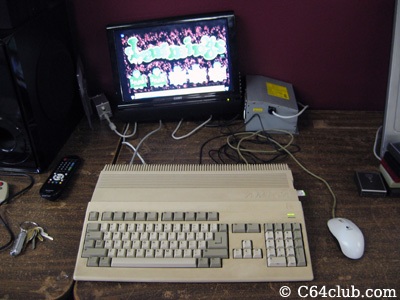 An Amiga enthusiast presenting one of his Amiga 2000 computers showcasing the Amiga logo and desktop on a giant color LCD screen: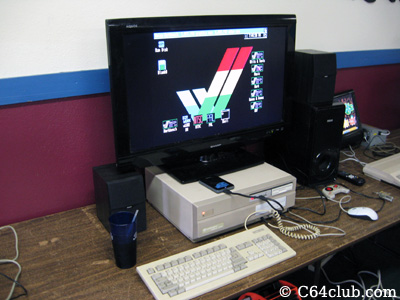 Jonathan showing of his new Apple II platinum computer with two disk drives and color monitor to Jeff at the Commodore C64 Club meeting:
Club members, guests and friends socializing at the monthly C64 Club meeting: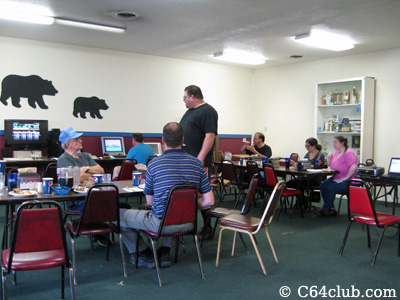 Commodore 64 computer, with JiffyDOS and an EasyFlash 3 cartridge serving up endless hours of retro gaming fun: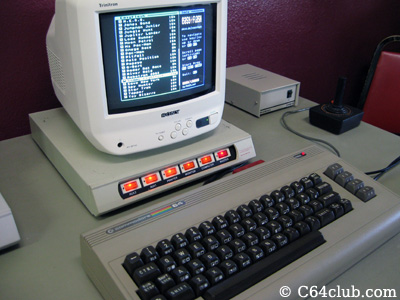 Here's an up close picture of the Commodore 64 JiffyDOS toggle switch and red reset button: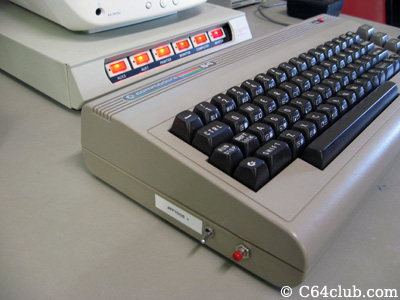 In this picture we can see Morgan, Michael, Mike and Dan socializing at the meeting:
Paul playing Jupiter Lander on a Commodore 64c computer using an EPYX joystick: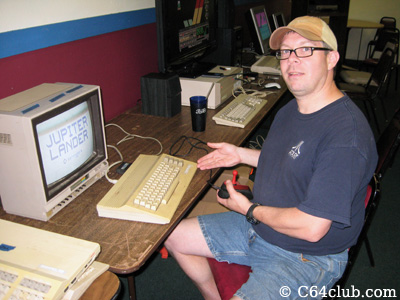 Jeff and Dan socializing over some tasty food and drinks at Pied Piper Pizza: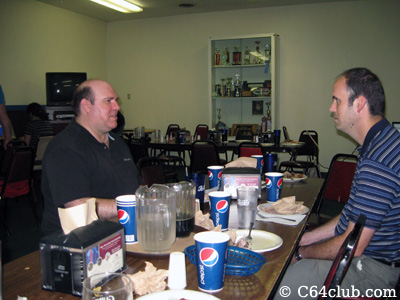 Here's a picture showing Commodore Computer Club members, friends and guests hanging out at the meeting: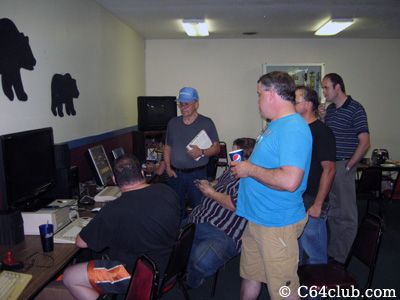 Here are some of Paul's Atari 800XL computer game cartridges being showcased: Space Harrier, Tempest and Joust marked not for sale because of rarity: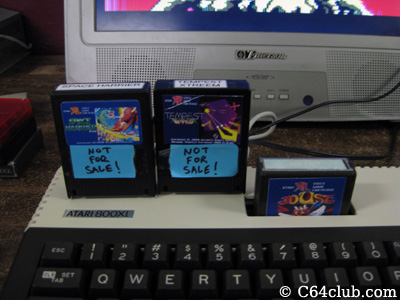 Always a wonderful turnout, here's another picture showing club members playing games on various Commodore, Amiga and Atari computers: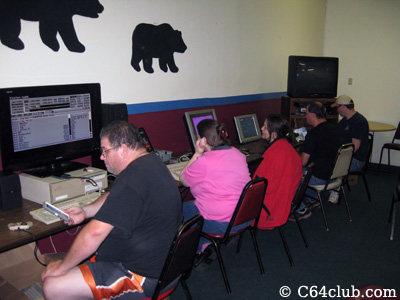 Conrad playing a game on the Atari Jaguar CD while Paul holds a CD pointing at Conrad. Does that CD say CGE on it?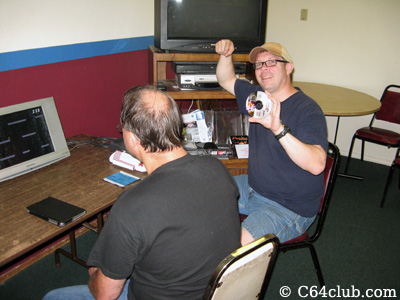 The ladies playing the fun Lemmings game on one of the many Commodore Amiga 500's at the C64 Club meeting: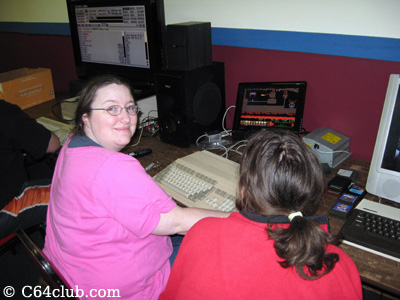 A picture showing part of the coin-op arcade and pinball machine room at Pied Piper Pizza. Games featured: Simpson's, Rush 2049, Big Buck Hunter Pinball and Demolish Fist: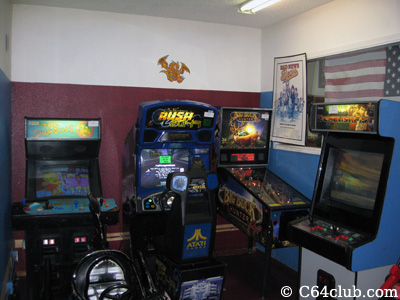 Paul is sad because there isn't more Atari stuff at the Commodore Computer Club meeting LOL: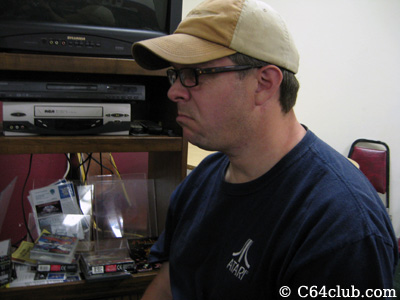 A huge "Thank You" to everyone from the Pacific Northwest and surrounding area who continue to support and attend our Commodore Computer Club meetings. It's really appreciated.
Our next scheduled meeting will be September 5, 2014. We hope to see you at the next meeting! Come to learn, come to share.
If you like this post, please consider subscribing to our full RSS feed. Be sure to also Like Us on Facebook and Follow Us on Twitter.