Below are the highlights with photos from our August 3, 2012 Commodore Computer Club and Users Group meeting:
Played classic video games on multiple Commodore 64's and 64c's
The "Wives Club" with board games, cards, socializing, etc.
Tetris game time with a Nintendo NES Top Loader
VIC-20 game time using the Mega-Cart loaded with 100's games
Retro computing and gaming presentations:
PDX Commodore Computer Club members and guests also enjoyed:
Show and Tell with club member hardware, software and more
Tinker Time: Hacking, Coding, Exploring new hardware, Cleaning of equipment
A lot of buy, sell, trade and free deals took place
All you can eat Pied Piper Pizza dinner buffet
Check out some of our Commodore Club meeting pictures below. Enjoy!
Members, guests and friends playing various C64, VIC-20 and Vectrex games. Always a fun time to be had for everyone who attends our monthly meetings: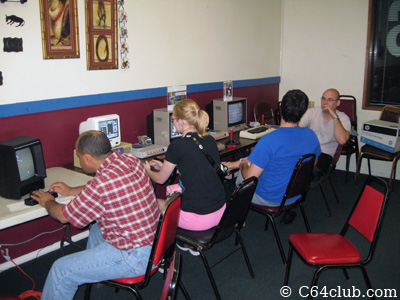 This was a first for the club, a Commodore VIC 1520 Plotter Printer. Until this meeting, we had only seen the C64 branded 1520 plotter: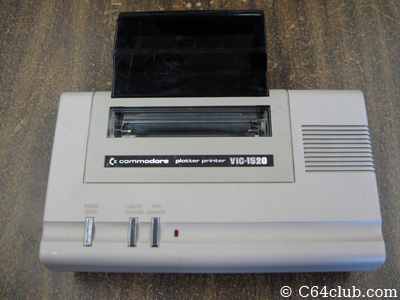 Greg enjoying a little C64 Club Game Time on the Commodore 64 computer. In the background you can see the game Dragon Fire on the VIC-20: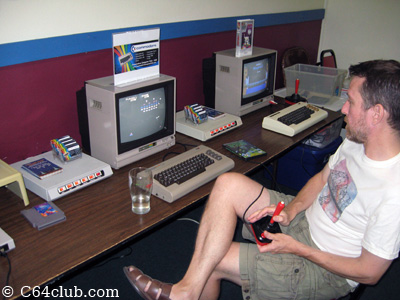 Nintendo NES Top Loader console with both the unlicensed and licensed versions of Tetris along with a DVD of "Ecstasy of Order: The Tetris Masters" thanks to Robin Mihara: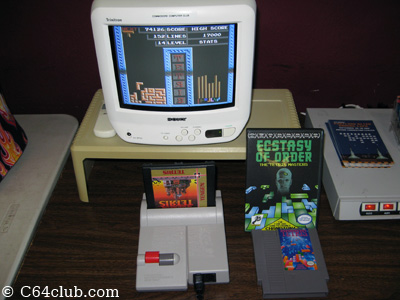 Morgan playing some Tetris on the Nintendo. In the background to the left you can see one of the awesome homebrew Vectrex covers for sale at the meeting:
Here we have the "Wives Club" playing the card game Apples to Apples which is a party game originally published by Out of the Box Publishing, and now published by Mattel: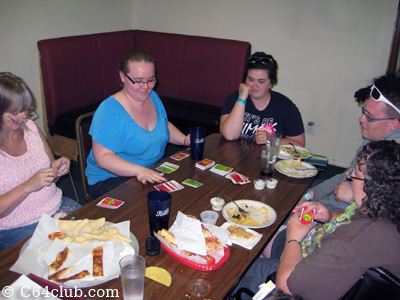 Up close and personal with the game Apples To Apples: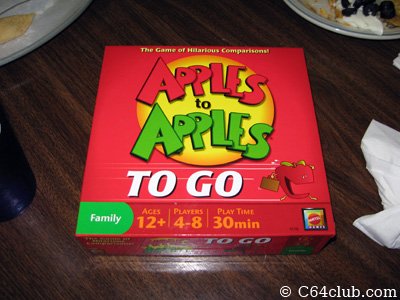 We were lucky to have the Vectrex at the meeting again, complete with the Vectrex homebrew game Vector Pilot which is a perfect Time Pilot port: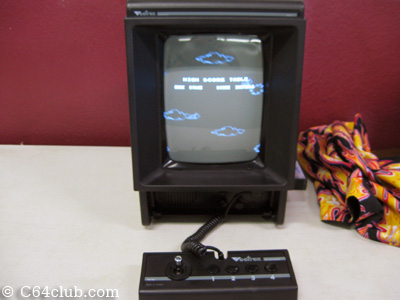 Conrad doing his Atari 800 XL presentation while Ivan and Morgan watch and learn about the wonders of Atari computing: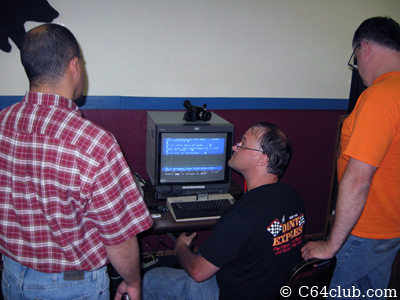 Here we can see the huge box of Atari 800 XL cartridges that Conrad showed off from his personal collection:
Taking a look at the Commodore Computer Club's buy, sell, trade and free tables. We had a lot of awesome retro gaming and computing items available: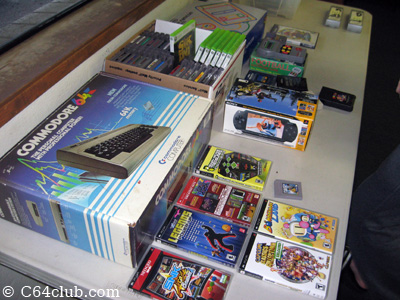 Playing some River Raid by Activision on the Commodore 64 computer using a WICO joystick controller – a club favorite for sure: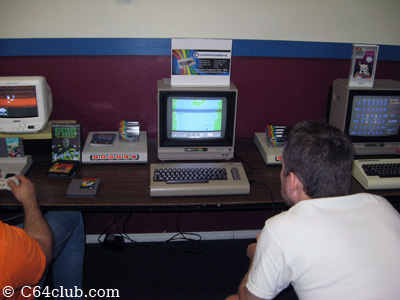 Tommy doing a little hacking on the VIC 1520 Plotter Printer during Tinker Time: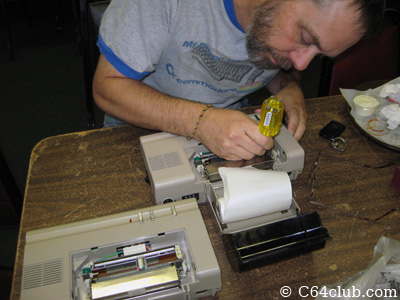 This was a real treat at our meeting, a private screening of "Ecstasy Of Order Tetris Masters" thanks to Robin Mihara: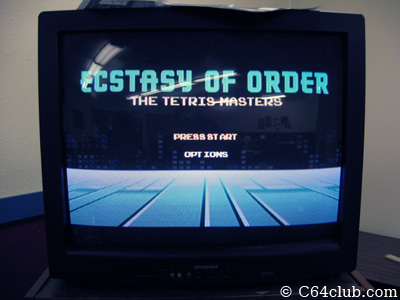 "Ecstasy Of Order Tetris Masters" on the screen. You can also see the DVD case and artwork: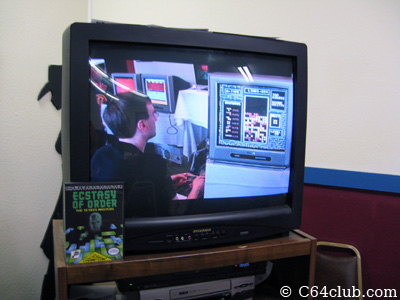 Club members enjoying the "Ecstasy Of Order Tetris Masters" movie. Thanks again to Robin Mihara for providing us the opportunity for a private viewing: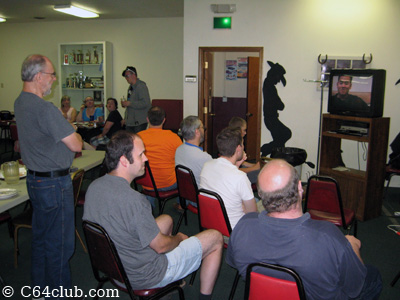 In this picture it looks like a few Buy, Sell and Trade Deals being discussed. There are always good finds to be had at our meetings: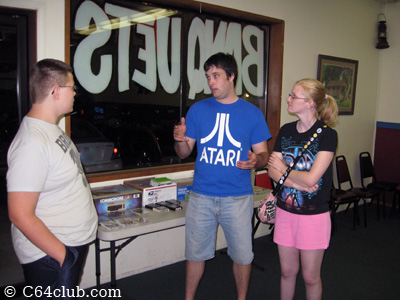 A perfect combination – C64Club Cards and Portland Retro Gaming Expo Flyers for the upcoming 7th Annual PRGE this September 29th and 30th, 2012: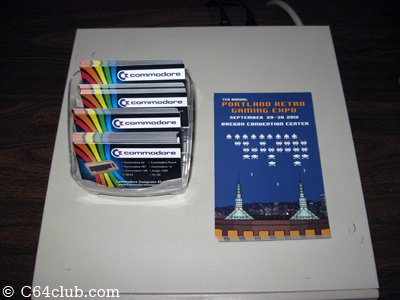 Say "hello" to the Commodore VIC-20 Mega Cart game cartridge, a serious must-have for any VIC 20 owner and collector: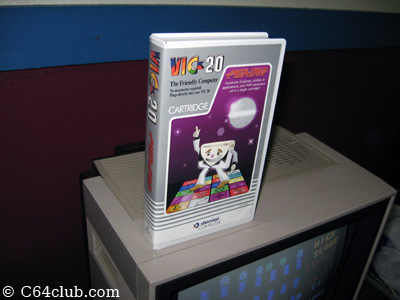 Long time club member Eric and friend playing Crossfire on the Commodore VIC-20 computer:
Did somebody say "evil"? Heh. New C64 Club member playing some games during gametime at the meeting. You can see Ivan in the background playing a game on the Vectrex: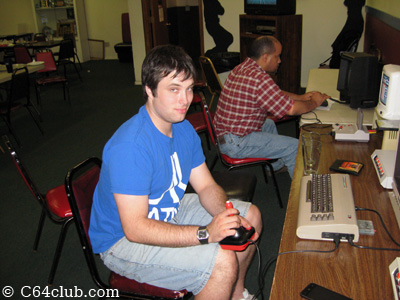 Ian, Tommy and Conrad enjoying the Atari 800 XL computer and the large amount of available software for it. Jeremy and Dan can be seen in the background socializing: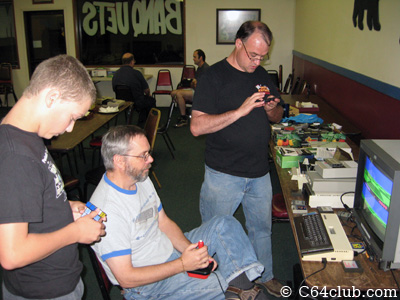 As always, "Thank you" to everyone from the Pacific Northwest and surrounding area who continue to support and attend our Commodore Computer Club meetings. It's really appreciated.
Our next scheduled meeting will be Friday September 7, 2012, so be sure to mark it down on your calendar. We hope to see you at the next meeting! Come to learn, come to share.
If you like this post, please consider subscribing to our full RSS feed. Be sure to also Like Us on Facebook and Follow Us on Twitter.