Greetings Commodore friends from near and far! Below are the highlights from our August 5, 2011 Commodore Computer Club and Users Group meeting:
Show and Tell with club member hardware, software and more
Game time on the NEC Turbografx-16 retro console
Enjoyed some game time on the Commodore 64
VIC 20 Mega-Cart cartridge with 100's games got a lot of play
Tinker Time: Hacking, Coding, Exploring new hardware, Cleaning of equipment
A lot of buy, sell, trade and free deals took place
All you can eat Pied Piper Pizza dinner buffet enjoyed by all
Beer and wine (for the 21 and older crowd) was consumed
We also enjoyed a few club member presentations and demos:
Commodore Club Member Show & Tell
TurboExpress TG16 handheld demo
Hands on with Flyer (formerly Pilot) internet device
Restoring a CBM PET 8032 computer
Amiga 1000 (A1000) hardware modifications
Now it's time to check out some photos showing all the geeky goodness everyone had at the PDX Commodore computer club meeting. Enjoy!
In this picture you can see a Commodore SX-64 Executive, gold label VIC-20, rare MSD SD-2, 1541 with JiffyDOS, Commodore 64 and an NEC TurboGrafx-16: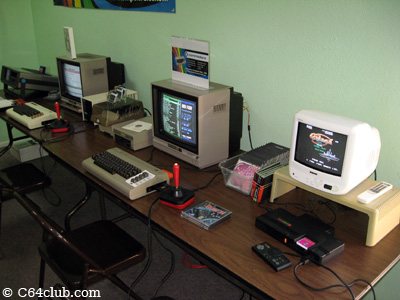 Playing some Defender on the Commodore 64 using one of the many EasyFlash cartridges on hand for members and guests to use: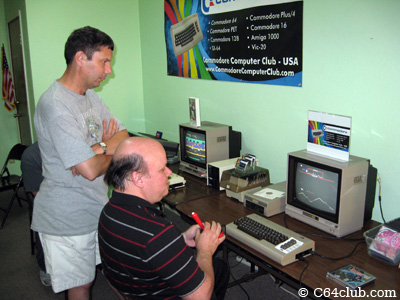 Here's Earl Evans (Retrobits Podcast) and Jeff from Seattle, WA enjoying some cool refreshing beer and geeky discussions: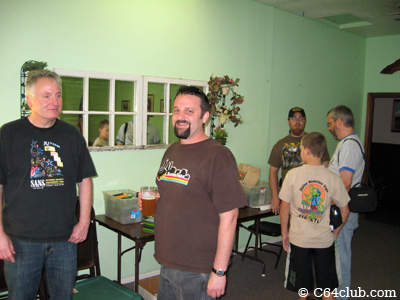 Buy, sell, trade and free deals are always a hit at the Commodore computer club and Users Group meetings: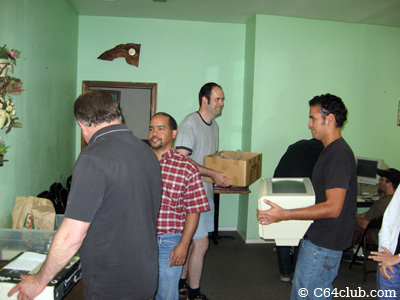 Club members, guests and friends socializing at the meeting while enjoying some tasty Pied Piper food and drinks: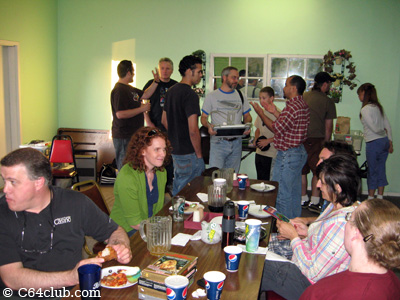 Long standing member Dan from Beaverton, OR, John Hancock and his son Justice from Longview, WA having a good time and all smiles: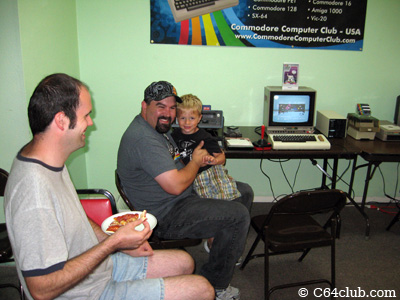 Members, guests and friends having an awesome time at our monthly Commodore computer club meeting. We always have a fun time hanging out with our Commodore friends: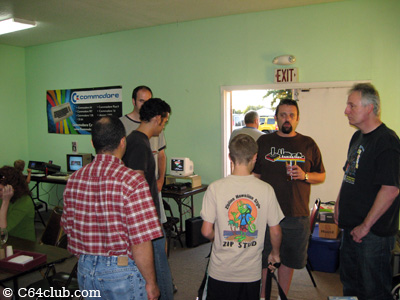 Here's Justice, our youngest Commodore club member getting ready to play some Artillery Duel on the VIC-20 using the Mega-Cart: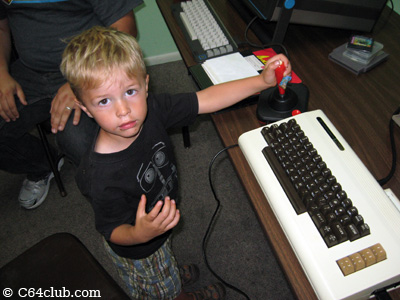 Commodore friends and guests relaxing while being social at the meeting:
John Hancock from the Portland Retro Gaming Expo showing off and discussing his latest retro gadget found in the wild: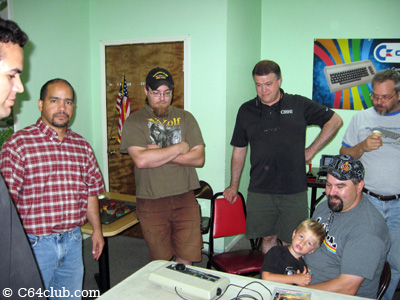 Here's a picture showing members, guests and friends of the Commodore Computer Club roaming around the meeting: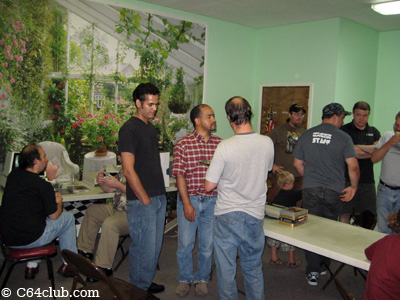 Tommy has been a Commodore computer club member for over a year now and always has the greatest retro t-shirts as seen here with his "My other computer is a Commodore 64" shirt: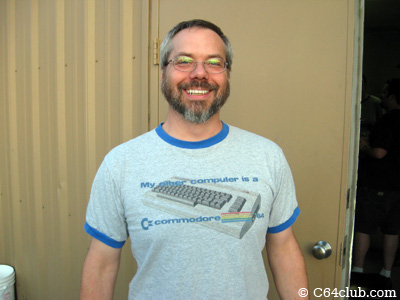 Here's Flyer (formerly Pilot) which is a brand new Commodore hardware device that provides both high speed internet connectivity and drive emulation that's compatible with the entire line of Commodore 8-bit computers including the PET: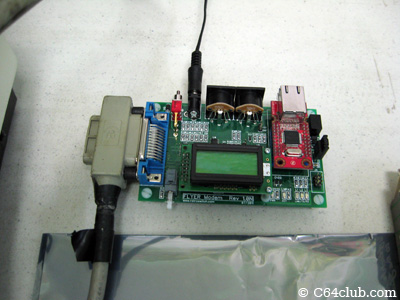 Brandon doing a demo presentation of his new hardware device Flyer, formerly known as the Pilot for club members and guests. You can also see his newly acquired Hitchhiker's Guide to the Galaxy big box game from the buy, sell, trade and free tables: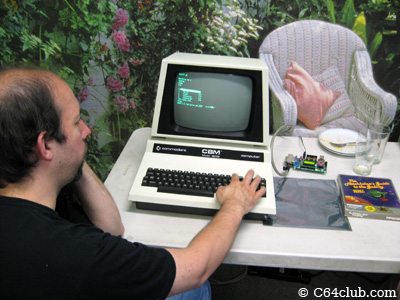 Club members having a discussion with Brandon about all the cool features for the Commodore Flyer hardware device like IEEE support, high speed internet access, http and FTP: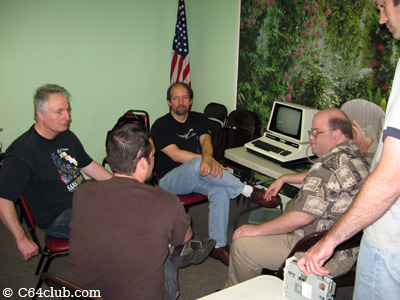 Brandon did an amazing job of restoring his CBM PET computer. Looks minty fresh under the hood as seen here in this picture: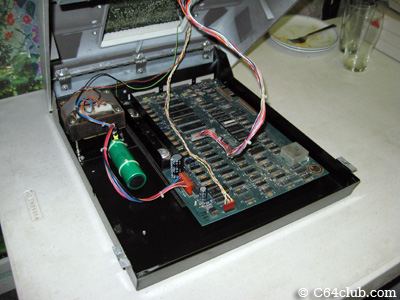 Morgan and Dan are checking out Ivan's latest Goodwill find which was a Radio Shack TRS-80 computer in 100% working condition: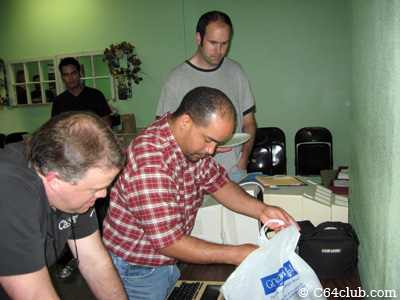 Radio Shack TRS-80 displaying "Commodore Computer Club" on the LCD which is pretty cool: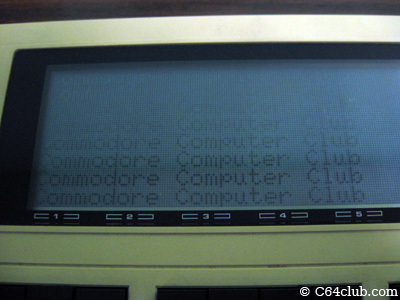 Up close and personal with Ivan's Radio Shack TRS-80 computer found in the wild and in perfect working condition: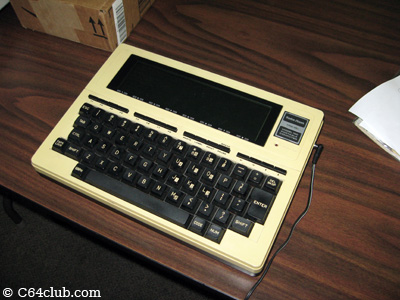 Tommy enjoying a little game time on the Turbografx-16 retro gaming console which was at the meeting and a huge hit with everyone: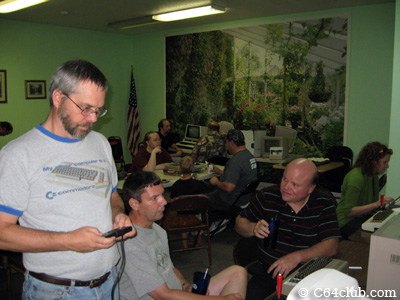 Members enjoying game time which is always good. Systems seen here are the Commodore VIC-20 using the Mega-Cart, JiffyDOS powered C64 using an EasyFlash cartridge and the Turbografx-16 gaming console: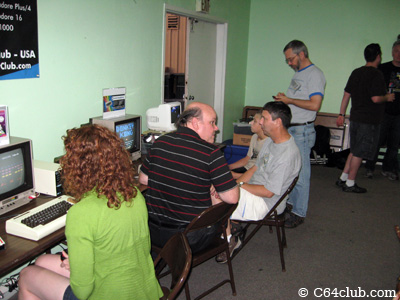 Tommy playing what looks like Gorf on the C64 and Ian playing Galaga '90 on the Turbografix-16 retro game system: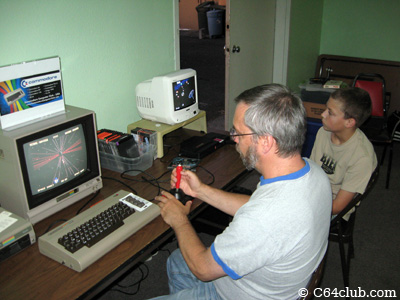 Enjoying a little Pied Piper Pizza… Pizza Time! The Teenage Mutant Ninja Turtles would be so happy right about now: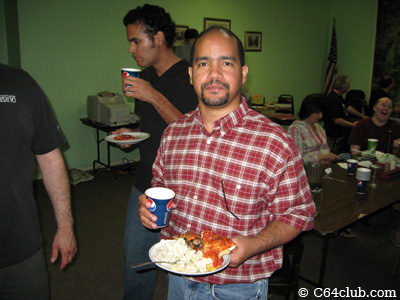 PDX Commodore Users Group and Computer Club members in Vancouver, WA doing a little socializing at the monthly meeting: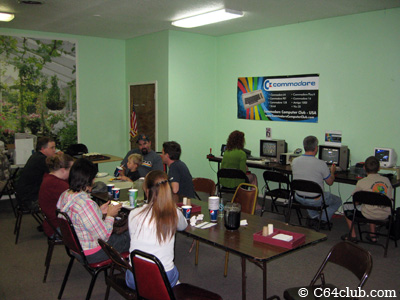 Ivan has been working on an Amiga computer project for a while now. He's adapting a Zorro II interface for the Amiga 1000 which allows adding a SCSI card/drive.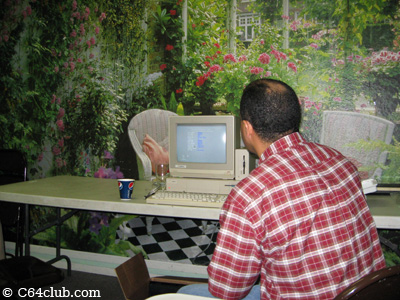 The peripheral Ivan chose to start from was an external memory expansion box (2 MB external RAM) which had a second/free 100pin connector.
This secondary connector (originally intended for adding more memory) has almost all the signals required by the Zorro II interface so he added a small circuit to complete what was missing. w00t for tinker time!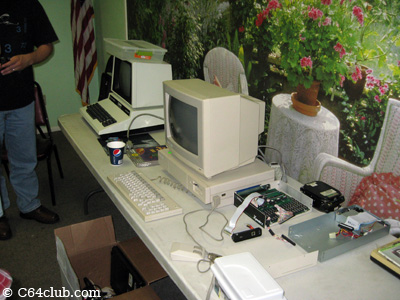 As seen here, Ivan finally got it working. He will have detailed documentation at the next Commodore computer club meeting. Nicely done!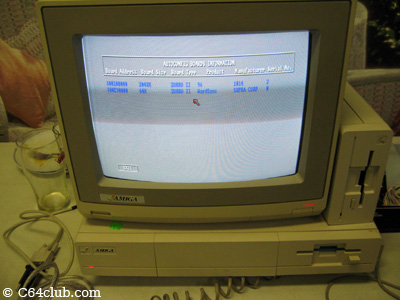 As always everyone in attendance is having a wonderful time playing games, doing some hardware hacking, tinker time and being geeks with social skills: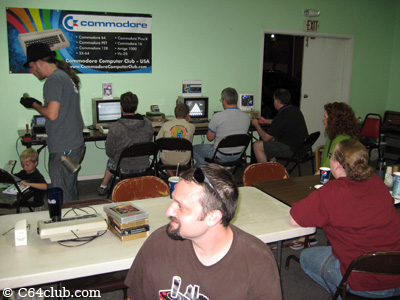 Check it out. Q*Bert being played on the Commodore 64 using an EasyFlash cartridge. The picture on the 1702 monitor is just amazing: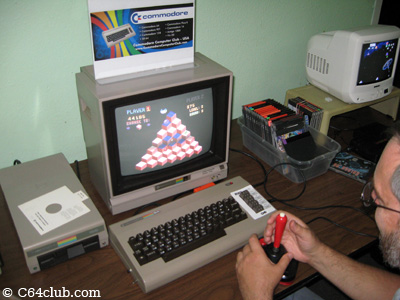 Another picture showing some gameplay of Q*bert on the C64 and Morgan playing Galaga '90 on the Turbografx-16 TG16 retro gaming console:
Everyone who attends our monthly meetings really enjoys having the ability to just relax at the meetings and play some classic video games: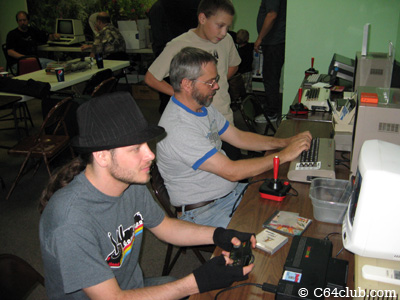 Jeff and Marcy playing a few games while Tommy and Ian do a little programming on the Commodore 64 computer with expanded BASIC thanks to JiffyDOS: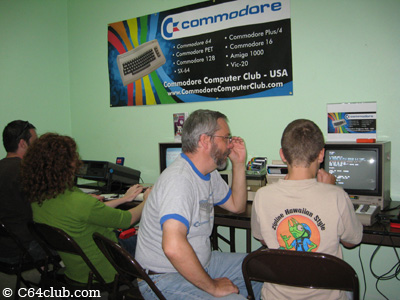 "Thank you" to everyone who continues attending our Commodore Computer Club meetings from all over the Pacific Northwest. Your continued support is greatly appreciated.
Our next scheduled meeting will be Friday September 2, 2011, so be sure to mark it down on your calendar. We hope to see you at the next meeting! Come to learn, come to share.
If you like this post, please consider subscribing to our full RSS feed. Be sure to also Like Us on Facebook and Follow Us on Twitter.