Our monthly Friday night Commodore Computer Club meeting was a lot of fun for everyone who attended. This was the last official meeting of 2010.
Here are some of the highlights from the meeting:
Demo of CommodoreLive website (public launch coming soon)
Pilot Internet Modem and Disk Drive Emulator Prototype Presentation
MSD SD-2 Super Disk Drive copy fun and file sharing party
Free Papercraft Prints – Build Your Own Arcade (Thanks Tommy)
Apple iPhone C64 Emulator Demonstration
UPCHUG members from Tacoma, WA once again in attendance
Enjoyed good food and drinks provided by Pied Piper Pizza
A lot of great photos were taken at the meeting. Below are some of the memorable moments caught on camera. I hope you enjoy the pictures.
Check out the CommodoreLive prototype Pilot Broadband Speed Internet Modem and Disk Drive Emulator that supports .D64, .D71 and .D81 disk images: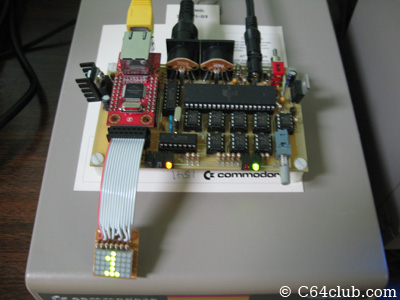 Member Tommy holding one of the CommodoreLive Pilot prototype PCB's we showed off to members at the meeting: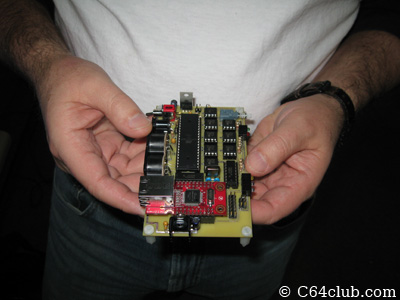 A big "Thank you" to Seth and Michelle of 8 Bit Weapon for the official 8 Bit Weapon T-Shirt and limited edition Electric High CD: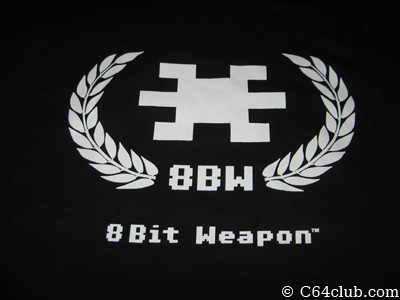 MSD SD-2 disk drive, Commodore SX-64, VIC-20, 1541 disk drive, Commodore 64 (with JiffyDOS) all setup for members and guests to use and have fun with at the meeting: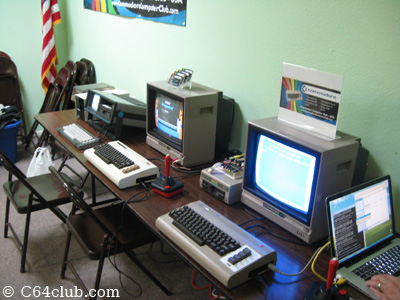 Gregory and Ivan all smiles at the PDX Commodore Users Group and Computer Club meeting: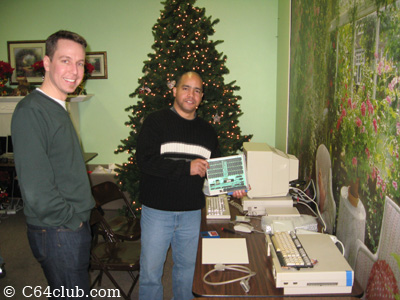 Buy, Sell, Trade and Free tables with a Commodore 64, 1541 disk drive, 1581 disk drive, lots of C64 and VIC-20 cartridges, 1702 monitor, books, manuals, software and more: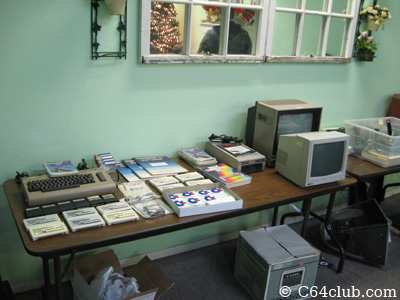 Picked up Zork II by INFOCOM for the Commodore Plus 4 complete in box thanks to the buy, sell, trade and free tables: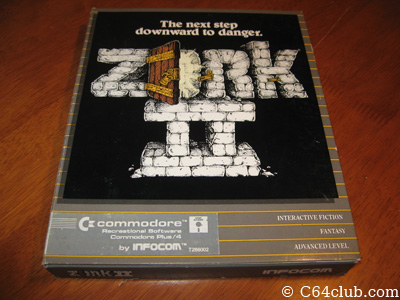 We had homemade Commodore Christmas tree ornaments for sale at the meeting. There are still a few left, so if you are interest in getting one just in time for Christmas, contact us: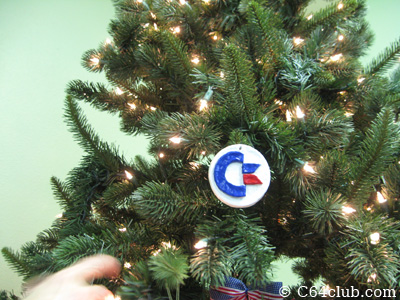 Commodore Computer Club members Ivan and Dan setting up two Amiga 1000's in sort of a server stack array: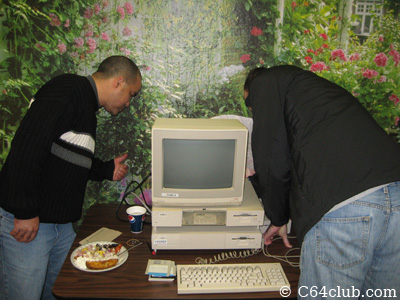 Dave showing off his Apple iPhone Commodore 64 Emulator: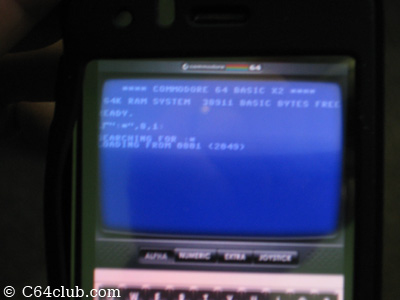 Long-standing member Tommy provided Free papercraft prints and supplies so we could all build miniature video arcade games, including a mini Commodore SX-64: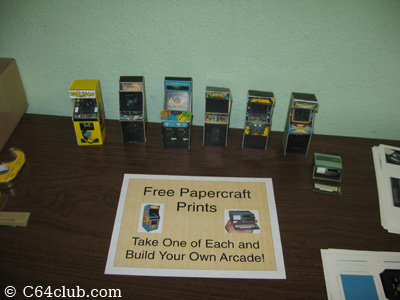 New club member Stacy getting ready to build her very own Dragon's Lair video game using papercraft prints and supplies: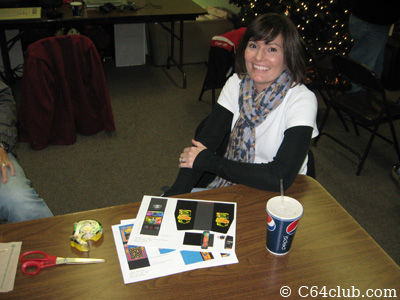 Commodore Amiga 1000 computer memory expander: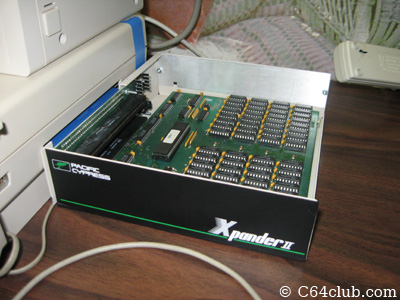 Amiga monitor displaying the available memory after installing the memory expander: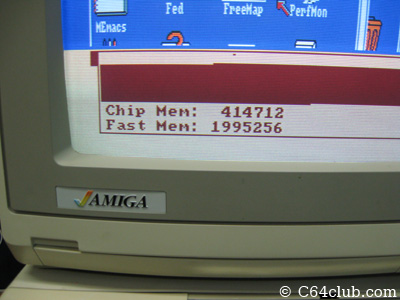 One of Dan's many Amiga setups he usually brings out to our Commodore Computer Club meetings: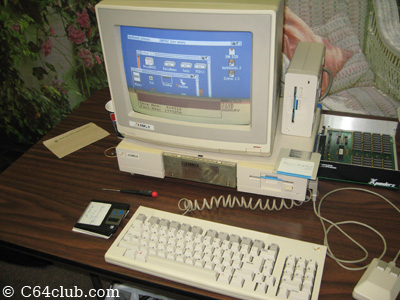 Jonathan playing Jumpman Junior on his personal Commodore 64c computer: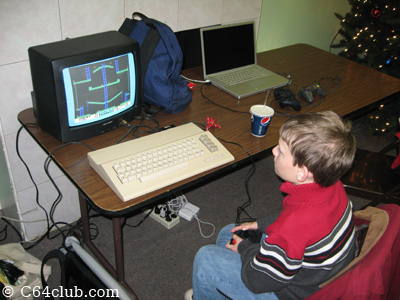 Gordon "gsteemso" Steemson and Brandon discussing CommodoreLive and the Commodore Pilot Internet Modem and Disk Drive Emulator: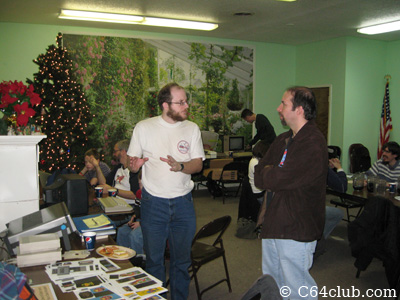 Commodore Users Group and Computer club members watch on as Brandon shows off a few of the Pilot internet modem and disk drive emulator features: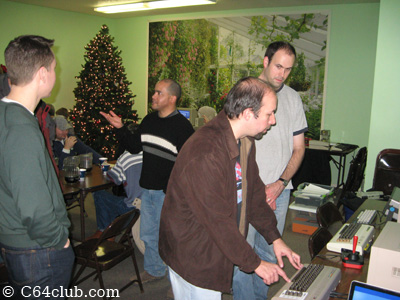 Members and guests giving feedback and suggestions about the upcoming public release of CommodoreLive and the new Commodore hardware device Pilot: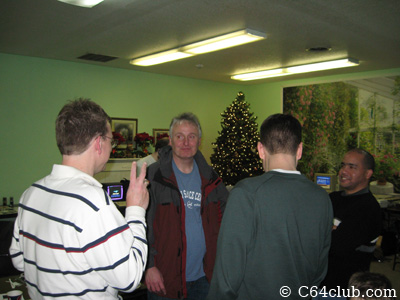 Commodore Computer Club Group Discussions: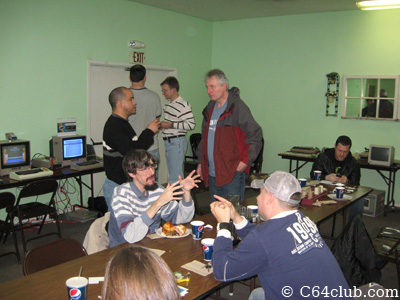 Dinner time with tasty Pied Piper Pizza, fried chicken, salad bar, drinks and so much more: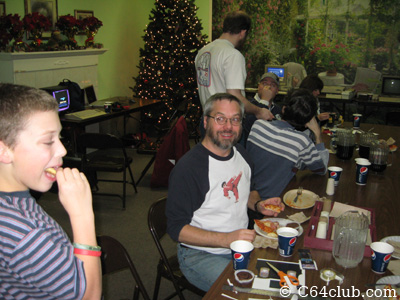 Gordon Steemson's IEC Extension project that he's currently working on. He got a lot of feedback from members of the Commodore Computer Club: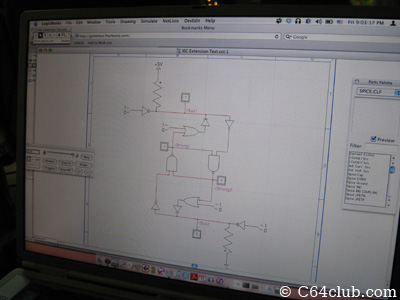 Ryan "Pinacolada" Sherwood and Dave doing some programming on the Commodore SX-64: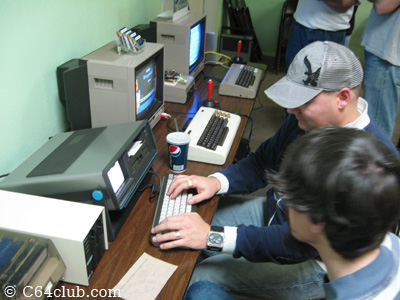 Gregory recently picked up a 1541 disk drive and is wasn't working so good. It had sticky rails, noisy stepper motor, it wasn't reading disks, etc. After a little TLC, it's running perfectly: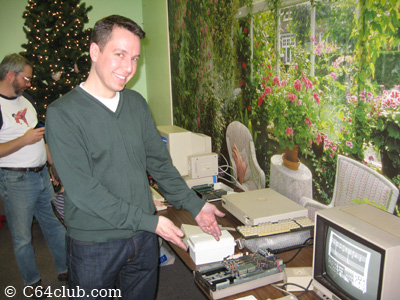 Ian (Tommy's son) creating custom graphics on the Amiga computer: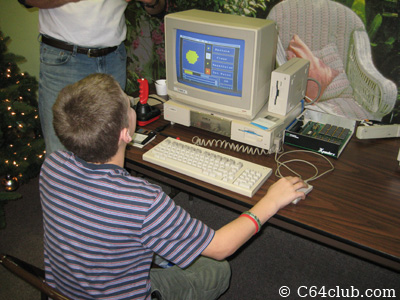 Jonathan was also creating custom graphics on the Amiga computer. It's so awesome that kids of today can enjoy retro Commodore computers:
"Thank you" to everyone who came out from near and far to show their support and excitement for the Commodore Users Group meeting in Vancouver, WA. It's very much appreciated.
Our next scheduled meeting will be Friday January 7, 2011, so mark it down on your calendar. As always we hope to see you at the next meeting! Come to learn, come to share.
If you like this post, please consider subscribing to our full RSS feed. Be sure to also Like Us on Facebook and Follow Us on Twitter.