Here are some of the highlights from our February 4, 2011 PDX Commodore Users Group Computer Club meeting:
Hands on with the ZoomFloppy by Nate Lawson and Jim Brain
Played checkers on Earl Evans Commodore PET 2001-8N
John Hancock showcased his Bally Astrocade
Bally Astrocade Homebrew 4-player "WAR" (Warlords Clone) Demo
Discussed the 2nd Annual Cowlitz Gamers for Kids Expo
Played games using the C64DTV designed by Jeri Ellsworth
Everyone loved playing Oregon Trail on the Apple IIc
Kevin Savetz from AtariArchives.org made a rockstar appearance
Lots of new people attended our Commodore Computer Club meeting
Below are some of the fun moments caught on camera at the meeting. Enjoy the photos.
Some of the computers setup at the meeting (Apple IIc, SX-64, MSD SD-2, VIC-20, Commodore 64 and 1541 disk drive both with JiffyDOS):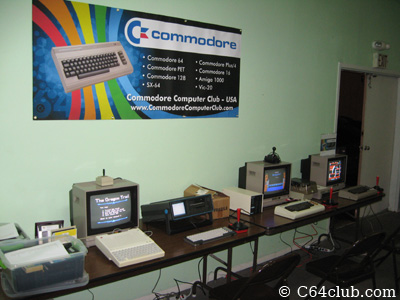 Katie and Dan playing Oregon Trail on the Apple IIc, Kevin Savetz playing Dragonfire on the VIC-20 and Seth playing Kung-Fu on the Commodore 64: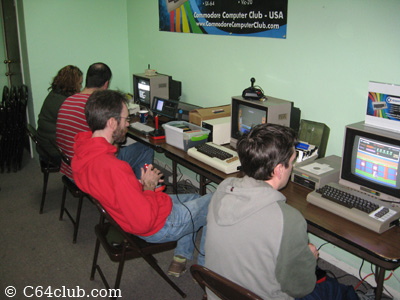 Club member Ivan's very clean Amiga 1000 computer with lots of software provided by long time member Dan from Hillsborro, Oregon: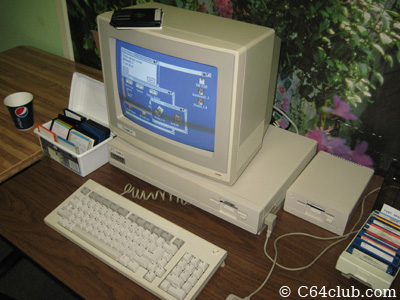 Root Beer Tapper on cartridge for the Commodore 64 computer: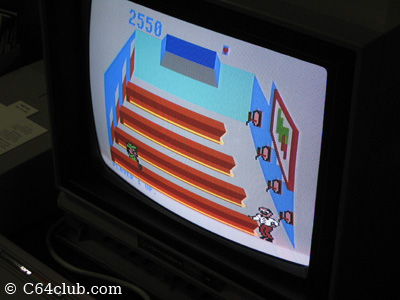 Seth, Tommy and Morgan playing various Commodore 64 and VIC-20 games. You can see Dan and his wife Katie in the background: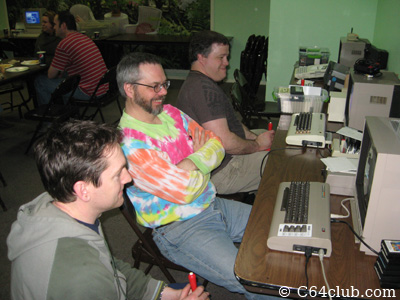 PDX Commodore Users Group members having a good time socializing at the Vancouver, WA Commodore Computer Club meeting: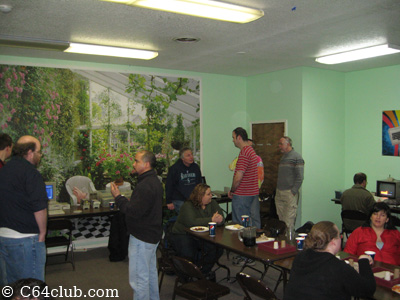 Earl Evans from the Retrobits Podcast sure loves his PET 2001 computer: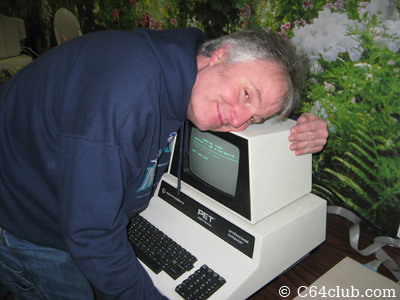 Commodore Computer Club members Earl Evans, Tommy, Tom (yep, two Tom's now) and Dan having a nice chat while relaxing at the meeting: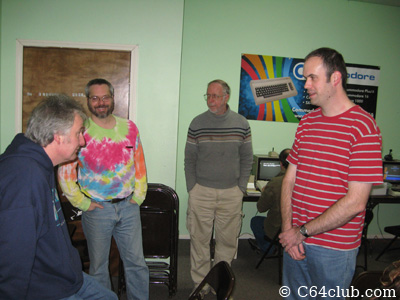 Gregory playing Dig Dug on his Commodore 64c computer: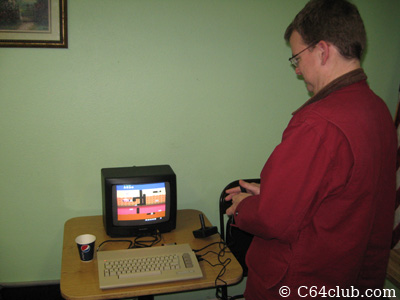 Earl Evans and Morgan from Woodland, WA doing some programming on the vintage 1977 PET 2001 computer: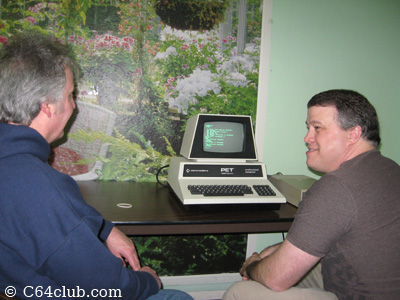 Come on and do the Donkey Kong (Buckner and Garcia reference):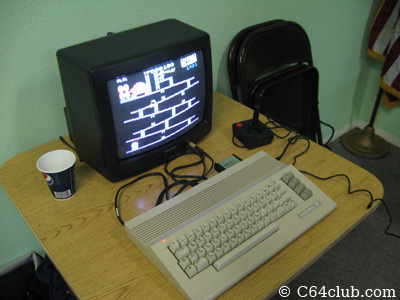 Ivan, Earl Evans, Gregory and Tom having some detailed discussions about some cool hacks for the super retro PET computer: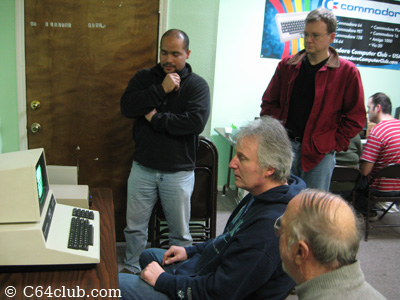 Up close and personal with Checkers on the PET 2001 computer: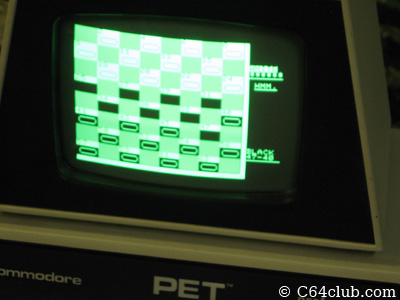 Bally Astrocade provided by Pacific Northwest retro gaming enthusiast John Hancock: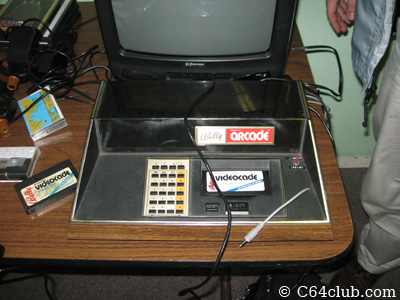 WAR a 4-Player Warlords homebrew clone for the Bally Astrocade. Only 21 copies of this game were produced. John Hancock is lucky to own a copy of it: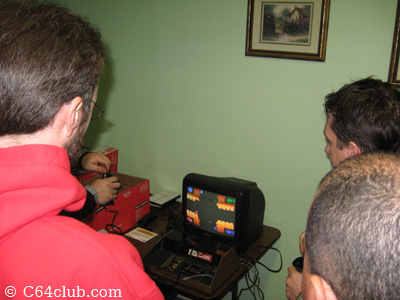 Conrad all smiles while he plays some games on the Commodore VIC-20 computer. You can also see a C64DTV designed by Jeri Ellsworth sitting on top of the 1702 monitor: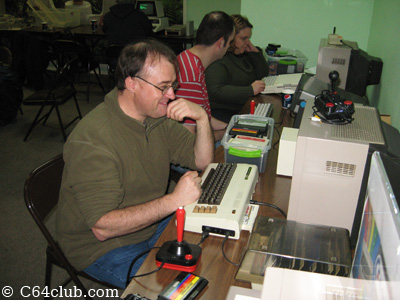 Seth playing GORF (one of his favorite games) on the Commodore VIC-20 computer: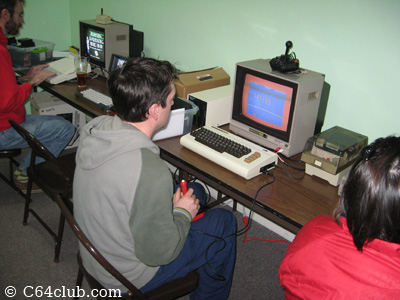 Galileo thermometer also known as a Galilean thermometer was brought to the meeting by new member Tom:
Kevin Savetz playing Oregon Trail on the Apple IIc. This game got a lot of action at the meeting: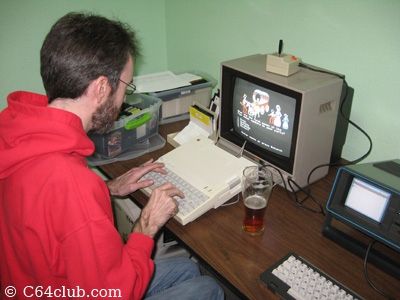 "Thank you" to everyone who came out to the Commodore Users Group meeting in Vancouver, WA. Your continued support of the Commodore Computer Club is much appreciated.
Our next scheduled meeting will be Friday March 4, 2011, so mark it down on your calendar. As always we hope to see you at the next meeting! Come to learn, come to share.
If you like this post, please consider subscribing to our full RSS feed. Be sure to also Like Us on Facebook and Follow Us on Twitter.