Our January 6, 2012 first Friday of the month PDX Commodore Users Group and Computer Club meeting was awesome with a side of winning!
Here's a brief bullet list with some of the highlights that took place:
Celebrated the 30th birthday of the Commodore 64 with a raffle
Played games on multiple Commodore 64's and 64c's
Commodore Flyer prototype enclosure presentation
VIC 20 game time using the Mega-Cart loaded with 100's games
Copied real floppy disks to digital files (D64, D71 and D81)
Show and Tell with club member hardware, software and more
Tinker Time: Hacking, Coding, Exploring new hardware, Cleaning of equipment
We also enjoyed the following:
The "Wives Club" (board games, cards, wine, etc.)
EasyFlash game cartridge fun
Game time on multiple Vectrex video game consoles
A lot of buy, sell, trade and free deals took place
All you can eat Pied Piper Pizza dinner buffet
Check out some of our C64 Club meeting pictures below. Enjoy!
We started out the evening with a little game time on the various Commodore 64, 1541 disk drive and VIC-20 computers present at the meeting: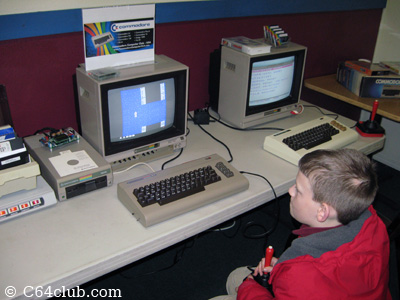 The Vectrex is always welcomed at the C64 club meetings. This time we had 3 fully restored and working Vectrex consoles for everyone to use along with a Commodore SX-64: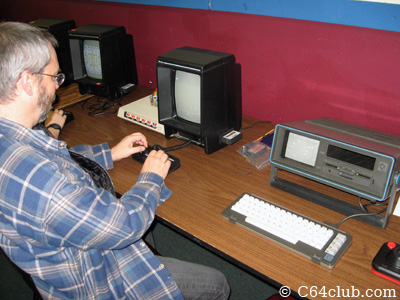 Here we have a Commodore Computer Club exclusive, a Flyer prototype case enclosure that we plan on producing in volume. Keep an eye on CommodoreFlyer.com for more information: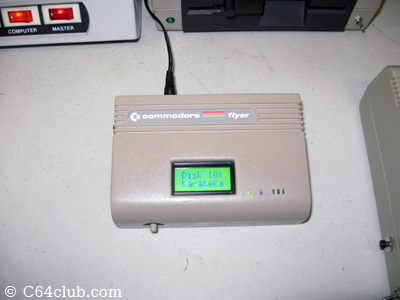 In this picture you can see a Flyer on top of a 1541 disk drive, 1702 color monitor, C64 computer with an EasyFlash cartridge and the prototype Commodore Flyer case enclosure: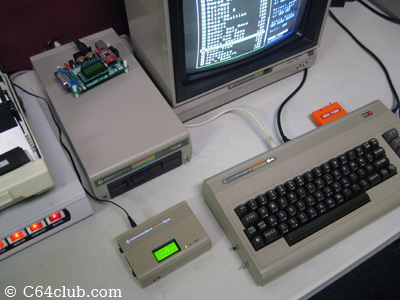 Commodore Computer Club members, guests and friends enjoying some awesome friendly retro computing and gaming related conversations: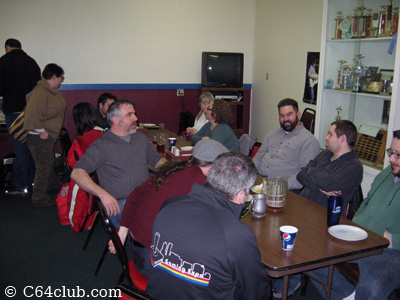 Kevin Savetz doing some Commodore 1541 floppy disk transfers to digital files (D64, D71 and D81). We ended up using Flyer to get the digital files created: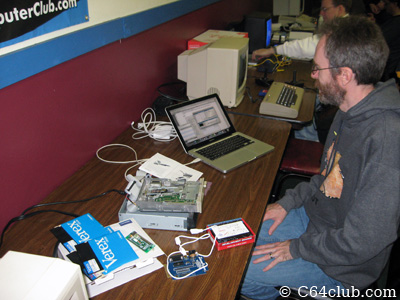 C64 Club Members, guests and Commodore friends socializing at the meeting: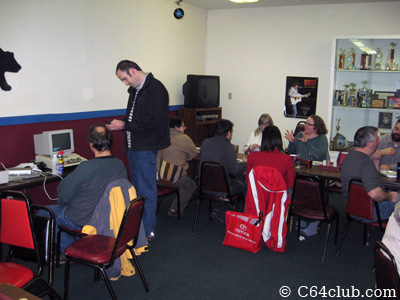 "One, two, three ah ha ha ha ha" (reference The Count from Sesame Street) Vectrex game consoles on hand for gaming time at the Commodore Computer Club meeting: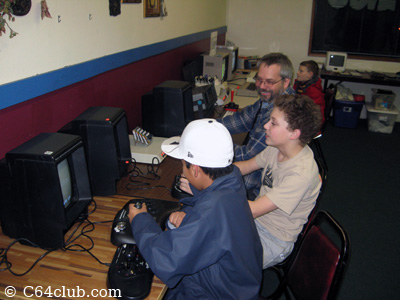 Chuck Van Pelt (Recycled Gamer) showing John Hancock his custom "recycled" retro controllers for the Vectrex: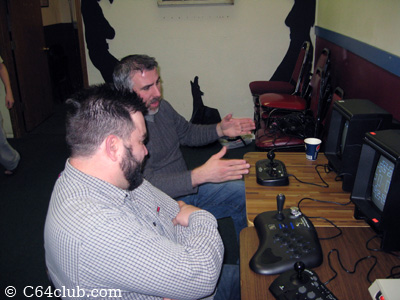 Seth playing the classic Commodore 64 game BC Quest For Tires. You can also see a VIC-20 with MegaCart and a complete in box C64 in the background: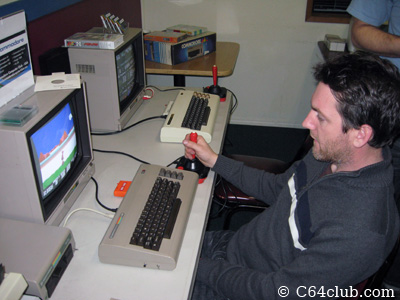 "Captain Morgan" was the winner of the complete in box Commodore 64 with sealed software we raffled off in celebration of the 30th birthday of the Commodore 64 computer: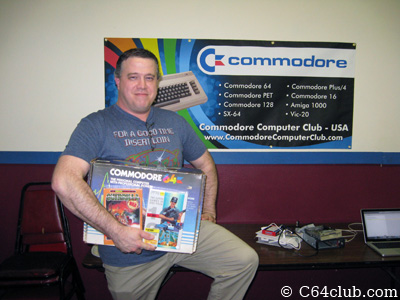 Here we have the "Wives Club" playing the card game Apples to Apples which is a party game originally published by Out of the Box Publishing, and now published by Mattel: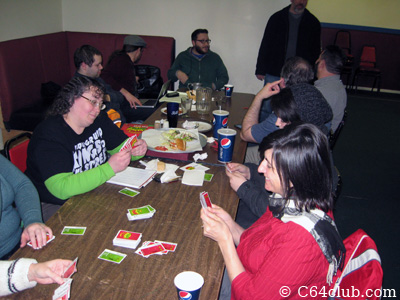 Up close and personal with some of the cards from the game Apples to Apples along with Rebecca doing a peace sign: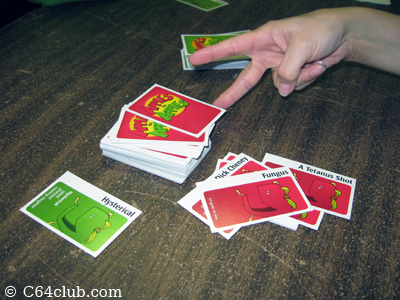 Long standing club member Tommy all smiles while he plays the game James Bond for the first time which is archived on one of the many EasyFlash cartridges on hand: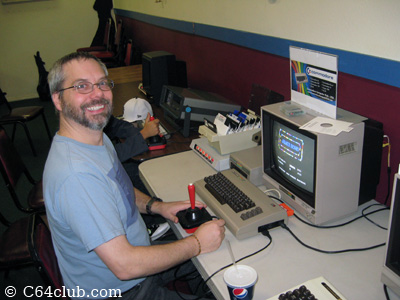 Playing a C64 club favorite Hard Hat Mack on the Commodore SX-64 computer using a classic WICO joystick: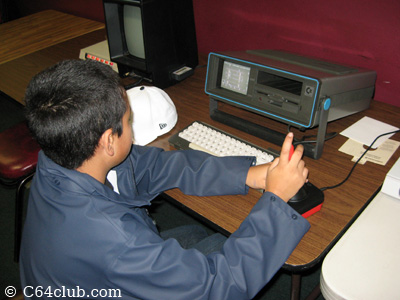 Michael and Dan having a discussion about retro computers and various homebrew projects: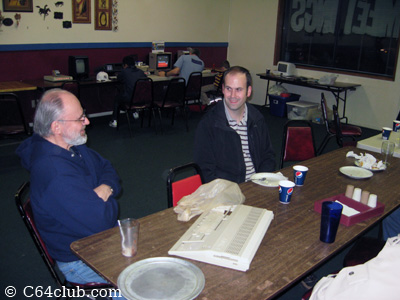 Tommy playing the Activision classic Pitfall on the Commodore 64. Pitfall made it's first debut on the Atari 2600: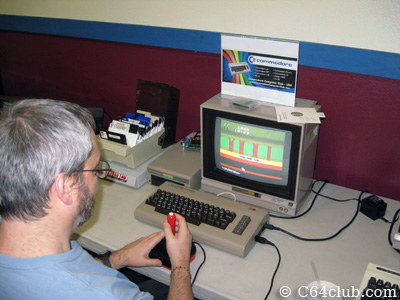 Another Activision classic H.E.R.O (HERO) being played during game time at the Commodore Computer Club meeting: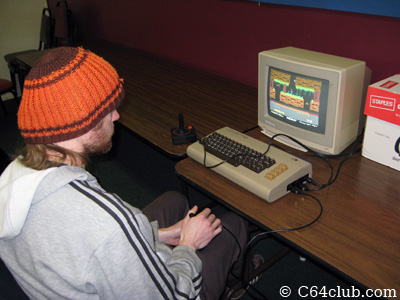 Towards the end of the evening we had a Wizard of Wor game competition. A lot of people really got into it which was a lot of fun: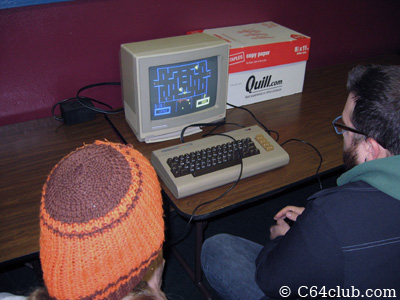 John Hancock watching the Wizard of Wor competition being played on his personal Commodore 64 computer he brought to the meeting: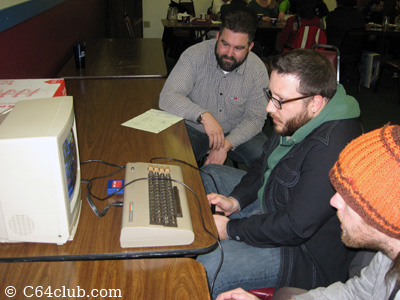 "Thank you" to everyone from the Pacific Northwest and beyond who continues to support and attend our Commodore Computer Club meetings. It's greatly appreciated.
Our next scheduled meeting will be Friday February 3, 2012, so be sure to mark it down on your calendar. We hope to see you at the next meeting! Come to learn, come to share.
If you like this post, please consider subscribing to our full RSS feed. Be sure to also Like Us on Facebook and Follow Us on Twitter.