Our monthly Friday night Commodore Computer Club meeting was a lot of fun for everyone who attended. This was our first official meeting of 2011.
Here are some of the highlights from the meeting:
Cupcakes with Commodore Logo's made out of edible colored chocolate
Tasty chocolate chip cookies with almonds
Chuck Van Pelt showed off his homebrew Vectrex light pens and controllers
Commodore synth musician Andreas performed a live demo
Discussed public launch of CommodoreLive website
Pilot Internet Modem and Disk Drive Emulator shipping soon
Played a lot of games on the C64, VIC-20 and Amiga 1000 computers
Vectrex games being played via the Sean Kelly Vectrex mult-cartridge
John Hancock discussed "Cowlitz Gamers for Kids"
Below are some of the Commodore Computer Club meeting highlights caught on camera. Enjoy the pictures.
Homemade chocolate and vanilla cupcakes with edible Commodore Logo's made out of colored chocolate (thanks Michelle) and chocolate chip cookies with almonds (thanks Stacy):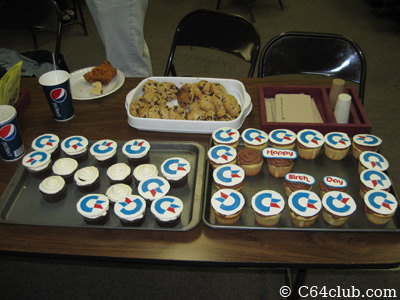 Commodore MSD SD-2 disk drive, giant tub of 60+ C64 game cartridges, Executive SX-64 with Jumpman Junior, Commodore VIC-20 with Dragonfire and Commodore 64 with Choplifter: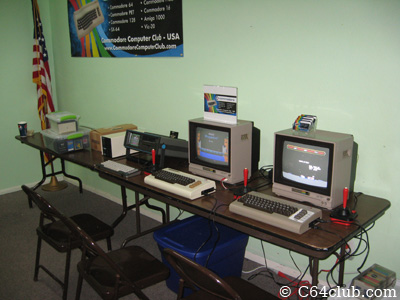 We watched Commodore Computer Club member Jasper (desfeek) break the Twin Galaxies Vectrex Pole Position record with a score of 77,200 at the January 7, 2011 meeting:
Our newest Commodore Computer Club member 2-year old Justice (John Hancock's son) getting ready to eat a Commodore logo made out of chocolate: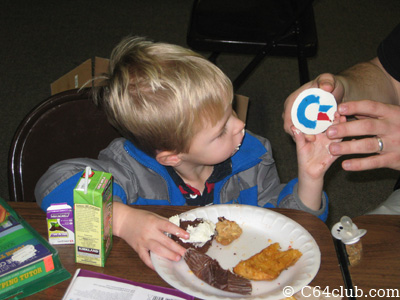 Morgan from Woodland, WA Playing an awesome port of Dragonfire by iMagic on the Commodore VIC-20: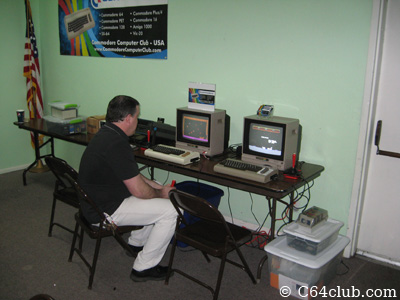 Commodore Computer Club and User Group members Justice with dad John Hancock and Chuck Van Pelt smiling for the camera: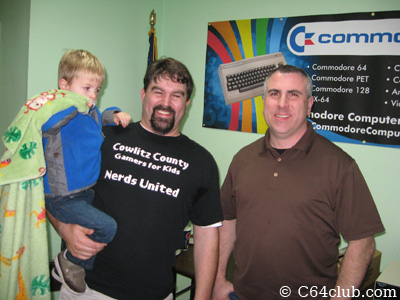 Ian playing some action packed video games on the Commodore 64 that has JiffyDOS installed complete with function key overlay: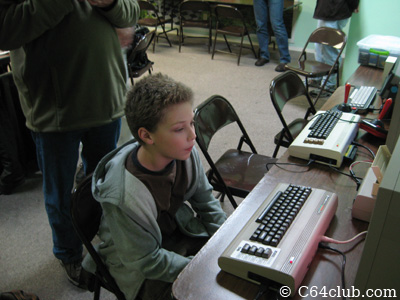 Dinner time with tasty Pied Piper Pizza, fried chicken, salad bar and drinks while discussing some of the awesome scores from the buy, sell, trade and free tables: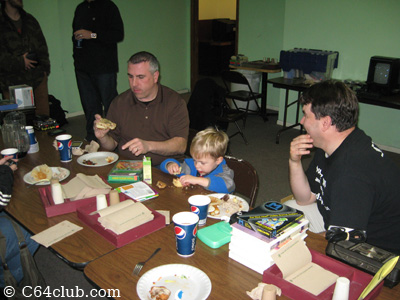 Good friend Chuck Van Pelt and one of the organizers of the Portland Retro Gaming Expo (PRGE) playing an intense game of Choplifter on the Commodore SX-64: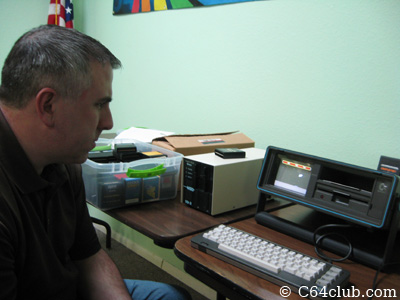 Club members Tommy and his son Ian playing the game Space Taxi on the JiffyDOS powered Commodore 64 and 1541 disk drive: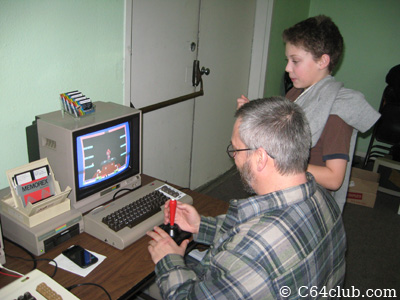 Dan, Ivan, Conrad, Tom, Dave, Chuck Van Pelt and Eric (The All Consoles Gamer) hanging out. You'll notice that Pied Piper Pizza hasn't taken down the Christmas tree yet: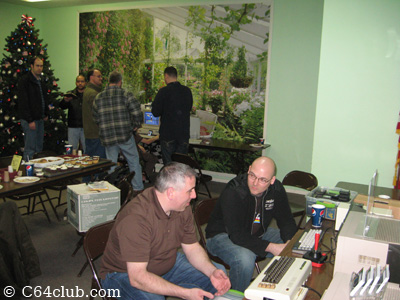 Ian recreating Mario from Super Mario Bros. on the Amiga 1000 using a picture on an Apple iPhone for reference: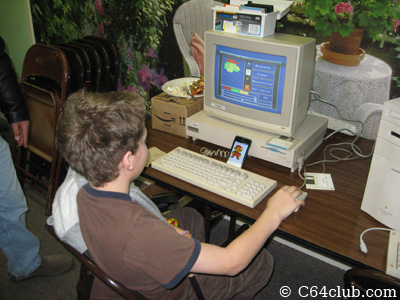 Commodore Computer Club members discussing all the cool retro computing items on the buy, sell, trade and free tables that are a regular feature at our meetings: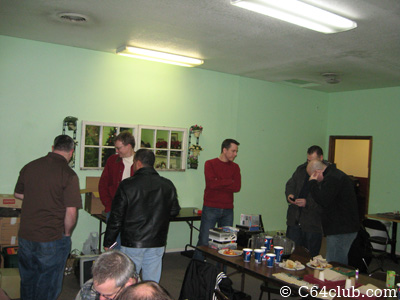 Well that's about it for the pictures. As usual not everything got captured on camera because so many different and cool things were happening, it's hard to remember "take pictures".

If you come to the Commodore Computer Club meetings and own a digital camera, please bring it to the next meeting to assist in capturing more of the goodness that takes place.
"Thank you" to everyone who came out from near and far to show their support and excitement for the Commodore Users Group meeting in Vancouver, WA. It's very much appreciated.
Our next scheduled meeting will be Friday February 4, 2011, so mark it down on your calendar. As always we hope to see you at the next meeting! Come to learn, come to share.
If you like this post, please consider subscribing to our full RSS feed. Be sure to also Like Us on Facebook and Follow Us on Twitter.