Greetings Commodore friends, here are the highlights from our March 2, 2012 Commodore Computer Club and Users Group meeting:
Played games on multiple Commodore 64's and 64c's
Multiple Commodore Flyer's on hand
VIC 20 game time using the Mega-Cart loaded with 100's games
Multiple Weller soldering stations setup
Commodore SFD 1001 disk drive repair
Show and Tell with club member hardware, software and more
Tinker Time: Hacking, Coding, Exploring new hardware, Cleaning of equipment
PDX Commodore Computer Club members and guests also enjoyed:
Custom made Commodore video and serial cables
Vectrex game controller hacking and modifications
The "Wives Club" (board games, cards, wine, etc.)
Girl Scout cookies sold to help support one of our youngest members
Amiga 500 memory upgrades
A lot of buy, sell, trade and free deals took place
All you can eat Pied Piper Pizza dinner buffet
Check out some of our C64 Club meeting pictures below. Enjoy!
As always a really nice turn out at the Commodore Computer Club. Here we can see C64 Club members, guests, friends socializing: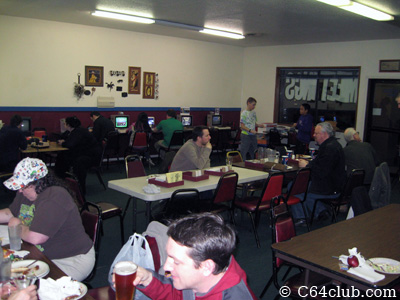 During Tinker Time we can see Chris and Chuck (Recycled Gamer) doing some Vectrex controller modifications: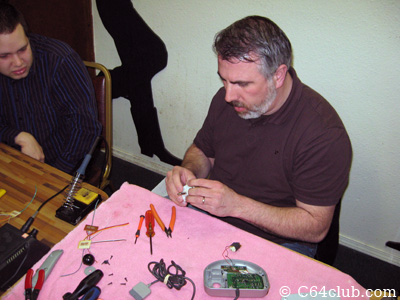 NES Nintendo Top Loader with composite video mod on hand with a nice selection of retro Nintendo game cartridges for people to enjoy: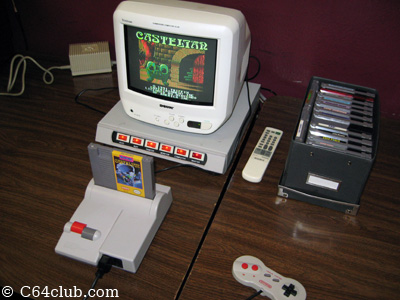 Gregory all smiles at the PDX Commodore Computer Club and Users Group while playing games during gaming time: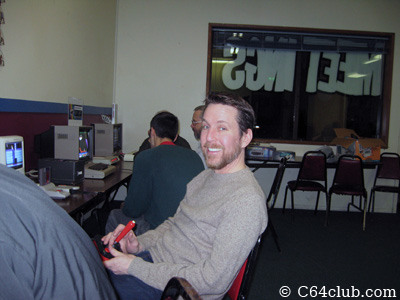 Commodore 64c, NES Top Loader, C64 breadbox, Commodore Flyer and Gold Label VIC-20 on hand for people to have some retro fun: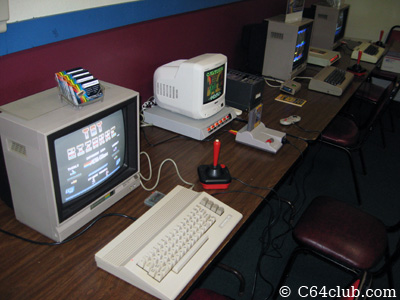 We always have something fun to show off during show and tell. Check out this C64c Hard Shell Dust Cover that we ended up hanging on Pied Piper Pizzas Wall: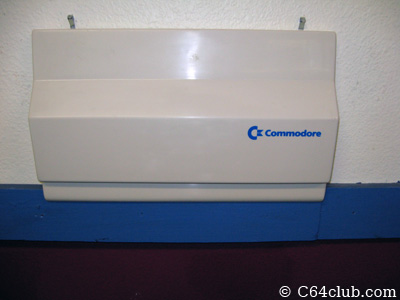 "The Second Book of Machine Language" and "BASIC and The Personal Computer" books which were scored by Earl Evans (Retrobits Podcast) on the buy, sale, trade and free tables: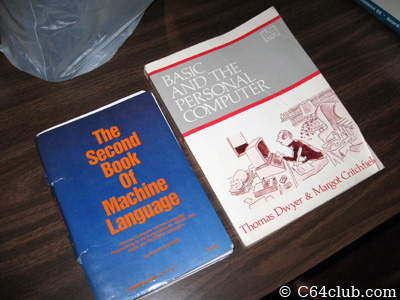 Earl's daughter playing Pac-Man on one of the Commodore 64c computers at the meeting: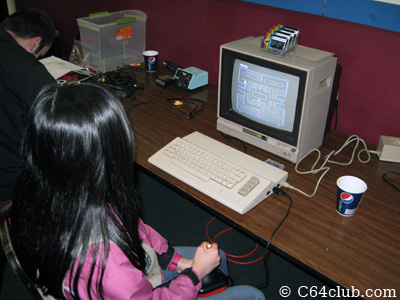 Tommy and Earl discussing replacing the floppy drive in his Commodore SFD-1001 Disk Drive: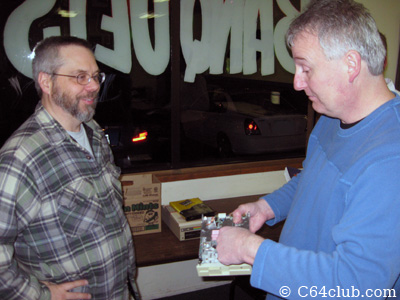 Commodore Flyer, Network Switch, a modern day laptop and the C64 EasyFlash cartridge all connected to Greg's Commodore 64c serving up the game M.U.L.E.: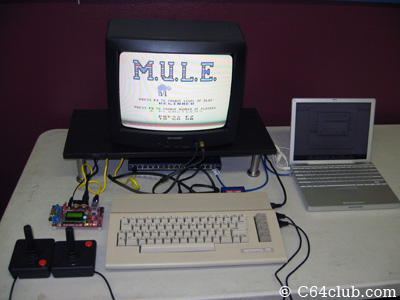 "Captain" Morgan playing the action platformer game Splatterhouse by Namco (1989) on the Nintendo NES Top Loader: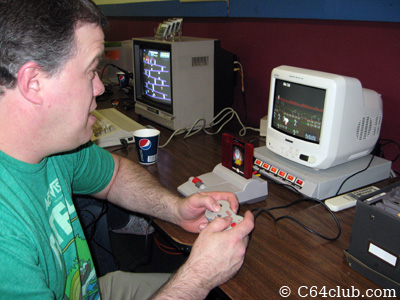 Commodore gold label VIC-20 computer running the Crossfire game. Using the classic WICO joystick controller is great: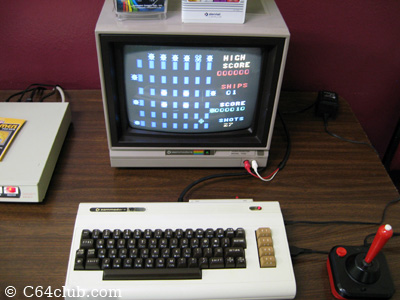 Ryan showing off his Sharp X68000 XVI Compact from Japan. The game he's showcasing is called ZugyA. It can best be described as Bosconian on steroids: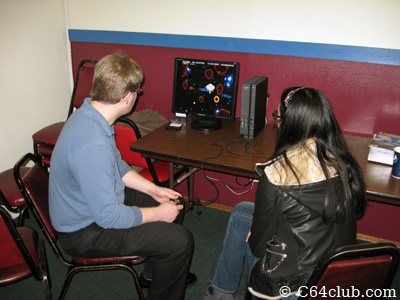 Long-time Commodore Computer Club member Dan making C64 video cables for members: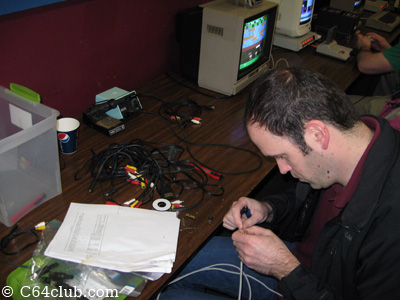 The Commodore Computer Club was happy to help support the Girl Scouts to sell cookies and raise money for a good cause: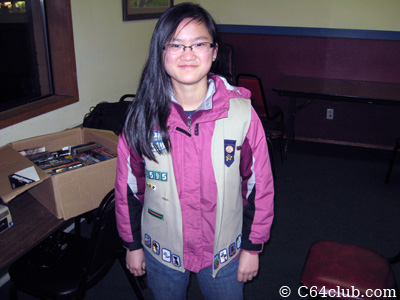 Greg buying Girl Scout cookies at the meeting. Thin Mints for the win!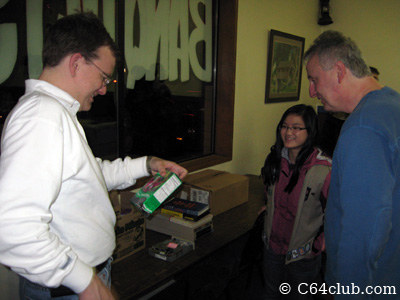 Jasper playing the NES Nintendo port of Prince of Persia. This version plays a lot nicer then the Commodore 64 version: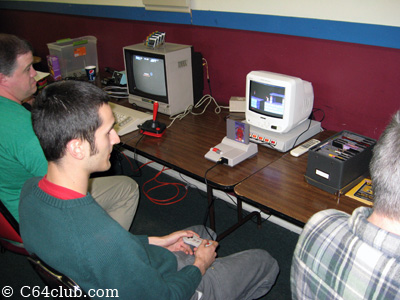 One of the many projects we worked at the meeting was upgrading Conrad's Amiga 500 with a 2 MB RAM expansion: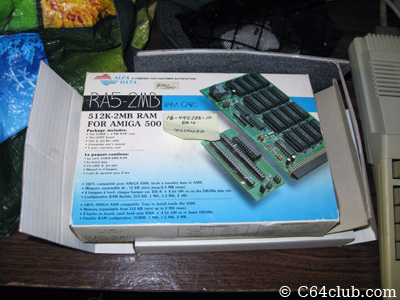 We had a presentation showing off the first two prototypes for Flyer formerly known as Pilot: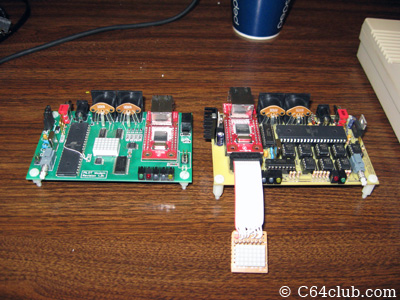 Club members, guests and Commodore friends enjoying gaming time at the C64 club: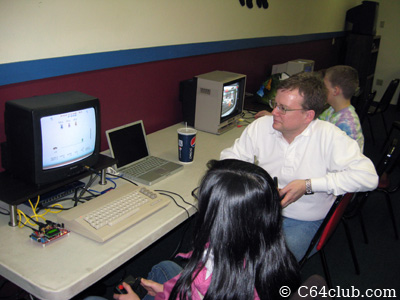 Gregory enjoying one of the EasyFlash Cartridges on hand at the meeting. We always have at least 3 or 4 ready to go loaded with tons of retro games:
A giant box brought to the meeting for the buy, sell, trade and free tables. There were games and programs for the Commodore 64, Windows PC, Nuon, Xbox, Sony Playstation and more: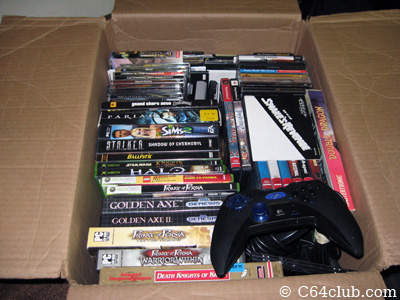 Complete In Box C64, Commodore Double Dragon game and the highly sought after Programmers Reference Guide PRG also on the buy, sell and trade tables: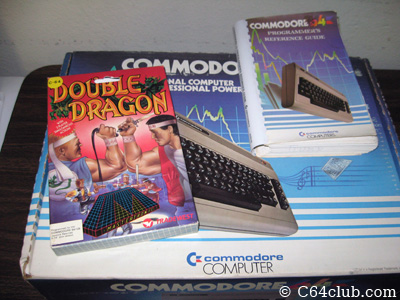 PDX Commodore Users Group and computer club members having a ton of fun socializing, hacking, a little show and tell, playing games and eating Pied Piper Pizza: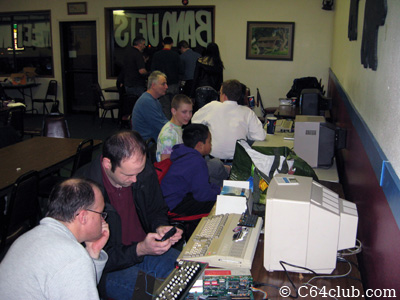 Paul (Merwin) playing the retro game Star Trek on the Commodore 64c computer: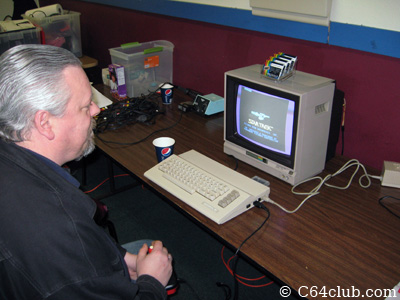 Time to relax and play some games thanks to the Commodore Flyer. Frogger is a club favorite: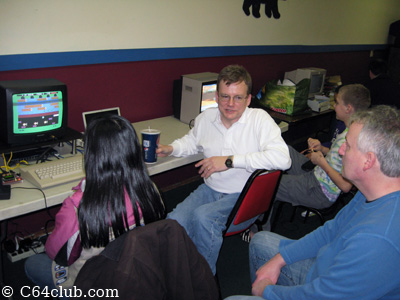 Morgan playing the retro game Burger Time '97 a club favorite being loaded thanks to the Commodore Flyer on the C64 computer: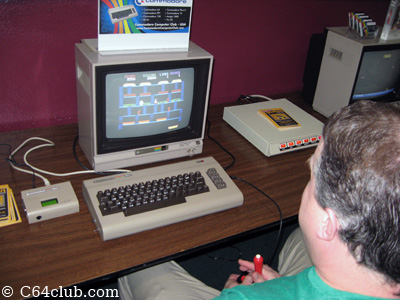 Tommy playing the game "Up N Down" by Bally Midway. This is a really good port and a rare game cartridge: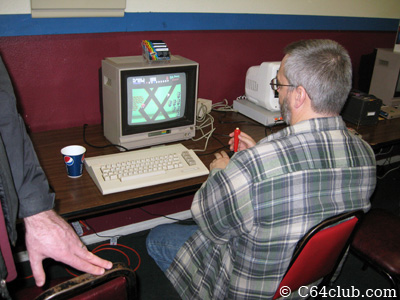 "Thank you" to everyone from the Pacific Northwest and beyond who continues to support and attend our Commodore Computer Club meetings. It's greatly appreciated.
Our next scheduled meeting will be Friday April 6, 2012, so be sure to mark it down on your calendar. We hope to see you at the next meeting! Come to learn, come to share.
If you like this post, please consider subscribing to our full RSS feed. Be sure to also Like Us on Facebook and Follow Us on Twitter.