Our October 7, 2011 monthly Friday night PDX Commodore Users Group and Computer Club meeting was a super success!
Here's a brief list detailing out some of the highlights that took place:
Played games on multiple Commodore 64's present at the meeting
VIC 20 game time using the Mega-Cart loaded with 100's games
Amiga 500 (A500) games and demos enjoyed by all
Game time enjoyed on the Turbografx-16 retro console
Tinker Time: Hacking, Coding, Exploring new hardware, Cleaning of equipment
Show and Tell with club member hardware, software and more
A lot of buy, sell, trade and free deals took place
All you can eat Pied Piper Pizza dinner buffet enjoyed by all
We also enjoyed a few club member presentations and demos:
Commodore Club Member Show & Tell
Super rare early 1977 Commodore PET 2001
Turbo Grafx-16 Neutopia demo (SNES Zelda Link to the Past clone)
Commodore 128 (C128) complete in box
Discussed Flyer (formerly Pilot) internet device
Check out some of our meeting photos below. Enjoy!
Having some tasty dinner at Pied Piper Pizza while enjoying awesome friendly Commodore related conversations: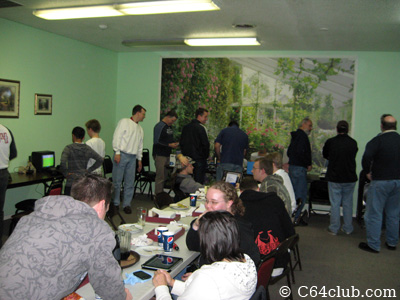 Brandon's super rare early 1977 Commodore PET 2001. It's the so called "blue PET" with the blue label, blue monitor frame and the early cassette drive with the white keys: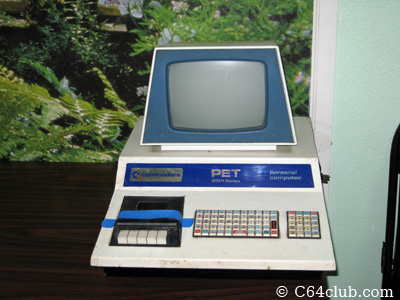 John Hancock and Morgan going through hundreds of Commodore Amiga computer floppy disks that John brought to the meeting for free giveaways: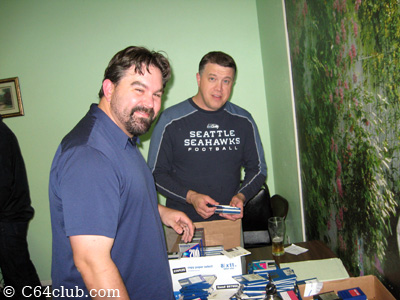 PDX Commodore Users Group and Computer Club members enjoying a little game time on the C64 and VIC-20 on hand at the meeting: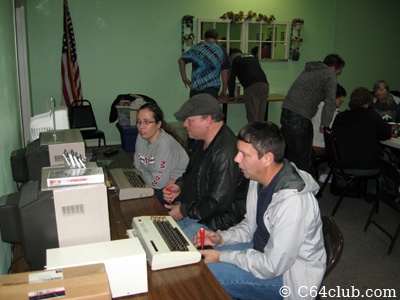 Another nice turn out for our monthly C64 Club meeting as seen here by all the socializing going on at the Commodore club meeting: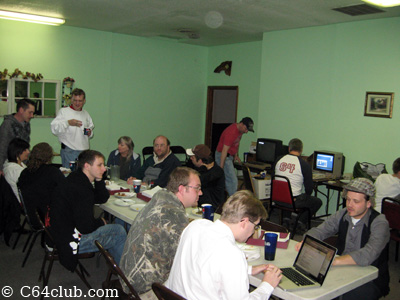 Tommy doing some testing of his Amiga 500 internal floppy drive that was giving him some issues, but we were able to get him up and running again: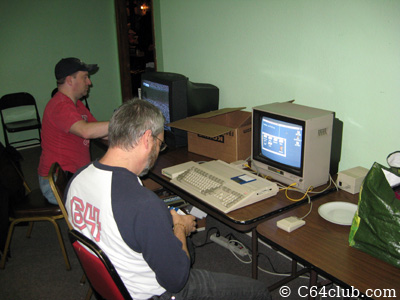 Long-time club member Jeremy playing some Donkey Kong on the Commodore 64 computer using a C64 EasyFlash cartridge. Turbografx-16 can also be seen: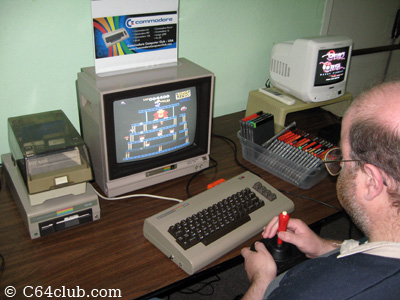 Commodore Club members enjoying game time on the Commodore Amiga 500 computer. Thanks to John for bringing hundreds of Amiga games for everyone to play at the meeting: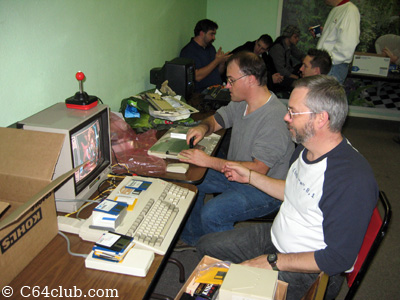 Doing a little buy, sell, trade and free deals. Someone scored a complete in box Commodore 128 at the meeting: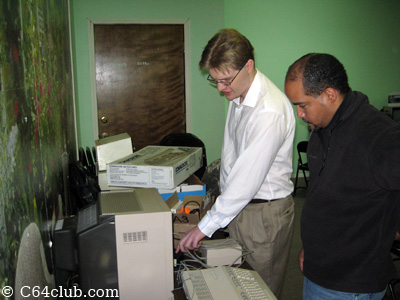 John and Tommy discussing various pieces of Amiga hardware and software: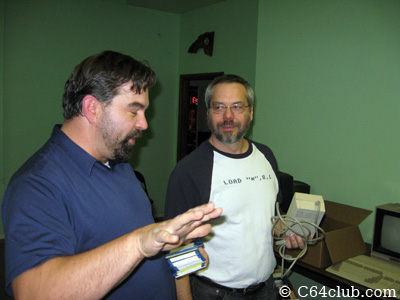 Ian and his friend playing games on the VIC-20 computer using the awesome Mega-Cart which has hundreds of VIC-20 games, utilities and more on one single cartridge: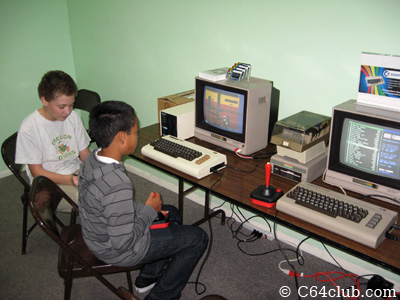 A new Commodore Computer Club member (Brian?) brought his complete in box C64 to the meeting. It hadn't been run in almost 20 years until this meeting. Pretty cool!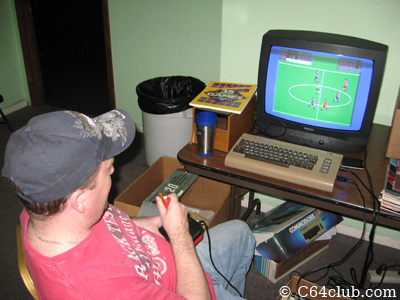 Here we see Tommy's Commodore Amiga 500 computer, piles of games on floppy disk, joystick controller, 1702 color monitor and one happy club member enjoying game time: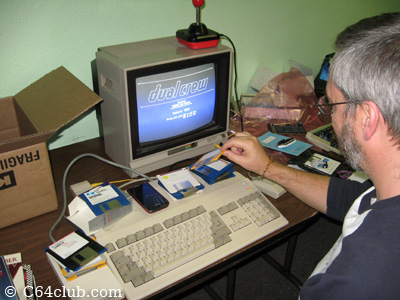 MSD SD-2 disk drive, VIC-20 playing Pac-Man, C64 playing Ms. Pac-Man and Morgan playing games on the Turbografx-16 console: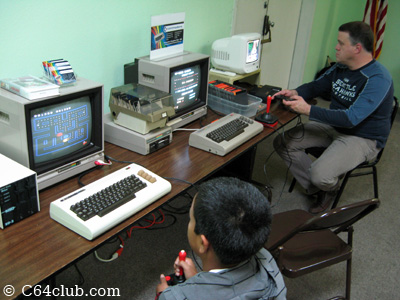 C64 Club Members, guests and Commodore friends socializing at the meeting: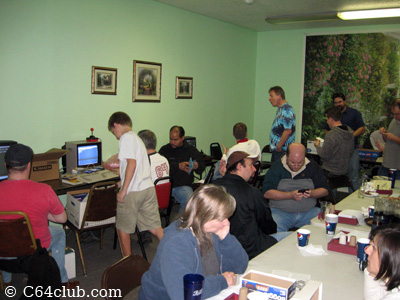 Conrad working on one of his many retro computing projects. He always has something fun for us to work on at the meetings during tinker time: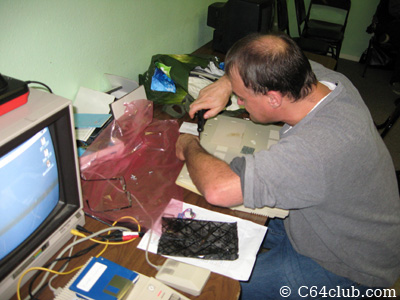 Ivan reading a manual on installing and upgrading memory for a Commodore Amiga computer, another Commodore Computer Club tinker time project: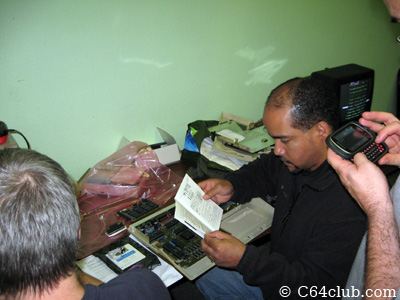 Seth playing Tapper on the Commodore 64 computer while Morgan plays Alien Crush on the Turbografx-16 retro video game console: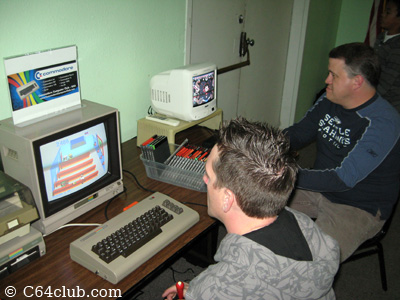 Another picture showing the great attendance and fun being had by everyone at our Commodore Computer Club meeting: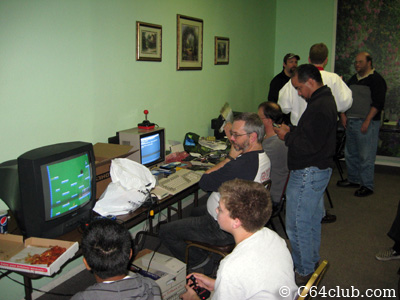 Members playing Ghostbusters (1984) by Activision (designed by David Crane) on the Commodore 128 C128 computer: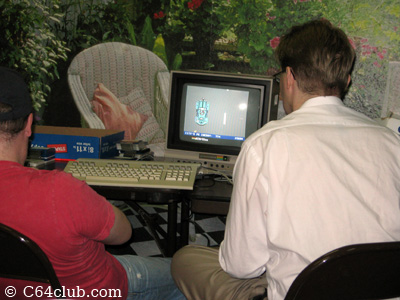 Morgan kicking back playing a little Scramble on the Commodore VIC-20 computer. Always a relaxing and fun time at our meetings:
All smiles at the Commodore Computer Club. Game time is always enjoyed by all who attend our PDX Commodore Club meetings: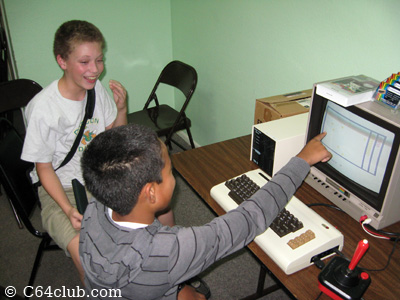 As always, a giant "Thank you" to everyone who continues attending our Commodore Computer Club meetings from all over the Pacific Northwest. Your continued support is greatly appreciated.
Our next scheduled meeting will be Friday November 4, 2011, so be sure to mark it down on your calendar. We hope to see you at the next meeting! Come to learn, come to share.
If you like this post, please consider subscribing to our full RSS feed. Be sure to also Like Us on Facebook and Follow Us on Twitter.