Our September 2, 2011 monthly Friday night Commodore Computer Club and Users Group meeting was a super success!
Here's a quick list with some of the highlights of what took place:
Enjoyed some game time on the Commodore 64
VIC 20 Mega-Cart loaded with 100's games got a lot of play
Show and Tell with club member hardware, software and more
Game time on the Intellivision retro console
Tinker Time: Hacking, Coding, Exploring new hardware, Cleaning of equipment
A lot of buy, sell, trade and free deals took place
All you can eat Pied Piper Pizza dinner buffet enjoyed by all
We also enjoyed a few club member presentations and demos:
Commodore Club Member Show & Tell
Intellivision Donkey Kong Arcade homebrew demo
Commodore 128 (C128) custom modifications
Hands on with Flyer (formerly Pilot) internet device
Trying to revive a vintage Apple III computer
A lot of exciting things were taking place at the meeting and we even remembered to capture a few of the rad moments on camera. Check out some of our meeting photos below. Enjoy!
Having some tasty dinner at Pied Piper Pizza while enjoying awesome friendly Commodore related conversations: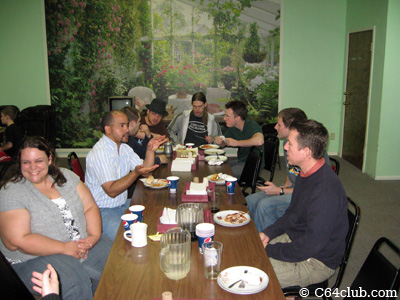 Jumpman Junior is always a hit during game time at the Commodore Computer Club. You can see Artillery Dual on the VIC-20 in the background: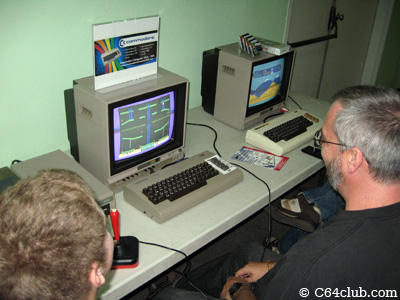 Brandon and Dan discussing the Flyer (formerly Pilot) an internet modem and drive emulation peripheral compatible with the entire line of Commodore 8-bit computers including the PET :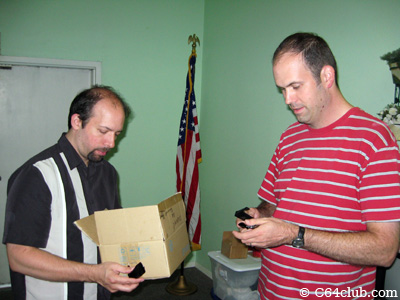 Here's a picture showing Conrad's Apple III motherboard PCB which is now one step closer to working 100% thanks to various Commodore Computer Club members jumping in to help: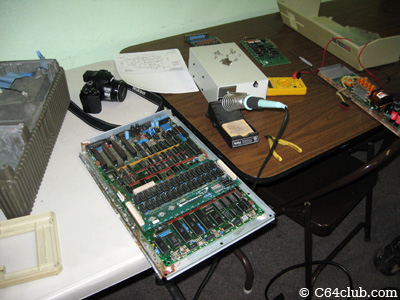 Tinker time at the PDX Commodore Computer Club with member Dan working on Conrad's vintage Apple III computer motherboard: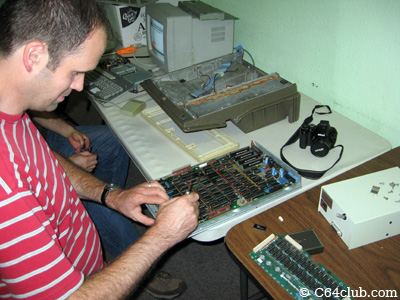 Another nice turn out for our monthly C64 Club meeting as seen here by all the socializing going on at the Commodore club meeting: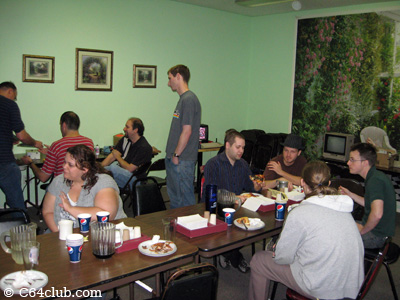 Game time playing Frogger on the VIC-20 using the Mega-Cart: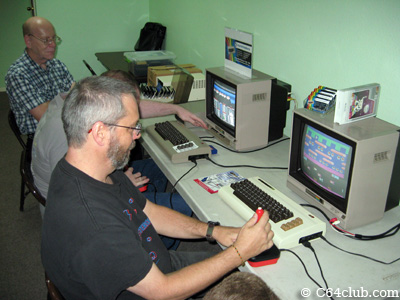 Dan, Conrad and Ivan enjoying tinker time and repairs at the C64 club meeting: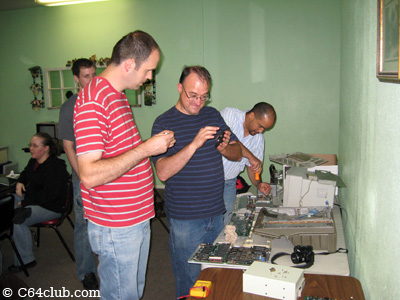 C64 Club Members, guests and Commodore friends socializing at the meeting: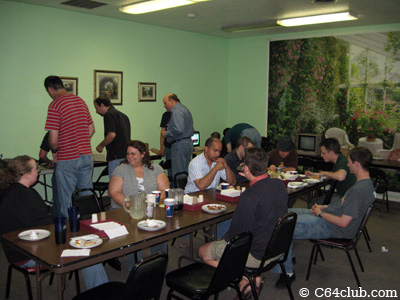 Everyone always has a good time playing Commodore 64 and VIC-20 computer games at our C64 Club meetings: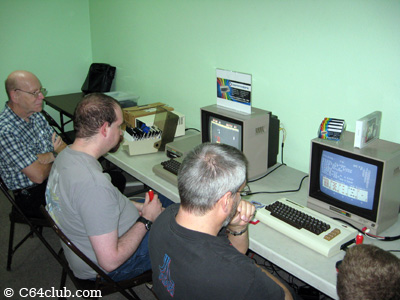 Commodore 1541 disk drive modifications and repairs being discussed: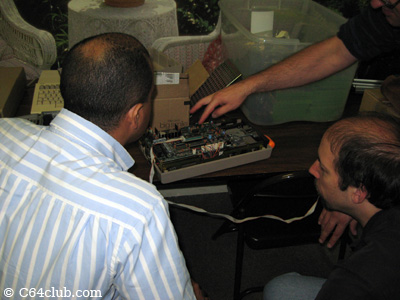 The classic game Ms. Pac-Man being played on the Commodore 64c using a Atari 2600 joystick for the controls: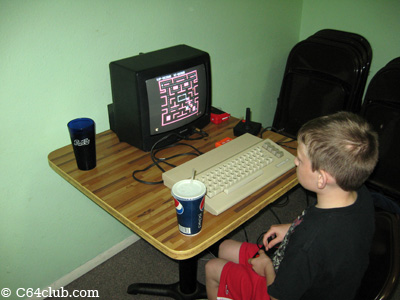 Members, guests and friends hanging out chatting about Commodore computers and the upcoming 6th annual Portland Retro Gaming Expo: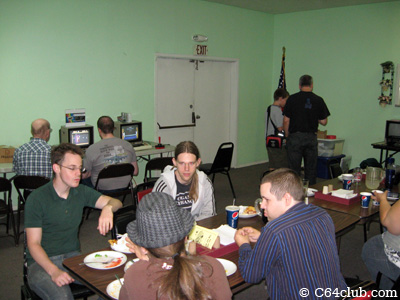 Here are a few PDX Commodore Users Group and Computer Club members representing: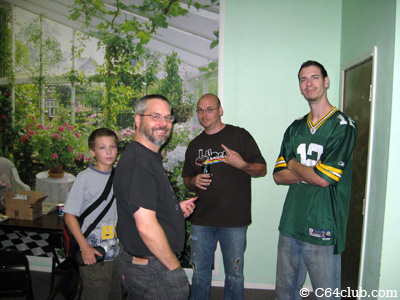 Playing games on one of the Commodore 64 and VIC-20 computers at the meeting:
Gregory, Brandon and Ivan checking out some cool Commodore 128 custom hardware modifications: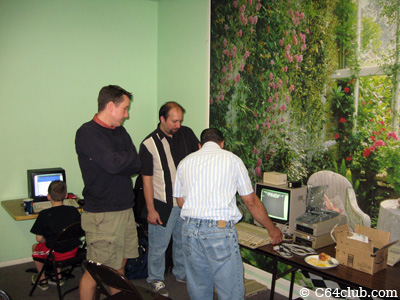 Enjoying some games on the Commodore 64 using the EasyFlash cartridge and on the VIC-20 using the Mega-Cart: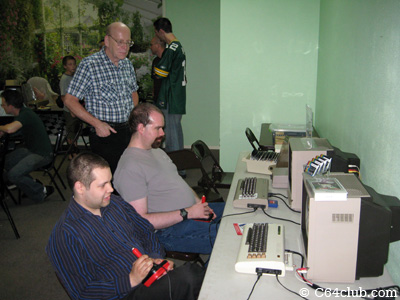 Can you name the games being displayed on the Commodore 1702 monitors in the below picture? Let us know in the comments: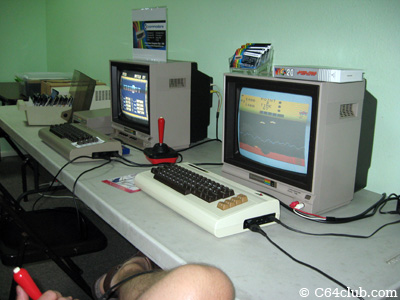 Ivan discussing his latest Commodore 128 with Tommy that he recently acquired which has a few custom ROM chips that add some pretty cool disk drive functionality: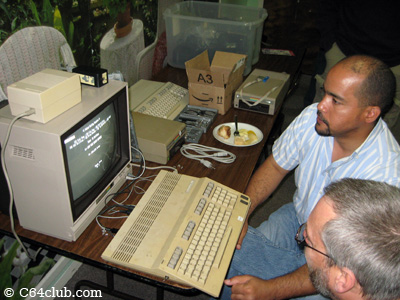 Greg playing a few games of Moon Patrol on the Commodore 64: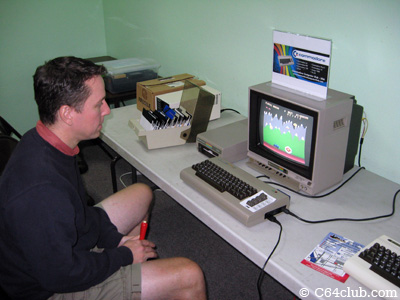 Tommy, Ian and Ivan discussing the C128 custom ROM chips while enjoying some tasty Pied Piper Pizza food:
C64 Club members Gregory, Jeremy, Chris and Jesse socializing at the meeting: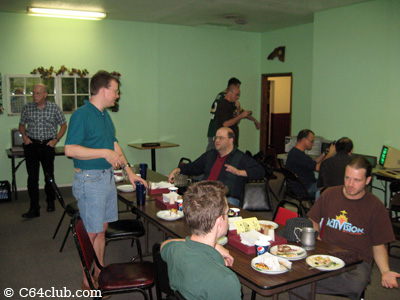 A'Eric aka the AllConsoleGamer and his brother Aaron playing Artillery Dual on the Commodore VIC-20 computer: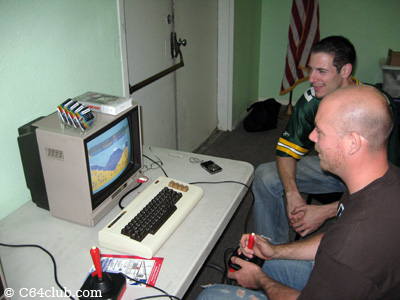 Tommy and Ian playing Toy Bizarre by Activision on the JiffyDOS powered Commodore 64: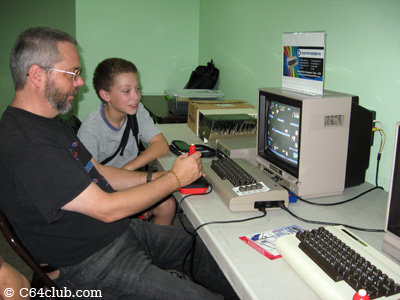 Looking inside Ivan's Commodore 128 with custom ROM chips and toggle switch: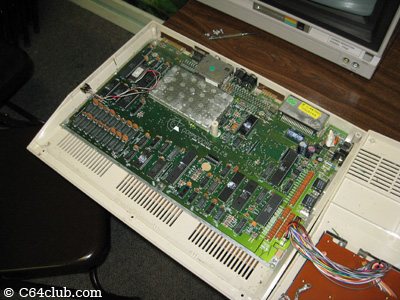 Checking out a presentation on the recently released Intellivision homebrew of Donkey Kong Arcade by Carl Mueller Jr. Special thanks to Morgan for bring it to the meeting: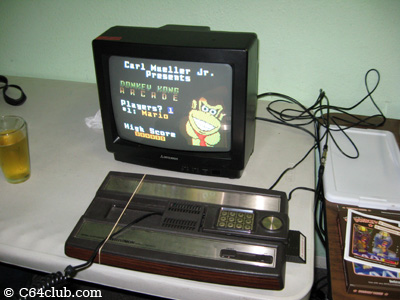 Chris playing the Intellivision homebrew of Donkey Kong Arcade: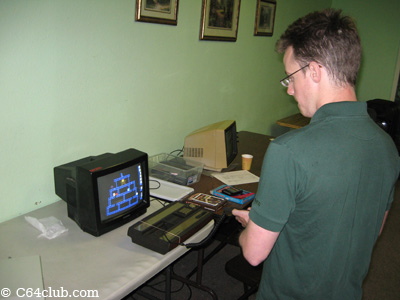 Jeremy and Morgan battling it out on a two player Commodore 64 Flight Simulator game: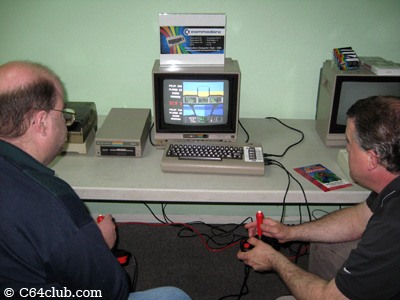 As always, a giant "Thank you" to everyone who continues attending our Commodore Computer Club meetings from all over the Pacific Northwest. Your continued support is greatly appreciated.
Our next scheduled meeting will be Friday October 7, 2011, so be sure to mark it down on your calendar. We hope to see you at the next meeting! Come to learn, come to share.
If you like this post, please consider subscribing to our full RSS feed. Be sure to also Like Us on Facebook and Follow Us on Twitter.