Greetings Northwest Retro Commodore computing friends! Here are some of the highlights from our January 6, 2017 Commodore Computer Meeting:
Retro Commodore CBM PET 4016
Amiga 2000 hardware and BIOS modifications
Nintendo NES Mini Presentation – Game On!
C64 Club Marketplace with Buy, Sell, Trade and Free Tables
Tinker Time with the Tektronix MDO4104-6 Mixed Domain Oscilloscope
Apple I Computer Replica Presentation – Steve Wozniak Goodness
Commodore Direct-to-TV C64DTV with hardware designed by Jeri Ellsworth
Here is a small sampling of pictures that showcase a lot of the retro computers and consoles at the recent Commodore Computer Club meeting, enjoy!
Commodore Computer Club members, guests and friends socializing at the monthly meeting: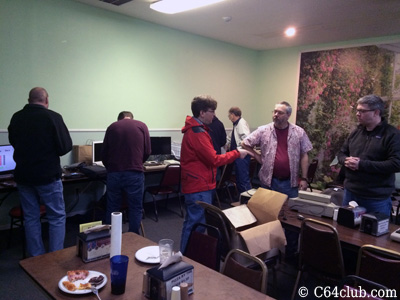 Morgan playing Qbert on the Commodore 64c being served up by the EasyFlash 3 cartridge. You can also see the SX-64 Executive computer in the background, oh and Paul too!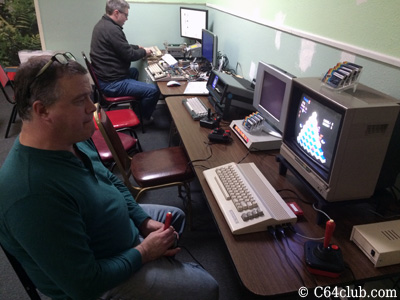 Chad says "Cheers to the Commodore Computer Club" while Tommy is stretching and relaxing during some C64 game time: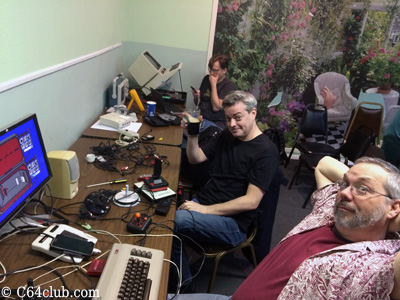 Jared continues his work from our last meeting on Chad's Commodore CBM PET 4016 computer. Good progress is being made: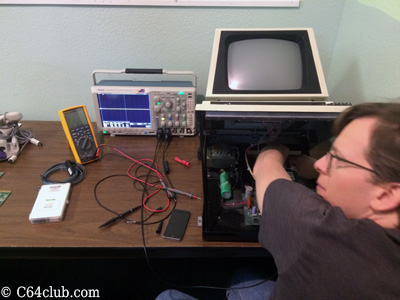 C64 Club members watch one of the many presentations that took place at the January 2017 monthly meeting: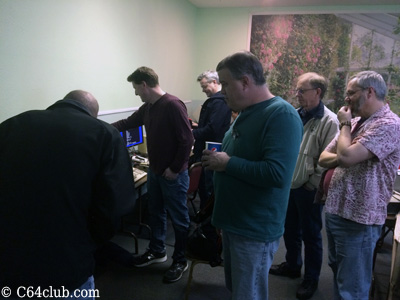 Up close and personal with the brand new Nintendo NES Mini video game console thank's to C64 Club member Aaron's presentation: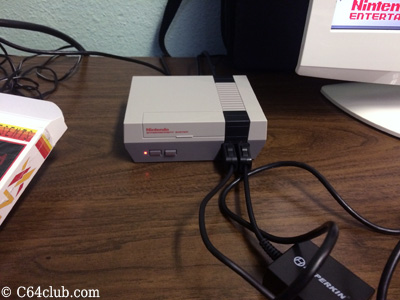 The Nintendo NES Mini next to the Commodore Amiga computer for size comparison: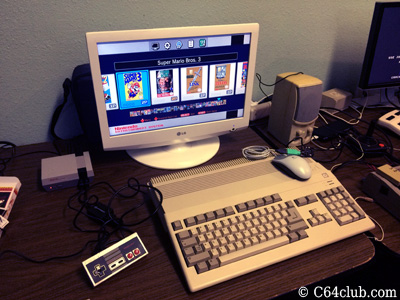 Morgan and Doug discussing the Atari Lynx II handheld video game console and all the awesome games ported to the Lynx system: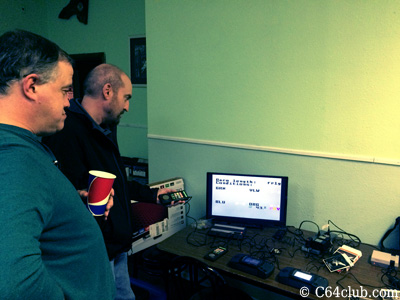 Commodore Computer Club members Jared, Tommy, Chad and Paul having some fun during Tinker Time at the monthly C64 Club meeting: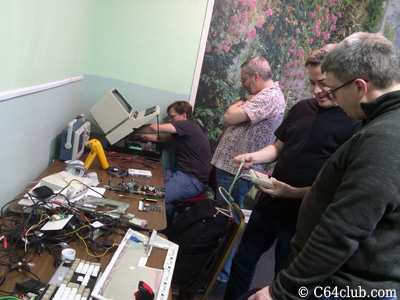 Aaron working on Paul's Commodore Amiga 2000 doing a BIOS upgrade to allow for 2017 technology to play nice with vintage 1980's technology: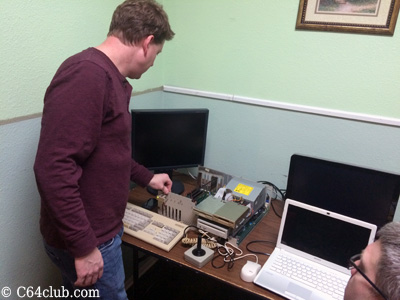 Game on with the classic C64 breadbin computer at the Commodore Computer Club meeting: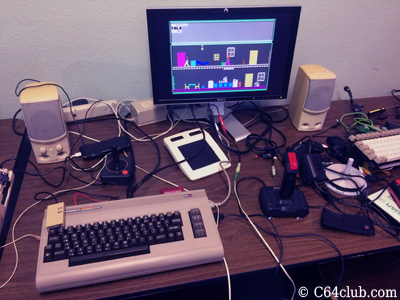 Doug and Morgan getting their game time in at the C64 Club meeting. Game On!!!!!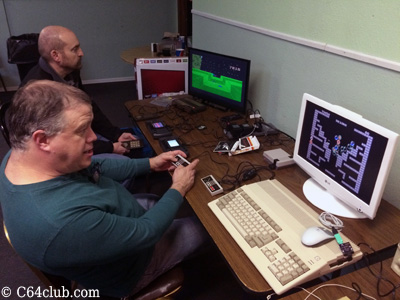 C64 Club members, guests and friends enjoying games on various hardware that includes the IntelliVision Flashback, Atari Lynx II, Nintendo NES Mini, Commodore 64 and more!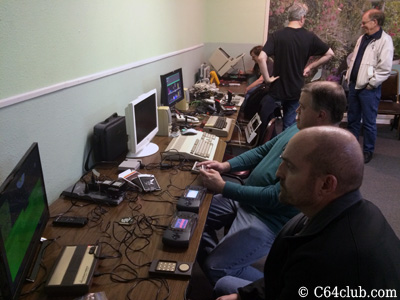 George showcased his Apple I computer replica that he built with others at Kansas Fest (KFest) a few years ago. Steve Wozniak would be proud! Pretty cool!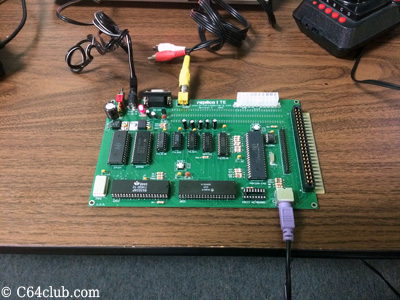 C64 Friends Chad, Tommy and George socializing at the Commodore Computer Club meeting. You can see Jared working on Chad's CBM PET 4016 in the background: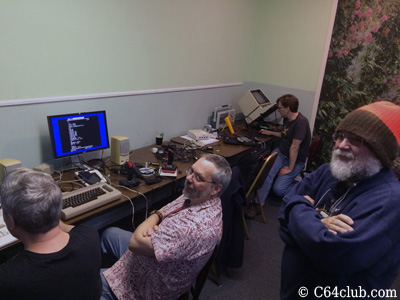 Mike, George, Aaron and Tommy watching Chad's Amiga 1200 presentation at the meeting. Remember, only the Amiga and the Commodore Computer Club makes it possible: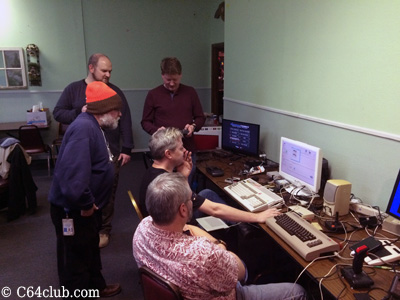 Long-time Commodore Computer Club member Tommy playing Flappy Bird on the C64C that was ported to the Commodore 64. Awesome!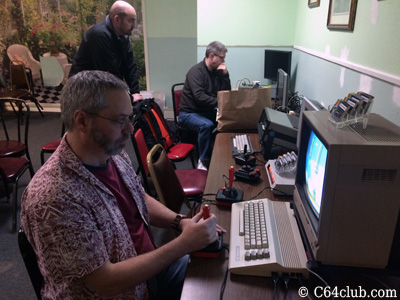 A better shot showing Flappy Bird for the C64. You can also see the Commodore Direct-to-TV C64DTV with hardware designed by Jeri Ellsworth off to the left: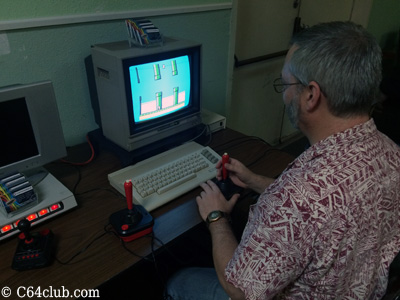 "Thank You" to everyone from the PDX and surrounding areas who have continued to support and attend the Commodore Computer Club meetings since April 2010. It's really appreciated.
We hope to see you at the next meeting! Come to learn, come to share.
If you like this post, please consider subscribing to our full RSS feed. Be sure to also Like Us on Facebook and Follow Us on Twitter.