Below are the highlights with photos from our January 4, 2013 Commodore Computer Club and Users Group meeting:
Enjoyed playing video games on Commodore 64 and 64c computers
Space Taxi game battle and club member competition
Hands on with the Atari 2600 and Pac-Man 4K homebrew game
Retro computing demos and presentations:
ComputerEyes (Computer Eyes) by Digital Vision demo
C64 BASIC programming demo by Morgan
NES PowerPak cartridge and stereo modifications
PDX Commodore Computer Club members and guests also enjoyed:
Show and Tell with club member hardware, software and more
Tinker Time: Hacking, Coding, Exploring new hardware, Cleaning of equipment
A lot of buy, sell, trade and free deals took place
All you can eat Pied Piper Pizza dinner buffet
Please take a moment and check out the photos that were taken during the fun times at our January 4, 2013 Commodore Club meeting:
Always a good time is what we like to call gametime with Commodore C64 Friends: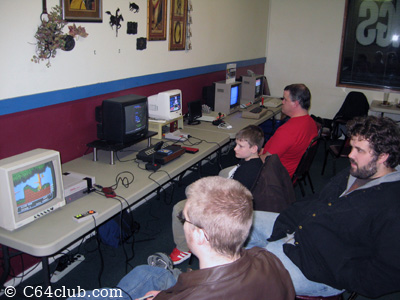 We had a Space Taxi game competition. Here we can see Tommy playing and of course he smashed on anyone who challenged him. We need a rematch!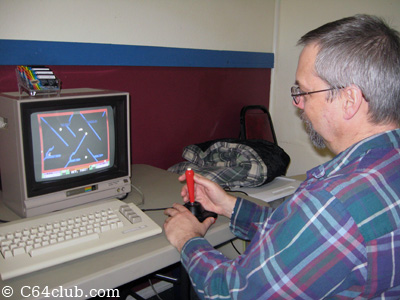 Nintendo Toaster, Atari 2600 and NES Top Loader during game time: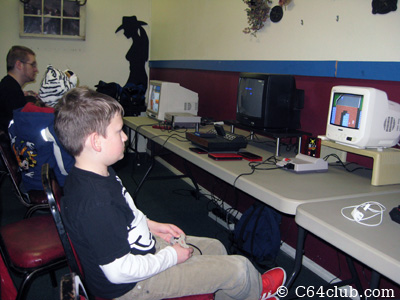 Tommy playing Activision Toy Bizarre and enjoying a glass of Pepsi at Pied Piper Pizza: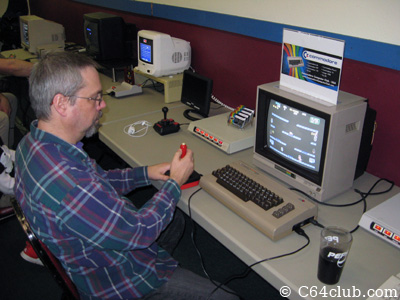 Pre-Production Flyer high speed internet modem and disk drive emulator prototype displaying Crazy Comets (did someone say Comet?) game: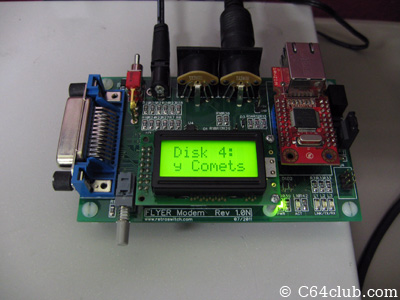 Young Commodore Kids playing Frogger and other games: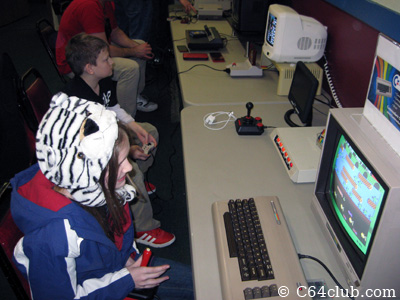 Long time Commodore Computer Club members Dan, Conrad, Jimmy and Mike checking out prototype PCB's: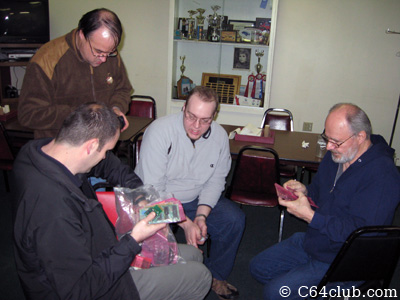 Commodore Friends socializing at the meeting: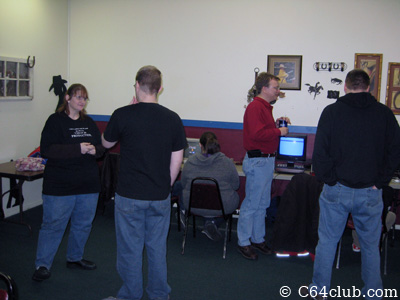 Always a favorite game to play at the meetings, Karataka on the C64C: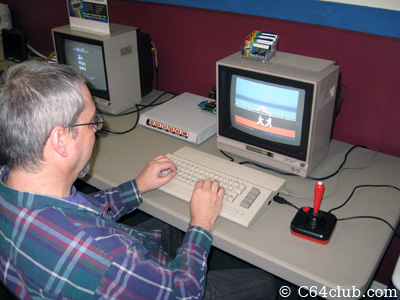 C64 Friends socializing at the PDX Commodore Computer Club meeting: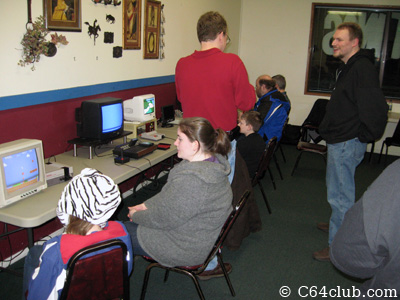 This picture looks like Greg is "raising the roof" dancing at the C64 Club meeting: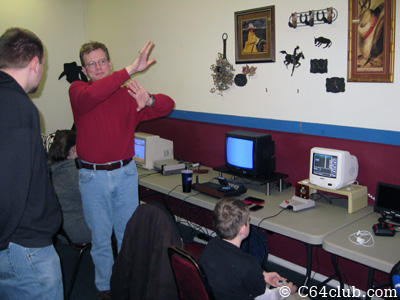 I don't always test my code, but when I do, I do it in production: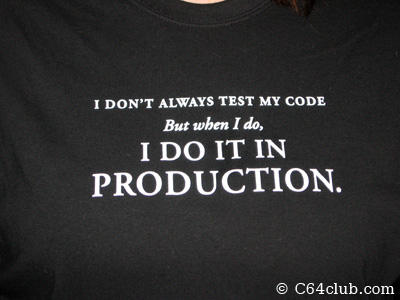 Loading C64 floppy disks on a Commodore 1571 disk drive: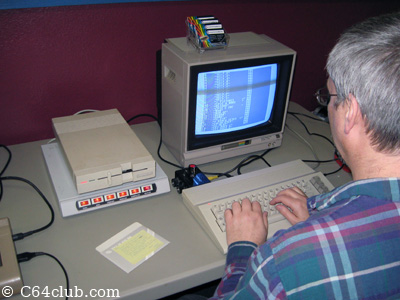 Check it out, a digitized retro sexy girl. Who doesn't love girls from the 1980's?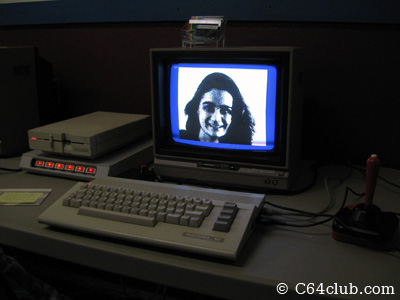 An original Digital Vision ComputerEyes System Software floppy disk for the Commodore 64: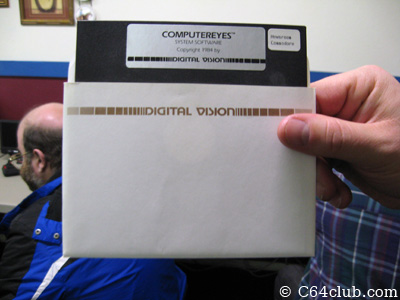 Sony HandyCam, ComputerEyes hardware and software Commodore 64 style: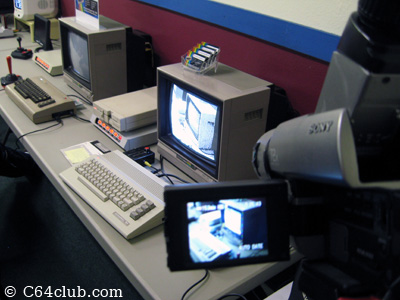 Say cheese! Here is Conrad getting digitized at the Commodore Computer Club and Users Group meeting: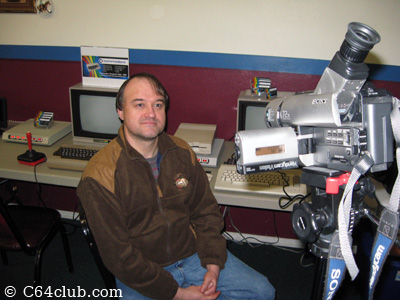 The end result: Conrad in his 8-bit digitized screen capture being displayed on a Commodore 1702 monitor: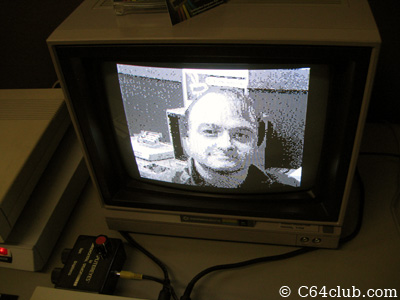 In this picture we can see a Nintendo NES PowerPak and Top Loader Console: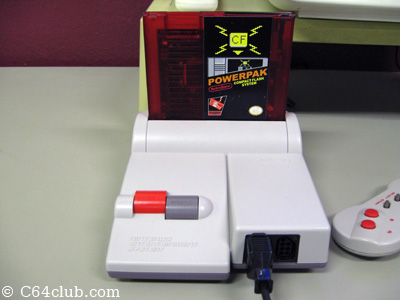 Morgan doing a little programming in BASIC which was a mini presentation and demo he came up with for the meeting: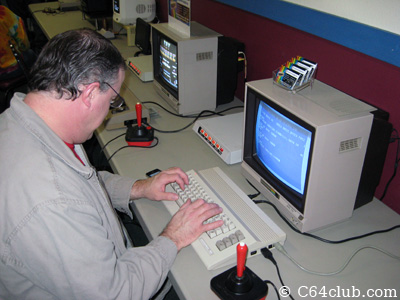 We have a successful BASIC program. 2 thumbs up for Commodore Microsoft BASIC demos: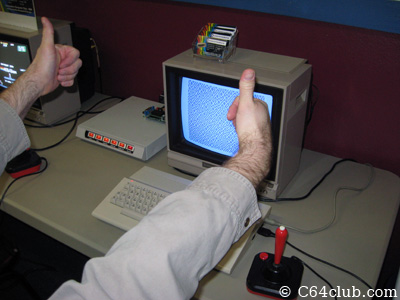 Ryan playing the totally awesome C64 Berzerk homebrew game: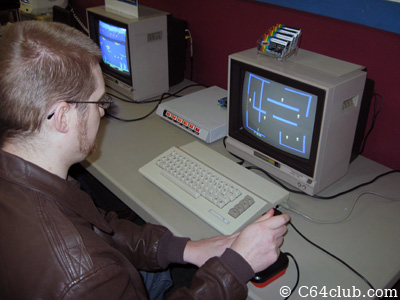 C64 Club Members playing classic video games using Flyer and EasyFlash cartridges: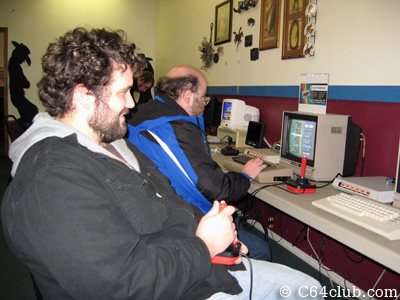 Ryan showcasing his retro Nintendo Toaster stereo modded gaming console: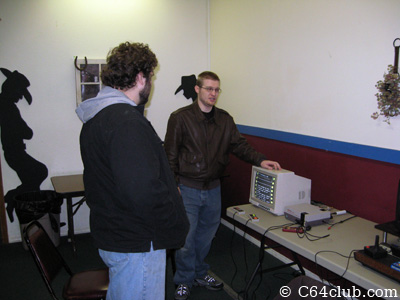 Conrad's Atari 1200XL 1200 XL computer. He loves Atari a lot more then Commodore: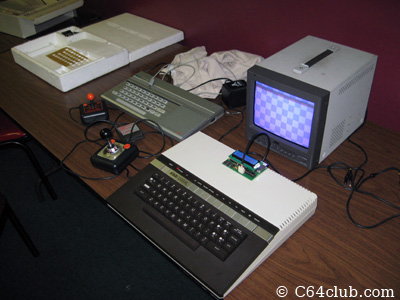 "Thank you" to everyone from the Pacific Northwest and surrounding area who continue to support and attend our Commodore Computer Club meetings. It's really appreciated.
Our next scheduled meeting will be Friday February 1, 2013. We hope to see you at the next meeting! Come to learn, come to share.
If you like this post, please consider subscribing to our full RSS feed. Be sure to also Like Us on Facebook and Follow Us on Twitter.