Welcome to summer 2011 Commodore friends! Finally some decent weather. Below are the highlights from our July 1, 2011 Commodore Computer Club and Users Group meeting:
Jeri Ellsworth C64 Direct-to-TV (C64DTV)
Enjoyed some game time on the Commodore 64
Played 100's of VIC-20 games using the VIC 20 Mega-Cart
Show and Tell with club member hardware, software and more
Tinker Time: Hacking, Coding, Exploring new hardware, Cleaning of equipment
A lot of buy, sell, trade and free deals took place
We also had the opportunity to enjoy the following rockin' club member presentations:
Commodore 128D Buddy Assembler
C64 Computer Eyes (ComputerEyes) by Digital Vision
CBM PET 4032 Software demo via MSD SD-2
George Beker Art from BASIC Computer Games Books
How-to add an IEEE port to the ZoomFloppy
Building custom homebrew VIC-20 video cables
For those who couldn't make the Commodore Computer Club meeting, here are some pictures showing all the fun and excitement had by members, guests and friends. Enjoy!
At our meetings we always have a nice selection of Commodore computers. Here we can see a Commodore Plus/4, C64, VIC-20 and a Jeri Ellsworth C64 Direct-to-TV: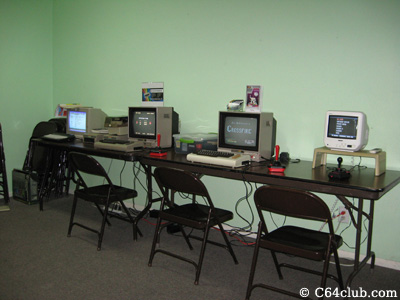 Gordon "gsteemso" Steemson and Ryan "Pinacolada" Sherwood working on the Commodore bus extender project: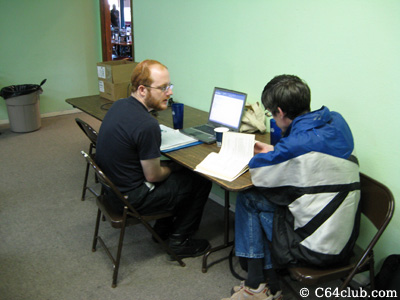 Club members, guests and friends socializing at the meeting while enjoying some tasty Pied Piper food and drinks: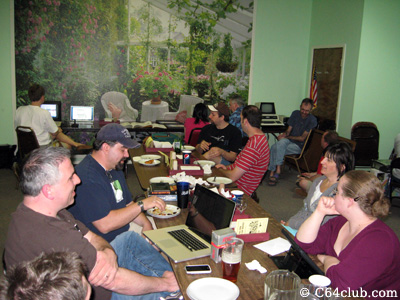 Kevin Savetz doing his BASIC Computer Games George Beker presentation: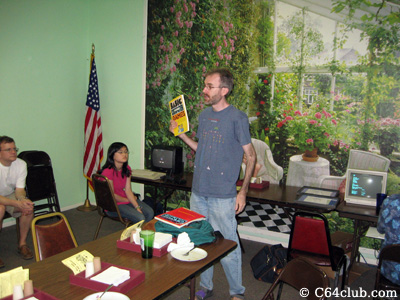 Club members watching and listening to Kevin's presentation about George Beker illustrator for the BASIC Computer Games books: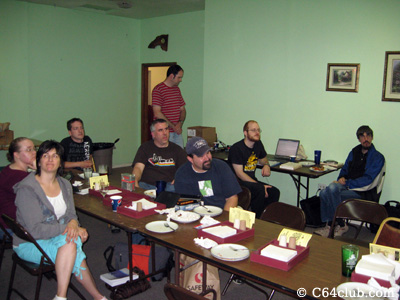 Kevin discussing his two original pieces of art by George Beker. One is even signed and dedicated to Kevin. Pretty cool!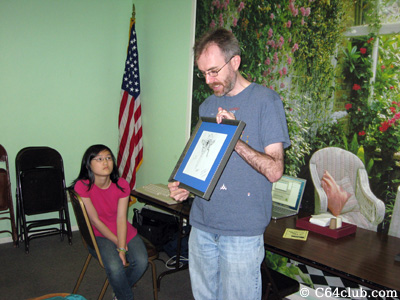 John Hancock and Recycled Gamer Chuck Van Pelt playing a little Artillery Duel on the VIC-20 using the Mega-Cart: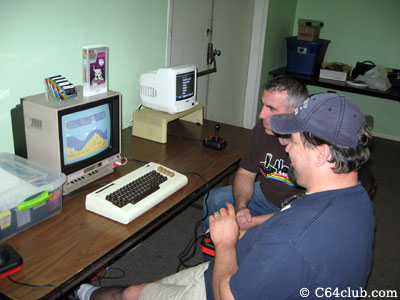 Brandon and Earl Evans doing a little programming on the Commodore 128DCR. You can see Tom in the background playing on the PET 4032:
Tommy playing a pretty fun game on the Commodore PET 4032 which was loaded from the MSD SD-2 disk drive using the IEEE port: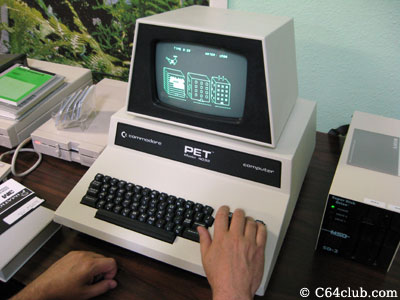 Long-time club member Conrad from the Seattle, WA area having some retro programming fun using his personal Commodore Plus/4 computer: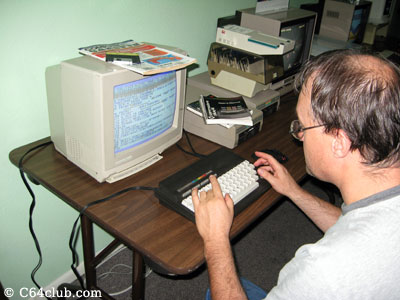 Getting ready for a little tinker time. The plan is to add a IEEE port to a ZoomFloppy designed by Nate Lawson and manufactured by Jim Brain: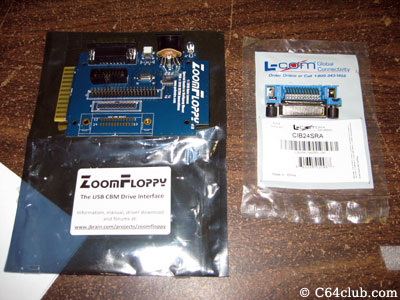 Dan getting things started with the soldering iron and the bottom of the Zoom Floppy PCB: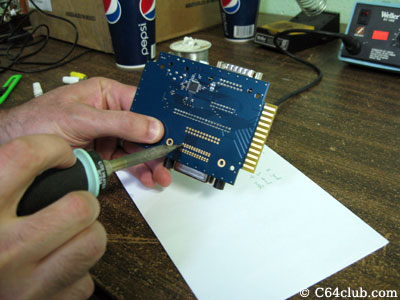 Another picture showing Dan showing off his awesome soldering skills while working on the ZoomFloppy project: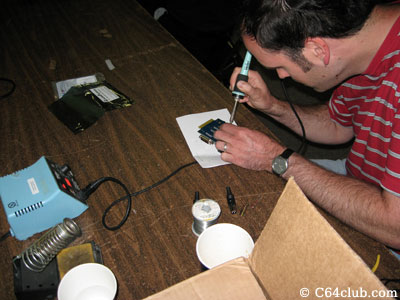 Gordon having a little game time on the Commodore VIC-20 computer using the Mega-Cart: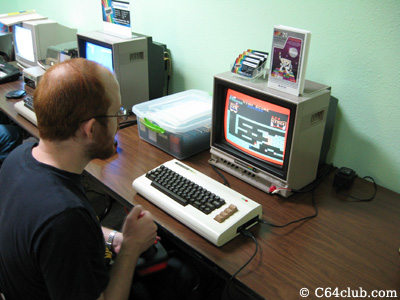 Greg playing the Activision hit Ghostbusters on his Commodore 64c using one of the many EasyFlash cartridges at the C64 Club meeting: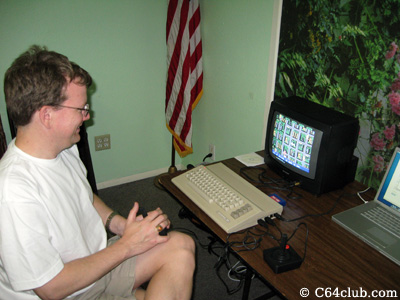 ComputerEyes system software by Digital Vision. You can also see the Computer Eyes hardware plugged into the C64 user port: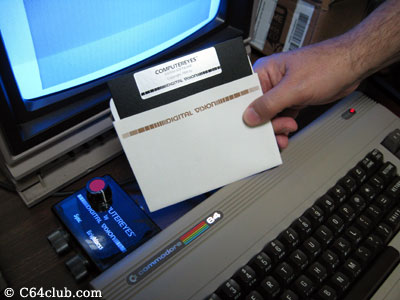 ComputerEyes screen shot being displayed on the Commodore 1702 monitor while running on a Commodore 64 computer: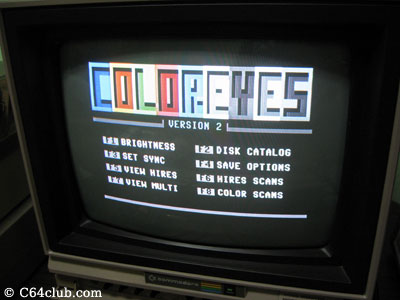 Earl Evans with his daughter. Earl's been busy teaching her how to program on the Commodore 128 computer. How awesome is that?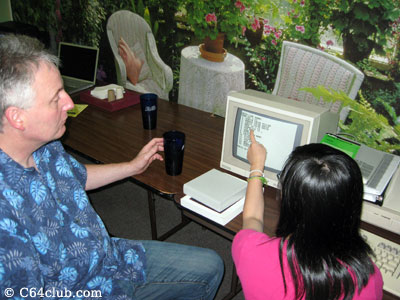 Here's a picture showing members, guests and friends of the Commodore Computer Club roaming around the meeting:
Kevin and his friend playing some games on the VIC-20. As you can see, all smiles at the PDX Commodore Users Group and Computer Club meetings: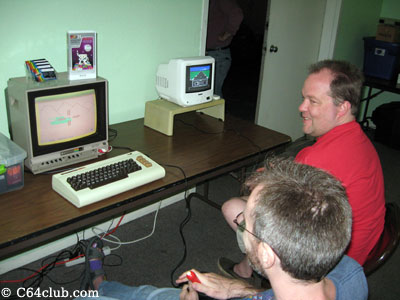 Members, guests and friends having an awesome time at our monthly Commodore computer club meeting. We always have a fun time hanging out with our Commodore friends: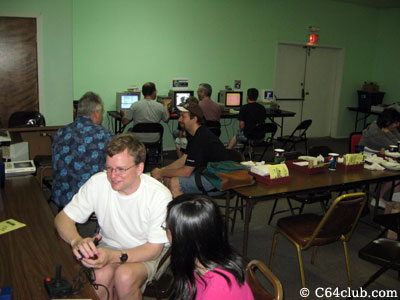 Club member Dan (dano) hard at work making some homebrew VIC-20 video cables. He's becoming pretty good at making these sought after cables: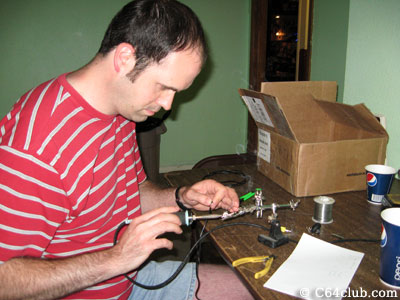 The game is never over with Game time at the Commodore Computer Club. It's really fun getting the chance to play some classic retro computer games: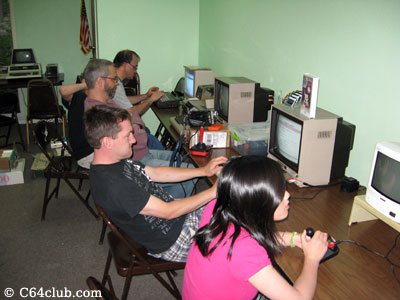 More retro gaming fun being had by everyone in attendance at the PDX Commodore Users Group meeting in Vancouver, WA: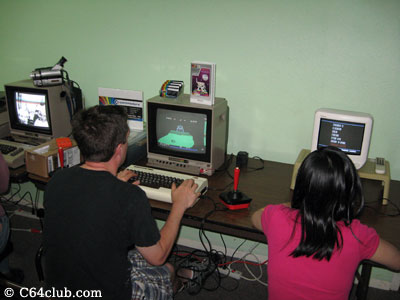 Oh look! A Commodore 16 computer up and running. Usually the TED chips like to go out on these machines, but not tonight my friends: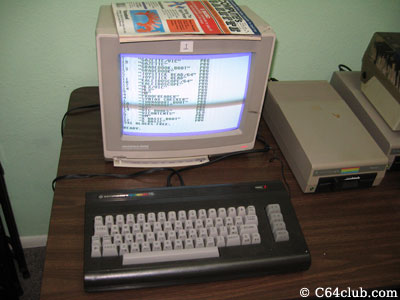 Morgan, Earl Evans and Dan checking out the buy, sell, trade and free tables. So many awesome deals and trades took place: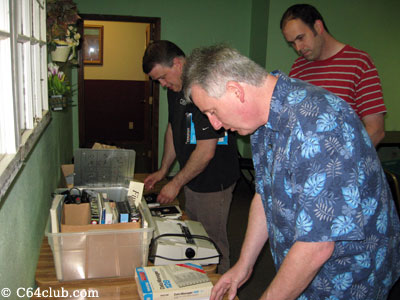 Everyone enjoys the EasyFlash cartridges at the meetings. Here you can see the menu screen: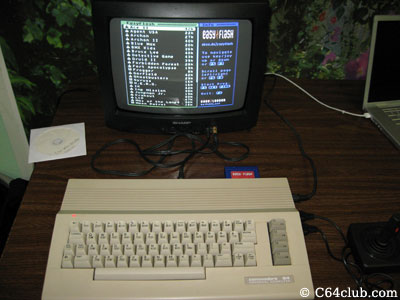 Look! It's Tommy being displayed on a 1702 monitor using the ComputerEyes hardware, software and a video camera all connected to a Commodore 64 computer: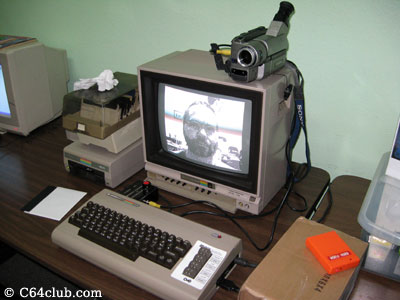 Here's Tommy being a total ham. He did a really cool show and tell presentation of ComputerEyes for the Commodore 64 which was powered by JiffyDOS: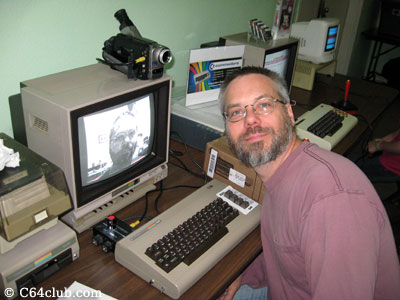 Commodore 128DCR with a super clean keyboard. You can also see the Commodore 128 programming reference guide which was factory sealed until we opened it up at the meeting: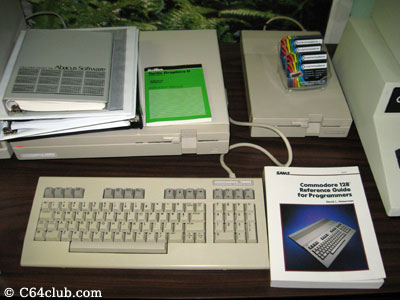 Ian (Tommy's son) and Tom setting up the video camera on a tri-pod to help stabilize the camera for better captures to be used with Computer Eyes: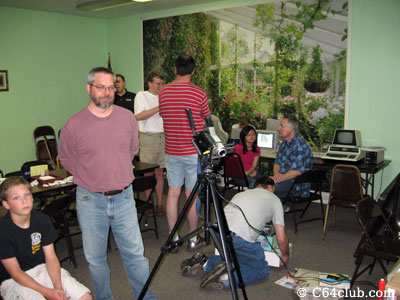 Earl and his Buddy Assembler manual. Buddy Assembler for the C128 is sort of hybrid between BASIC and assembly language, making it super easy to write ML-based programs: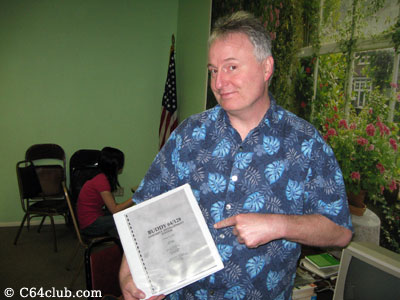 Here's a picture showing something you don't see everyday. Apparently Ian is a yoyo master and he showed off his Duncan Yo-Yo skills to the Commodore Computer Club: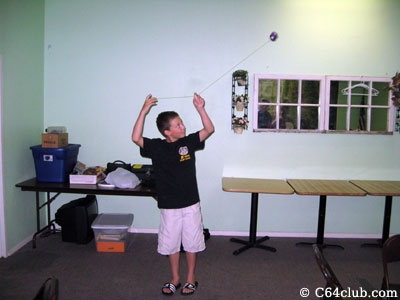 Thank you so much to everyone who attended our Commodore Computer Club meeting. Your continued support is greatly appreciated.
Our next scheduled meeting will be Friday August 5, 2011, so be sure to mark it down on your calendar. We hope to see you at the next meeting! Come to learn, come to share.
If you like this post, please consider subscribing to our full RSS feed. Be sure to also Like Us on Facebook and Follow Us on Twitter.