Below are the highlights with photos from our July 6, 2012 Commodore Computer Club and Users Group meeting:
Played classic video games on multiple Commodore 64's and 64c's
The "Wives Club" with board games, cards, socializing, etc.
Game time using Commodore Flyer's
VIC-20 game time using the Mega-Cart loaded with 100's games
Retro computing and gaming presentations:
PDX Commodore Computer Club members and guests also enjoyed:
Show and Tell with club member hardware, software and more
Tinker Time: Hacking, Coding, Exploring new hardware, Cleaning of equipment
A lot of buy, sell, trade and free deals took place
All you can eat Pied Piper Pizza dinner buffet
Check out some of our Commodore Club meeting pictures below. Enjoy!
Even though it was a long 4th of July weekend, we still had a pretty nice turnout for our Commodore Computer Club meeting: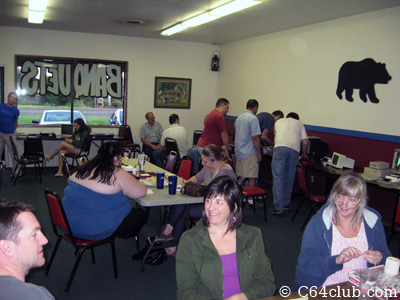 Conrad's Commodore 128D computer with built in 1571 playing a little Pac-Man loaded from a real floppy disk from the 1980's: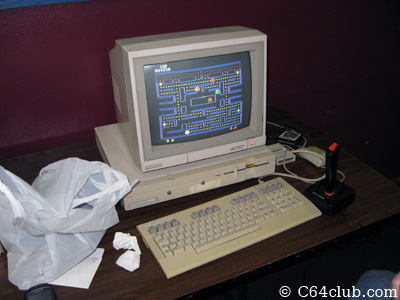 Playing a little Pole Position on the Commodore 64 (C64) computer thanks to the homebrew EasyFlash cartridge: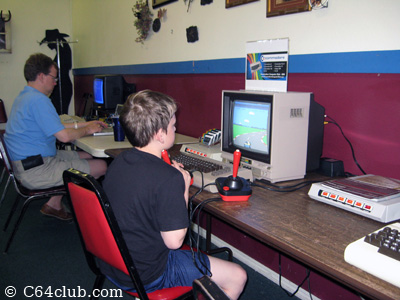 Here we have a Commodore Flyer connected to the C64 Club wireless network at the meeting for everyone to access Commodore Live retro gaming fun: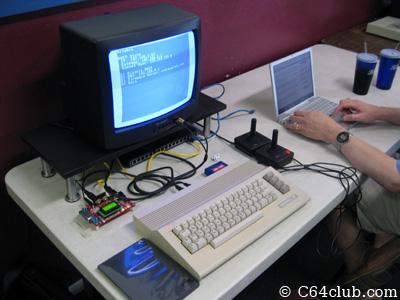 Ivan showing off his newly acquired Amiga 1000 floppy drive. He plans on adding a LED activity light to the drive mechanism: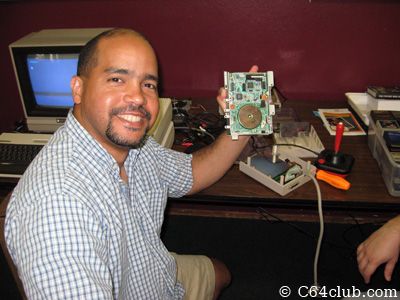 Kevin Savetz doing his Atari 800 XL computer demo and presentation at the PDX Commodore Users Group and Computer Club meeting: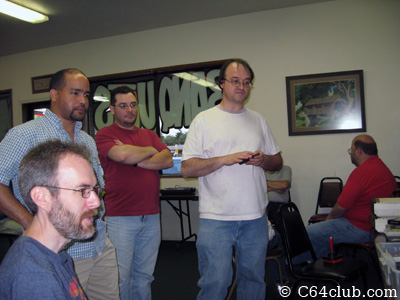 Here is an up close and personal picture showing off Kevin's Atari 800 XL computer with the Pac-Man homebrew cartridge: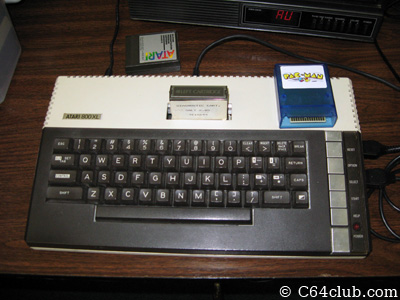 In this next photo, we can see Kevin's giant tub of Atari 800 XL game and utility cartridges: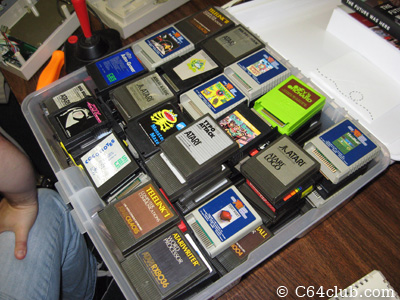 Chris P. giving Robotron 2084 on the Commodore VIC-20 a try using the Mega-Cart loaded with everything ever produced on disk, tape and cartridge for the VIC 20 computer: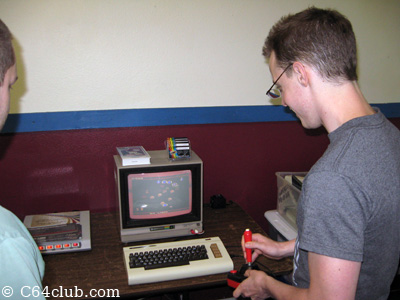 Commodore C64 Friends and Club member socializing during tinker time at our monthly retro computer user group meeting: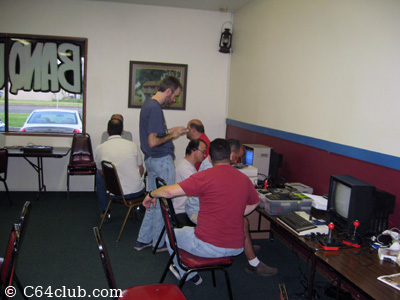 Chris T. hacking away on the Commodore VIC-20 computer setup at the meeting for everyone to use and enjoy: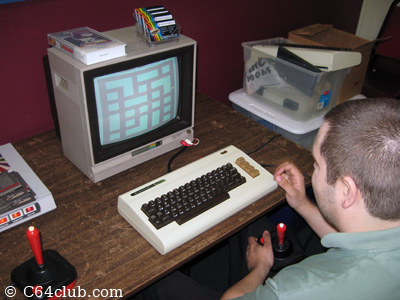 Tommy all smiles while he plays the game Barbie for the Sega Genesis (Sega CDX) loaded from the EverDrive-MD cartridge: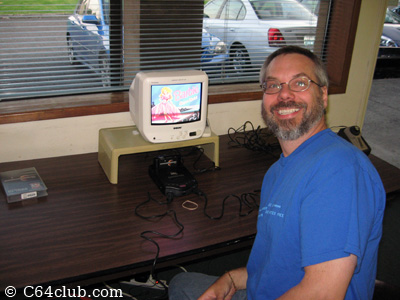 C64 Club member Dan socializing with other members and guests who attended the meeting: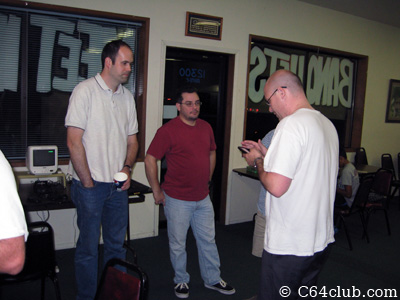 Jeff Hoag aka MegaWinner and his lovely lady Kris enjoying some Pied Piper Pizza at the Vancouver, WA Commodore Computer Club meeting: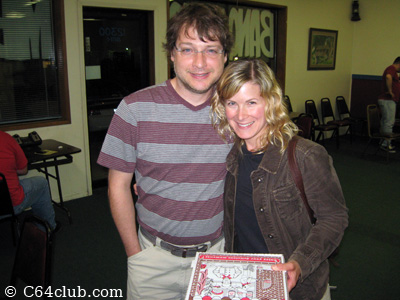 "Stay for a while… stay forever!!!" – Impossible Mission being played on the Commodore 64 computer by Seth while Kevin Savetz and Chris T. cheer him on: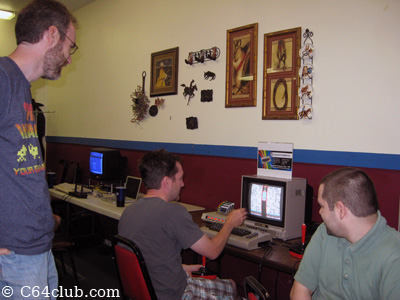 Here we can see The Sega Master System Encyclopedia by Author Derek Slaton, Sega CDX and EverDrive-MD that was showcased at the meeting: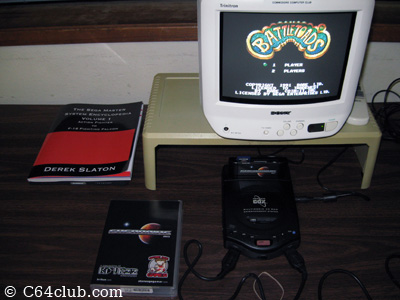 Huge box of Commodore 64 floppy disks. Seen in the photo is the game Dr. Doom's Revenge!
Check it out! Multiple Commodore Blue Screen T-Shirts! Tommy and his kids are diehard retro Commodore fans and long time members of the PDX Commodore Users Group: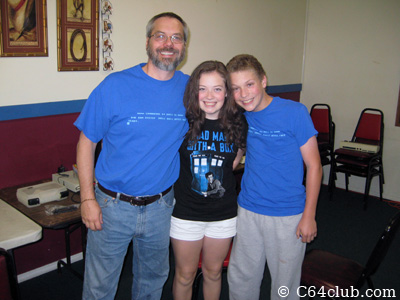 "Thank you" to everyone from the Pacific Northwest and beyond who continues to support and attend our Commodore Computer Club meetings. It's greatly appreciated.
Our next scheduled meeting will be Friday August 3, 2012, so be sure to mark it down on your calendar. We hope to see you at the next meeting! Come to learn, come to share.
If you like this post, please consider subscribing to our full RSS feed. Be sure to also Like Us on Facebook and Follow Us on Twitter.