Below are the highlights with photos from our June 1, 2012 Commodore Computer Club and Users Group meeting:
Game time using Commodore Flyer's
VIC-20 game time using the Mega-Cart loaded with 100's games
Played classic video games on multiple Commodore 64's and 64c's
The "Wives Club" with board games, cards, socializing, etc.
Retro computer and gadget presentations:
How to Network a Commodore Flyer Homebrew Device
Demo: Commodore Amiga 1000 with 8 MB RAM
Hands on with the Nintendo NES retro gaming system
PDX Commodore Computer Club members and guests also enjoyed:
1983-1984 Whiz Kids TV show on DVD transferred from VHS tapes
Show and Tell with club member hardware, software and more
Tinker Time: Hacking, Coding, Exploring new hardware, Cleaning of equipment
A lot of buy, sell, trade and free deals took place
All you can eat Pied Piper Pizza dinner buffet
Check out some of our Commodore Club meeting pictures below. Enjoy!
A typical member setup at a C64 Club meeting… a vintage Commodore 64 computer, 1702 color monitor and retro 1541 disk drive: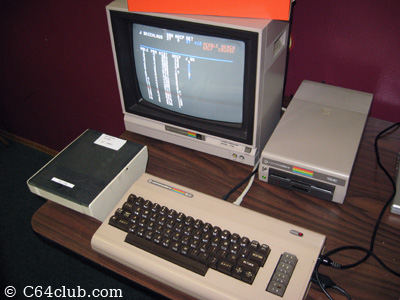 Playing a little Congo Bongo on the Commodore 64 computer: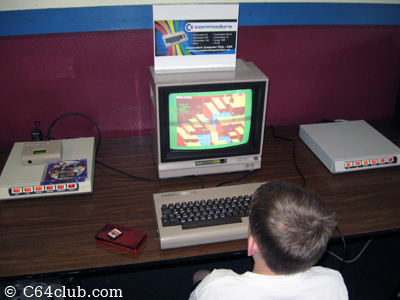 Amiga 1000 presentation by club member Dan. Remember only the Amiga makes it possible: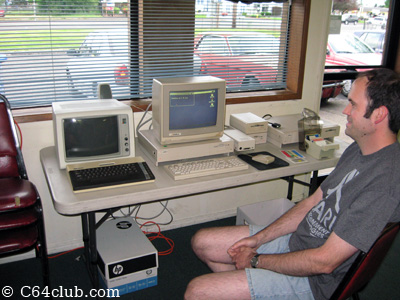 Club members listening to Dan's Amiga 1000 presentation: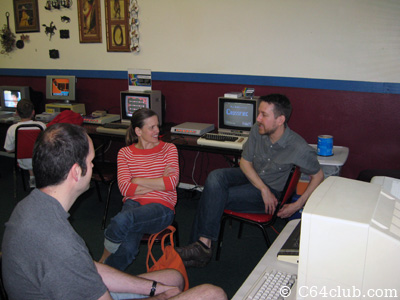 Sidewinder video game running on the Commodore Amiga 1000 computer: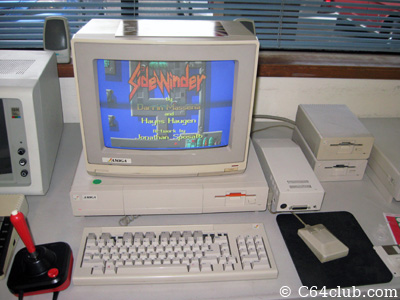 Commodore C64 Friends and Club member socializing at the meeting: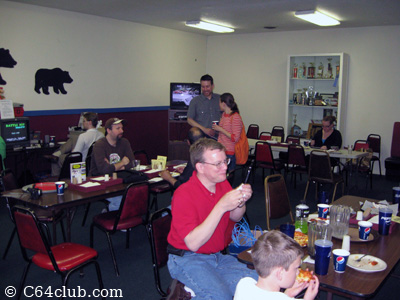 Enjoying a little retro gaming during the latest C64 club meeting: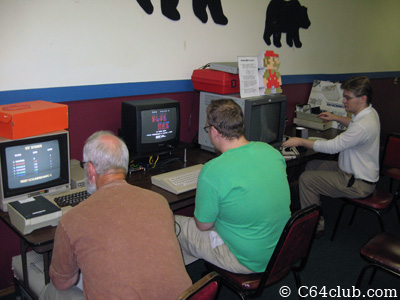 "Say cheese Rick" hehe. Here's a picture of everyone enjoying all the great deals from the buy, sell, trade and free tables: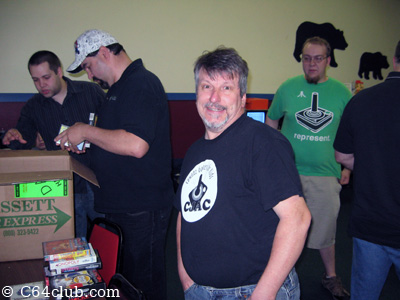 Ryan's Nintendo NES retro gaming rig setup for all to enjoy. Check out the giant 8-bit pixel Mario chilling out on the monitor: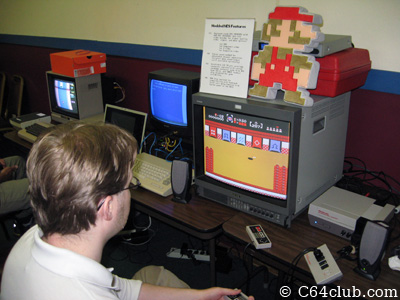 We watched the TV show Whiz Kids on DVD transferred from VHS tapes during the meeting. The show aired on CBS for one season (18 episodes) during the 1983-1984 television season: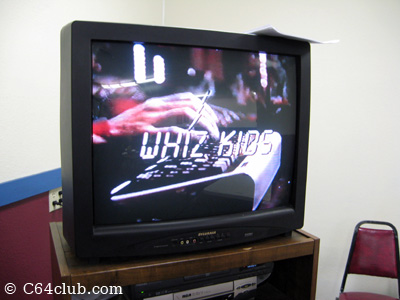 They always say "pictures or it didn't happen" so here are the pictures showing the Whiz Kids 3 disc DVD set we had on hand at the meeting: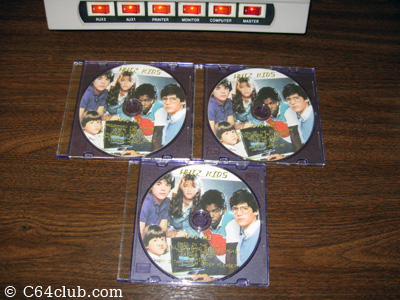 Greg connecting up his Commodore Flyer to the C64 Club network at the meeting for everyone to get their retro gaming and communications on: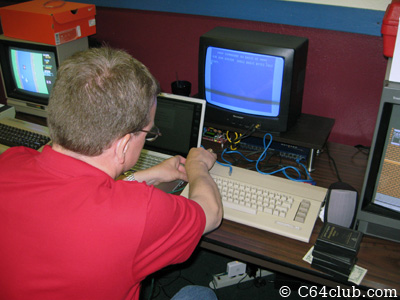 More socializing by C64 Friends, guests and Commodore Computer Club members: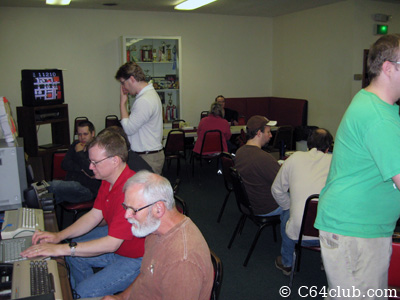 Here we can see John Hancock, Jimmy, Ivan, Rick Weis, Dan and Michael who are all card carrying members of the PDX Commodore Computer Club and Users Group: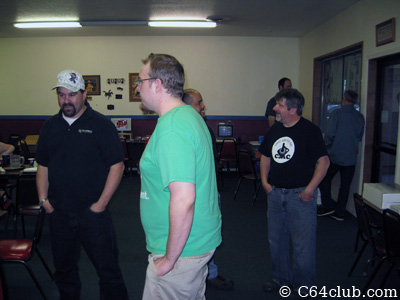 Ivan enjoying some game time playing Sidewinder on the Commodore Amiga 1000 computer: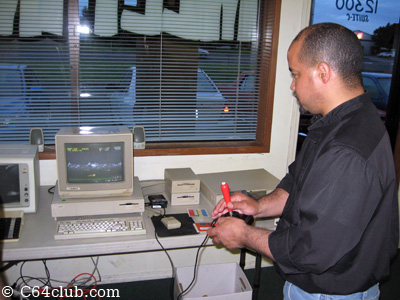 C64 Club group discussion about various Commodore Computer Club member concepts and upcoming homebrew projects: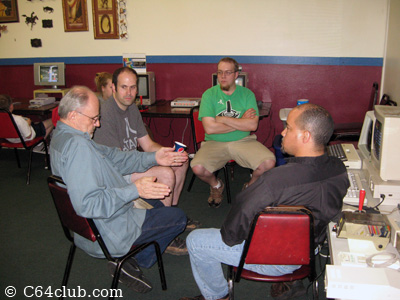 Nick having some fun on the Commodore 64 (64c) computer. There are always plenty of retro computers and video game consoles for people to enjoy while at our meetings:
During show and tell time, Ryan showcased his super rare Nintendo NES red rental travel carrying case. I guess we could call this a red box?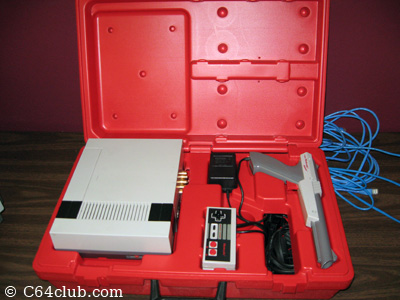 The retro video game Popeye is always a hit with club members. It's a really good port from the arcade classic: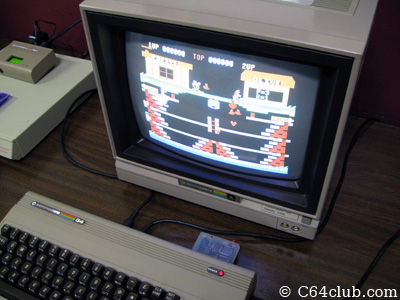 Dan and Michael comparing notes about their different Amiga 1000 computer setups at home: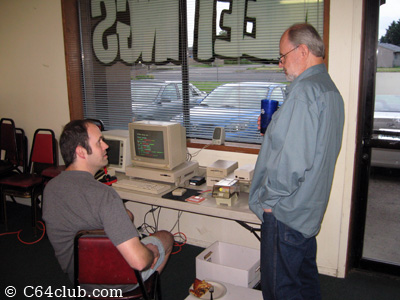 Here we can see Brandon working on some updated Flyer documentation at the Commodore Computer Club meeting:
Chris and John digging through a huge box of video game cartridges at the PDX Commodore Computer Club buy, sell, trade and free tables: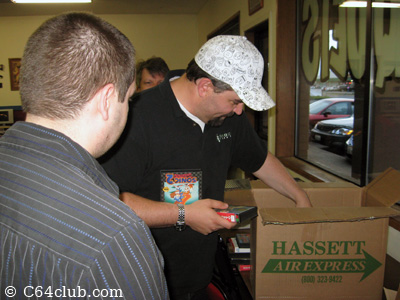 "Thank you" to everyone from the Pacific Northwest and beyond who continues to support and attend our Commodore Computer Club meetings. It's greatly appreciated.
Our next scheduled meeting will be Friday July 6, 2012, so be sure to mark it down on your calendar. We hope to see you at the next meeting! Come to learn, come to share.
If you like this post, please consider subscribing to our full RSS feed. Be sure to also Like Us on Facebook and Follow Us on Twitter.