Greetings Commodore enthusiasts, here are the highlights from our May 6, 2011 Commodore Computer Club and Users Group meeting:
Complete in box Amiga A600 (A600HD) with 40 MB hard drive
Played games on the Amiga 600, C64, Atari 2600 and Xbox
Poked around with the C64DTV designed by Jeri Ellsworth
Modded Xbox console presentation with a 300 GB hard drive
Near complete Amiga Commodore Dynamic Total Vision (CDTV)
Awesome Commodore 64 and Amiga demos
Soul Calibur competition on the Sega Dreamcast
Watched "Only Amiga Makes It Possible" video (and others)
Commodore buy, sell, trade and free deals took place
Yummy food and beverages provided by Pied Piper Pizza
Below are a handful of pictures showing the exciting and good times had by all at our May 2011 Commodore users group meeting. Enjoy the photos.
Complete in box Commodore Amiga A600 A600HD with Amiga monitor playing Silkworm: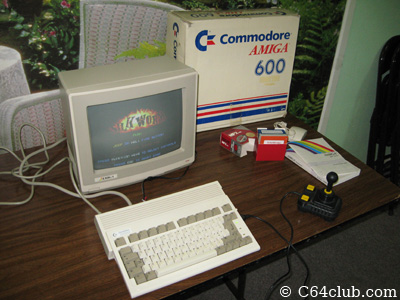 Near complete CDTV with remote controller, black CD-1411 external floppy drive and matching Amiga two button mouse: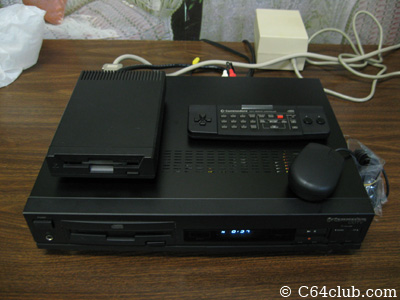 Modded Microsoft Xbox, Commodore 1702 monitor and the game Tower Toppler running on the C64DTV (hardware designed by Jeri Ellsworth):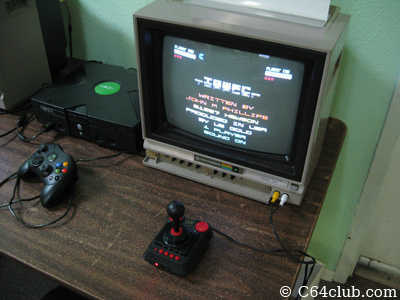 Are you keeping up with the Commodore? Because the Commodore is keeping up with you! Chuck proved that he's keeping up with the Commodore as seen in this picture: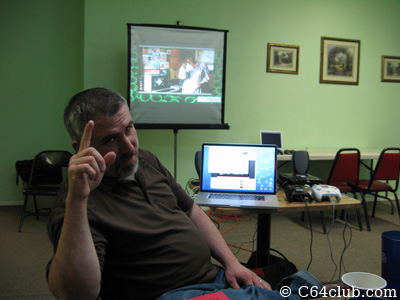 Remember, "only the Amiga makes it possible" as shown here in one of the various Commodore video presentations at the meeting: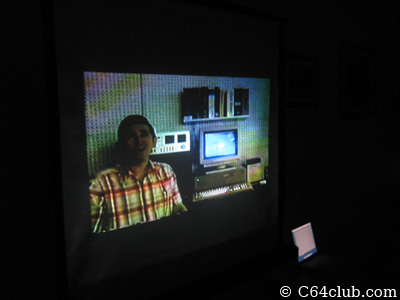 Up close and personal with the Amiga A600HD. This is sure one clean NTSC Amiga A600: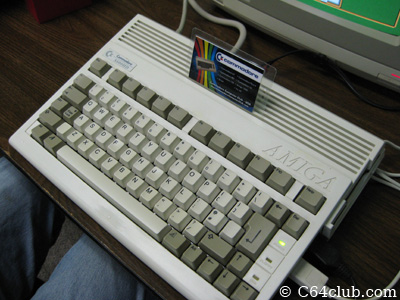 Club member playing a driving game on the Commodore Amiga 600 (A600HD) computer with a two button joystick: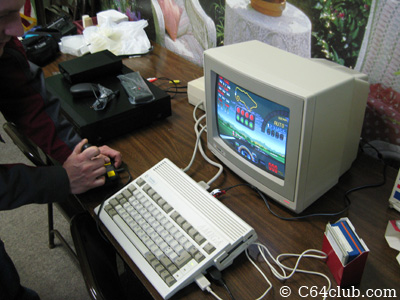 Doing a little disk copying with a Commodore 64 and a 1541 drive using Fast Hack'em, an old school 1985 nibbler and disk editor written by Mike J. Henry: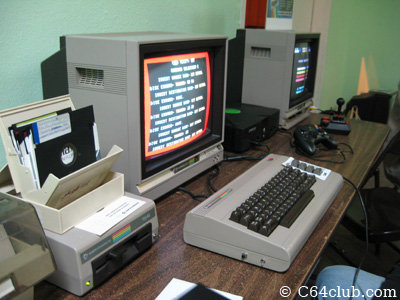 Pretty cool graphics demo with moving sprites that's running on a Commodore 64 with JiffyDOS: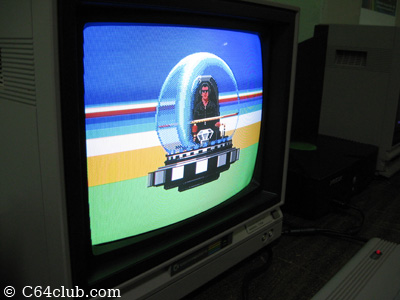 Check out the famous Amiga bouncing boing ball graphics demo running on the A600 computer: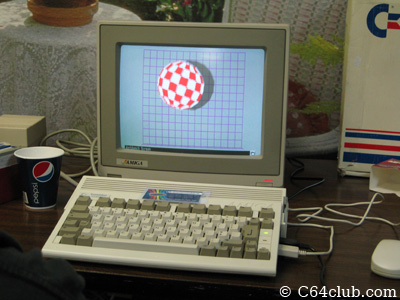 Commodore computer club members and guests watching one of the many presentations going on at the meeting: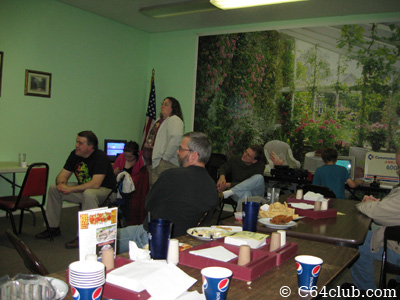 1541 disk drive with JiffyDOS, Commodore 64 (JiffyDOS enabled), 1702 monitor and modded Xbox with 300 GB hard drive running XBMC: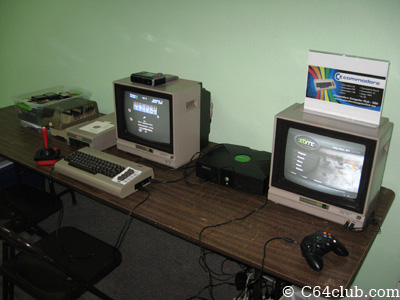 When you first turn on the CDTV Commodore Dynamic Total Vision, you see this boot screen: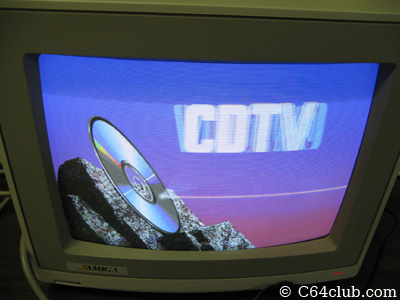 Morgan and Gregory watching a Commodore graphics and sound demonstration: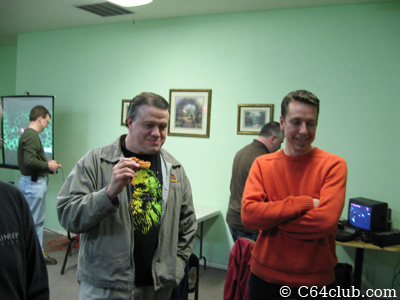 PDX Commodore Users Group and computer club members socializing at the meeting: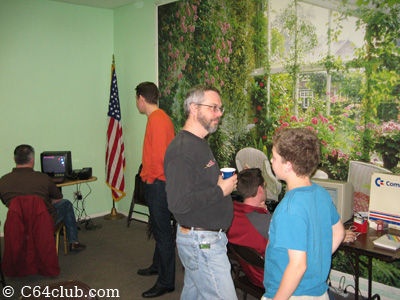 Father and son playing various card and casino games on the Commodore Amiga computer: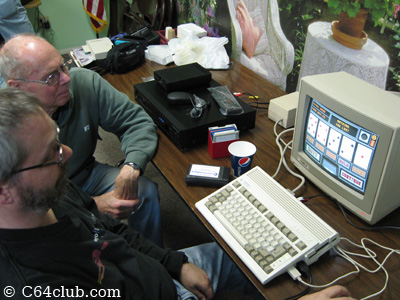 Chuck and Ian battle it out playing Soul Calibur on the Sega Dreamcast which is being displayed up on the big screen: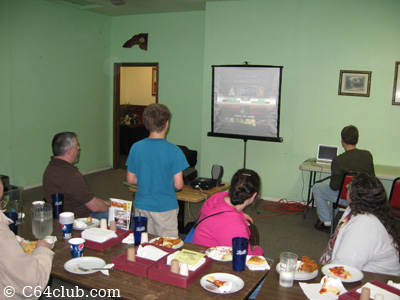 Creating some custom graphics using the Commodore Amiga paint program and mouse: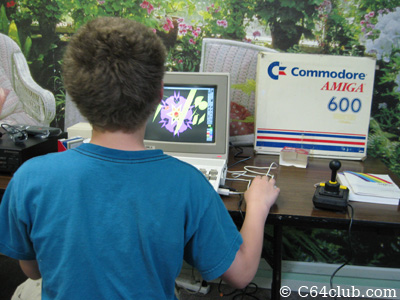 Seth getting his retro gaming on using the modded Xbox. You can see the game Zone Ranger playing in the background which is running in attract mode on the Commodore 64: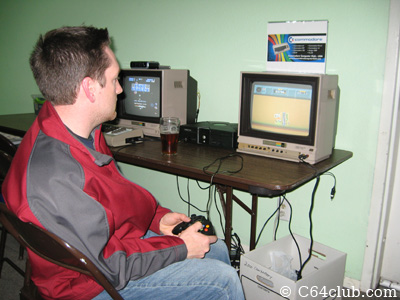 Brandon and Dan discussing Commodore hardware and software projects that they are both currently working on: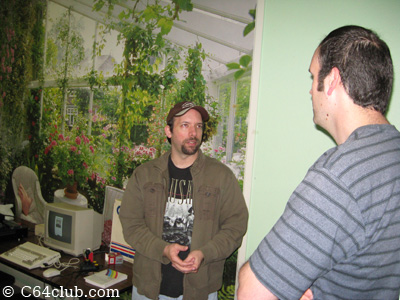 Commodore computer club members Gregory and Chuck playing a fast paced game of Warlords on the Atari 2600 Sears Tele-Games video arcade console: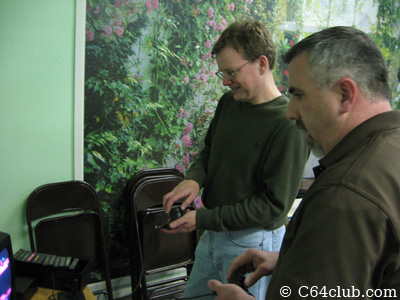 Thank you to everyone who came out from near and far fighting through traffic and rain to attend our Commodore Computer Club meeting. It's greatly appreciated.
Our next scheduled meeting will be Friday June 3, 2011, so be sure to write it down on your calendar. We hope to see you at the next meeting! Come to learn, come to share.
If you like this post, please consider subscribing to our full RSS feed. Be sure to also Like Us on Facebook and Follow Us on Twitter.