Greetings fellow retro computing friends! Below are a few pictures taken by C64 Club member Tommy at the November 7, 2014 Commodore Computer Meeting, enjoy!
Jonathan and Michael all smiles about seeing a copy of Compute Gazette magazine at the C64 Commodore Computer Club meeting:
Here we have a Commodore 64 model 64c using a Commodore CM-141 monitor. We can also see one of Jim Brain's EasyFlash 3 cartridges in use on the C64: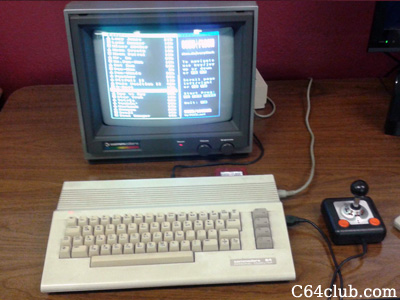 Commodore 1702 color monitor, Commodore 64C computer and a fully loaded Amiga 2000 retro desktop computer: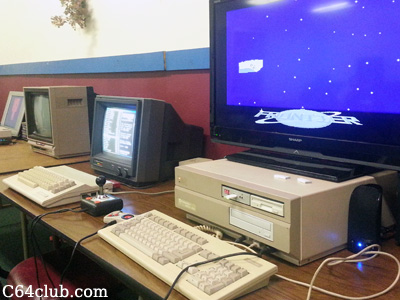 At the C64 Club meeting we can see Michael's TI-99/4A computer and Jonathan's Apple IIe computer both running the classic video game Burger Time: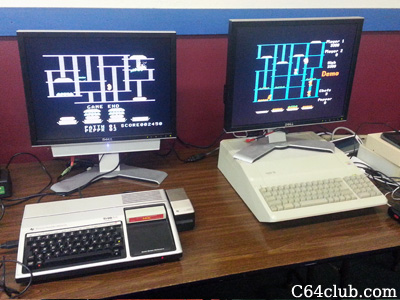 Check it out, a retro Atari 2600 Jr. console playing River Raid and a NES with a stack of Nintendo game cartridges, including the rare Tengen Tetris: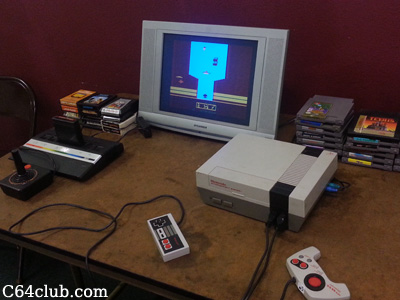 C64 Friends Aaron, Dan, Michael and Jonathan socializing at the Commodore Computer Club and Retro Computing Club meeting. Of course everyone is all smiles having a great time: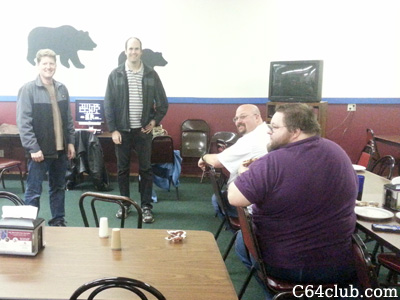 In this photo we can see Sal's Amiga 2000 computer. Also featured is Marci playing a game on the Atari 600XL 8-bit with a stereo pokey modifcation using a Commodore 1702 monitor: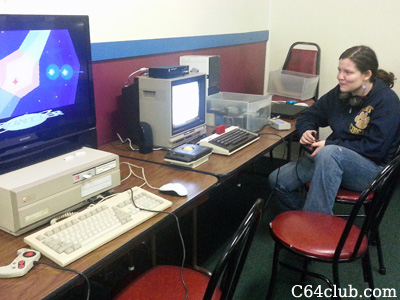 Kevin Savetz was nice enough to bring his vintage Kaypro II computer to the meeting. It fired up right away as seen in the below picture: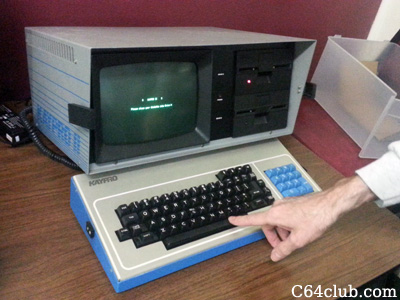 However moments later Kevin's Kaypro II computer made a snap sound, then the magic smoke was released from the back as seen here: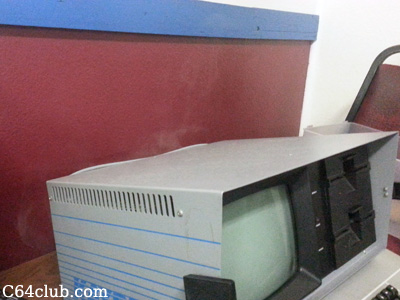 Check out the huge amount of retro computer magazines on the buy, sell, trade and free tables: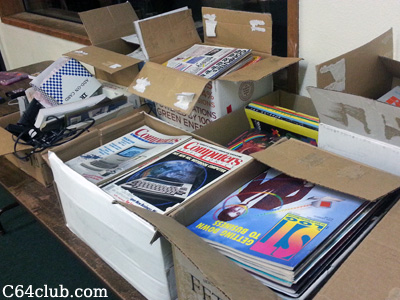 "Thank You" to everyone from the PDX and surrounding areas who have continued to support and attend the Commodore Computer Club meetings since April 2010. It's really appreciated.
We hope to see you at the next meeting! Come to learn, come to share.
If you like this post, please consider subscribing to our full RSS feed. Be sure to also Like Us on Facebook and Follow Us on Twitter.