Greetings Northwest retro Commodore computing friends! Here are some of the highlights from our October 7, 2016 Commodore Computer Meeting:
C64 MSSIAH Cartridge, MIDI Hardware and SID Software Presentation
Nintendo Virtual Boy Complete In Box Showcase
Commodore 64 Club Marketplace with Buy, Sell, Trade and Free Tables
Below are pictures showcasing some of the retro hardware and consoles at the recent C64 Club meeting, enjoy!
The always popular Commodore SX-64 Executive computer, Nintendo NES Top Loader with HDMI video modifcation and a Commodore 64c with JiffyDOS installed:
We always start the meeting off with some tasty Pied Piper Pizza, fried chicken and all sorts of other awesome food from the all you can eat dinner buffet: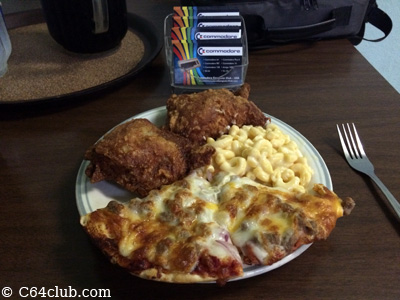 Michael, Ryan, Justin and Jaycob playing the games Nintendo Mario Bros and Space Taxi (C64) on the Commodore 64 using the EasyFlash 3 cartridge: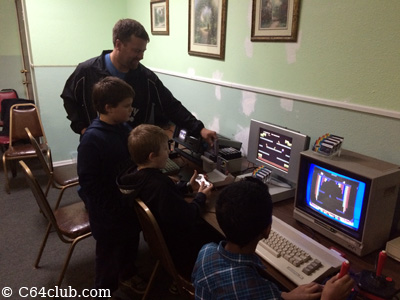 Showcasing an unreleased 1989 Commodore 64 prototype game on the SX-64. This RAD game has never been released, however that's going to change in the near future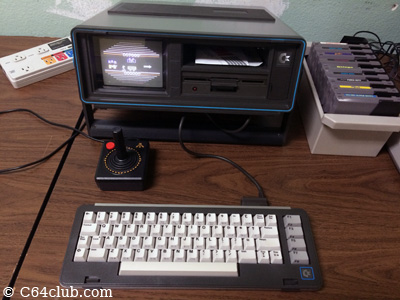 Chad playing the arcade perfect Donkey Kong Junior C64 Homebrew Game Port: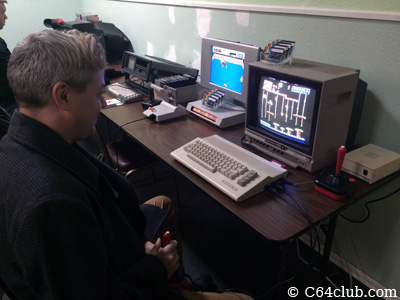 C64 Club member Doug playing some Forza 6 (hehe) on his Colecovision video game console, complete with the steering wheel setup: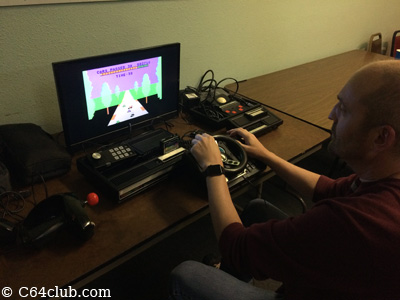 Check out all the awesome Buy, Sell, Trade and Free items representing C64, Vic-20, Books, PlayStation 2, GameCube, Xbox 360 and so much more: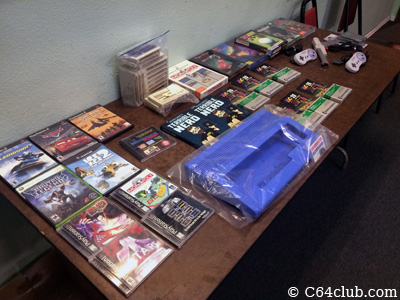 C64 Club friends, members and guests playing games and having a fun time at the Commodore Computer Club meeting: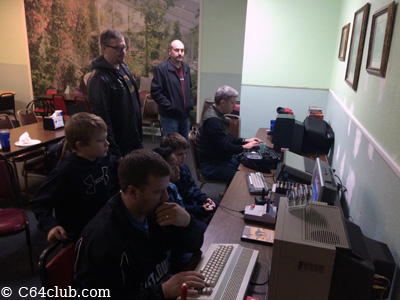 George playing with his recently fixed Commodore SX-64 computer and Flyer Internet Modem. He's playing the game Jupiter Lander. George likes anything to do with rockets: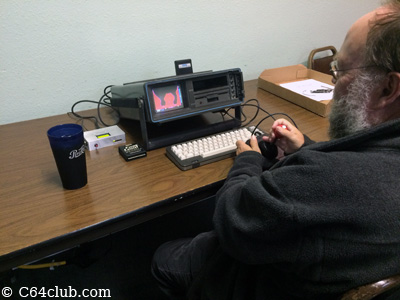 Commodore Computer Club members Paul and Marcus playing some homebrew games on the Vectrex. Also seen in the picture are Paul's Atari Lynx II game cartridges: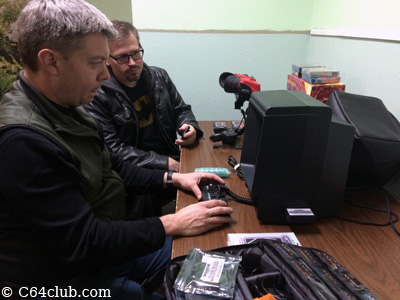 Justin, Ryan and Jaycob, our youngest C64 Club members playing games and having a great time at the Commodore Computer Club meeting: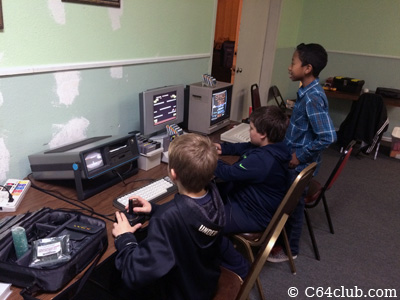 Commodore Computer Club member Aaron getting ready to install his KIPPER Viper II FPGA board into his Amiga 600 computer: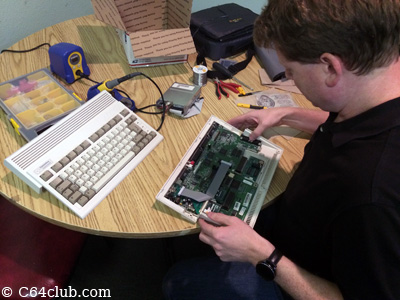 Getting ready for the C64 MSSIAH Cartridge, MIDI Hardware and SID Software Presentation. Press any key to continue (hehe):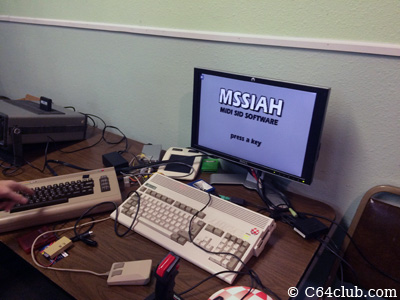 Chad checking out the C64 MSSIAH Cartridge MIDI Hardware and SID Software Presentation: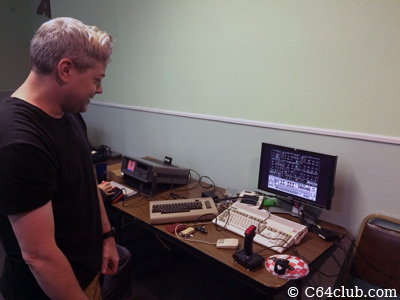 Justin is having a fun time playing with the Nintendo Virtual Boy that was on hand at the meeting thanks to C64 Club member Marcus: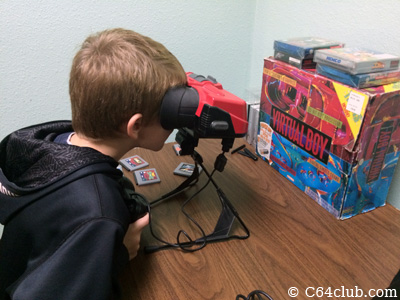 Michael playing some Mike Tyson's Punch Out! on the Nintendo Top Loader game console. You can see Justin smiling in the background near the Commodore 64c computer: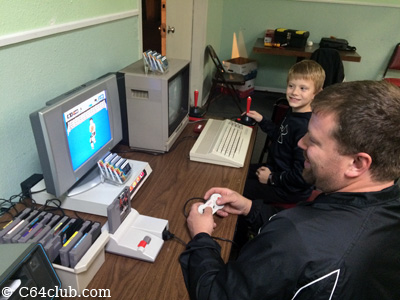 There is always tasty food, great friends and good times to be had at the Commodore Computer Club and Northwest retro computing meetings: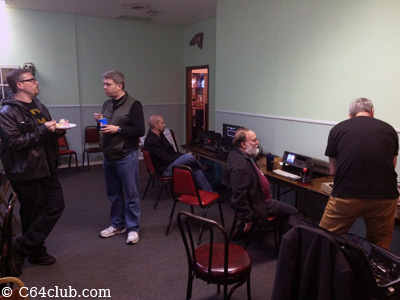 George and Chad chatting about all the things you can do with a SX-64 and Amiga 1200. Aaron can been seen in the background working on his KIPPER II FPGA mod for his Amiga 600:
Success! Aaron got his KIPPER Vampire II FPGA Hardware Accelerator installed and working in his Amiga 600 HD: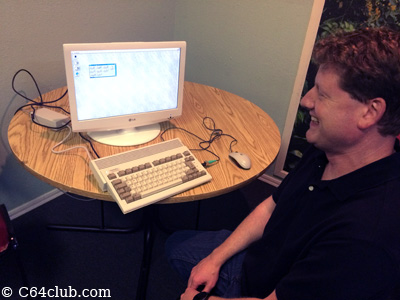 Marcus says "Thumbs up for the Commodore Computer Club" with C64 Club members Chad, Paul, Doug, George and Michael: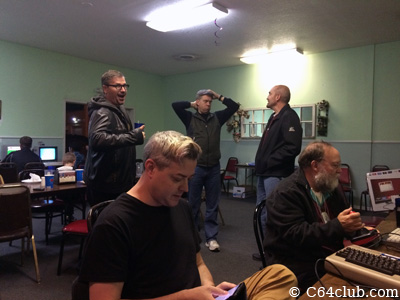 Ryan and Michael playing Frogger on the C64 computer thanks to the EasyFlash 3 cartridge: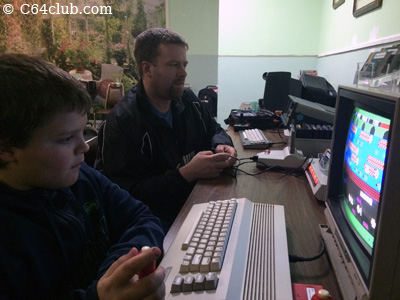 Chad giving his minty fresh Commodore Amiga 1200 computer a work out at the meeting: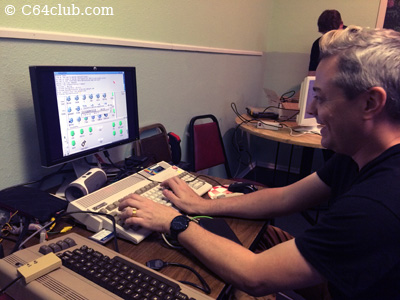 One of our youngest Commodore Computer Club members Jaycob playing Dig Dug on the C64 computer. Real games only need one button: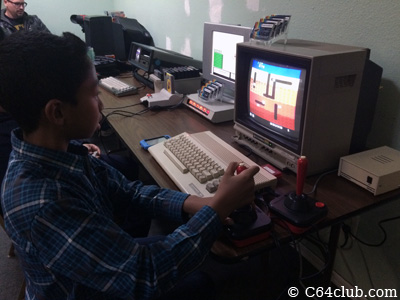 Morgan playing with his Vectrex and recent pick up: a fully loaded Vectrex multi cartridge with all the classic games ready to go: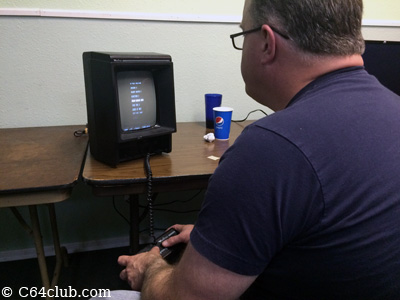 "Thank You" to everyone from the PDX and surrounding areas who have continued to support and attend the Commodore Computer Club meetings over the past 6+ years. It's really appreciated.
We hope to see you at the next meeting! Come to learn, come to share.
If you like this post, please consider subscribing to our full RSS feed. Be sure to also Like Us on Facebook and Follow Us on Twitter.