Greetings program! Below you can check out the pictures showcasing our September 5, 2014 Commodore Computer Meeting, enjoy!
It's been a while, but we broke out the Commodore 64 Magic Voice Speech Module and played some Gorf and Wizard of Wor with voice: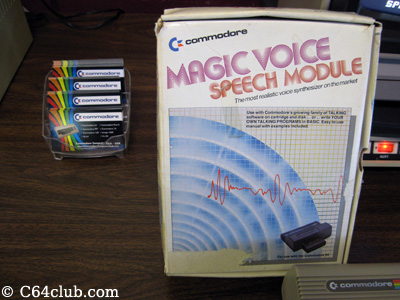 C64 Club members watching the Commodore Amiga 500 and Amiga 2000 audio and graphics demo presentations: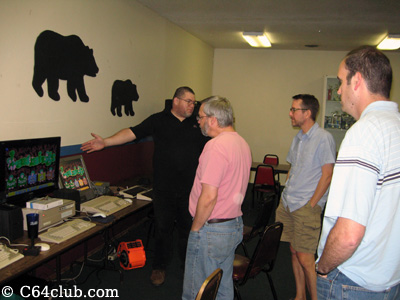 Atari 8-bit enthusiast and long-time C64 Club member Kevin Savetz playing Wizard of Wor on a Commodore 64, however he is using a Atari 2600 controller *grin* :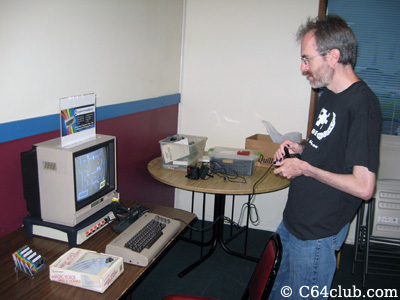 Paul, another Atari 8-bit user enjoying some Wizard of Wor, with speech. Paul was amazed at the sound and sprite graphics quality of the C64: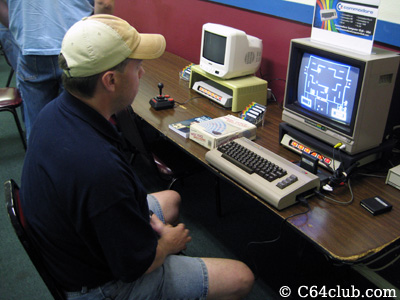 Commodore Computer Club member Dan all smiles with his new VIC-20 Programmers Reference Guide thanks to our buy, sell, trade and free tables: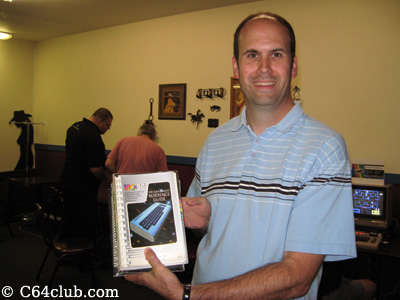 George and Kevin Savetz discussing some newly acquired Atari 8-bit game cartridges: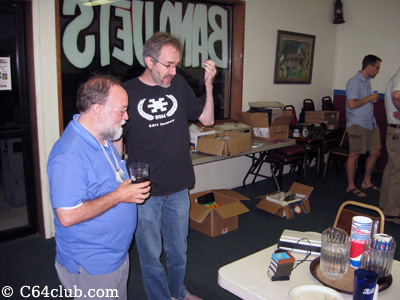 Kevin Savetz, Dan and Paul having some friendly discussions about the Atari 600XL / 800XL ports of Commodore 64 games: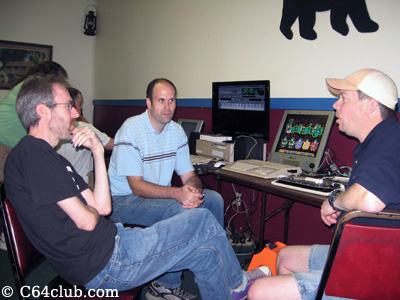 With all the talk about Wizard of Wor with Speech on the Commodore 64 computer, Paul broke out his Wizard of Wor Atari 8-bit cartridge, but no speech like the C64: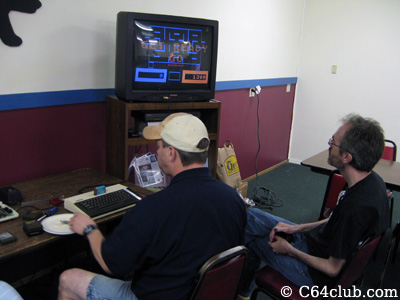 Morgan and Sal playing some retro video games on the Commodore Amiga 2000: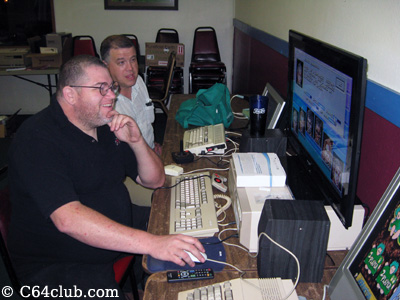 Greg and Tommy playing some Gorf with the Magic Voice Speech Module connected to the Commodore 64 computer: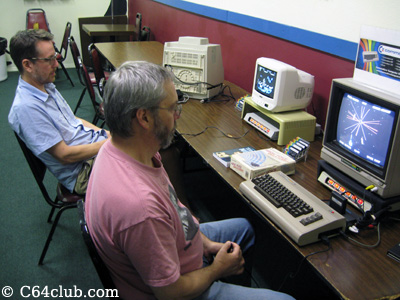 Here's a group picture with Kevin Savetz, Morgan, Rick Weis and Paul from Eight Bit Fix all smiles at the Commodore Computer Club meeting: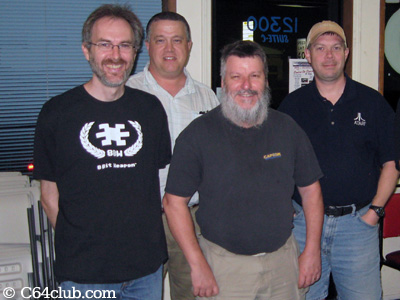 Sal and Paul doing some retro computer hacking homebrew projects at the C64 Club meeting: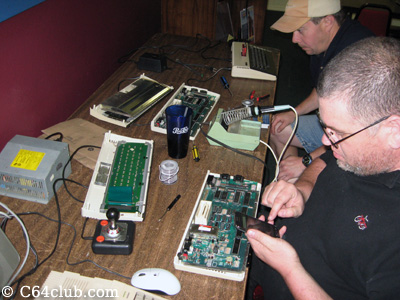 A huge "Thank You" to everyone from the Pacific Northwest and surrounding area who continue to support and attend our Commodore Computer Club meetings. It's really appreciated.
Our next scheduled meeting will be October 3, 2014. We hope to see you at the next meeting! Come to learn, come to share.
If you like this post, please consider subscribing to our full RSS feed. Be sure to also Like Us on Facebook and Follow Us on Twitter.