Below are the highlights with photos from our September 7, 2012 Commodore Computer Club and Users Group meeting:
Played classic video games on the Commodore 64 computer
The "Wives Club" with cards, board games, socializing, etc.
VIC-20 game time using the Mega-Cart loaded with 100's games
Retro computing and gaming presentations:
C64 vs VIC-20: Comparing the game Donkey Kong
Running Commodore BASIC on the Apple iPad (jailbreak)
Hands on with the Atari 2600 Flashback 2 Game Console
Demo: VICE C64 Emulator
PDX Commodore Computer Club members and guests also enjoyed:
Show and Tell with club member hardware, software and more
Tinker Time: Hacking, Coding, Exploring new hardware, Cleaning of equipment
A lot of buy, sell, trade and free deals took place
All you can eat Pied Piper Pizza dinner buffet
Check out some of our Commodore Club meeting pictures below. Enjoy!
The game Ms Pac-Man being played on the Commodore VIC 20 computer: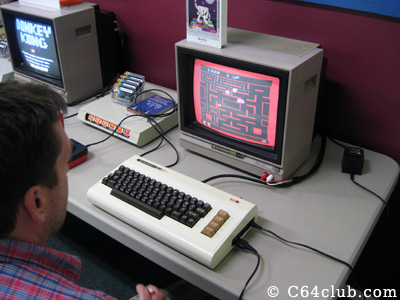 Retro collection of vintage Commodore Pins showcased during show and tell time at the C64 Club meeting: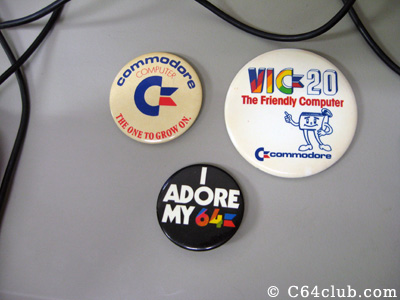 Tommy and Morgan chatting about the Atari 2600 game Pitfall. You can see the Wives Club in the background playing a board game: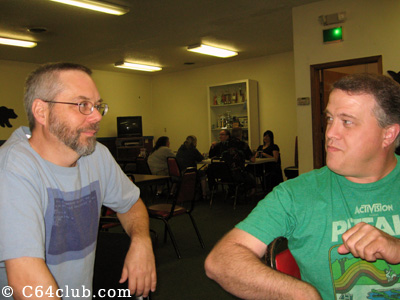 Speaking of the Atari 2600 Pitfall game, here's a screen shot showing the awesome gameplay programmed and designed by video game pioneer David Crane: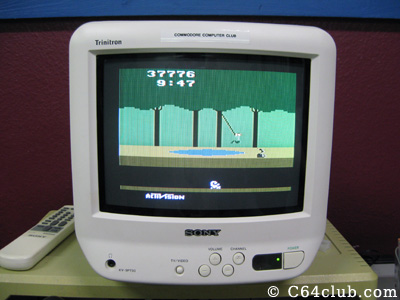 Defender for the Commodore 64 computer, a club favorite: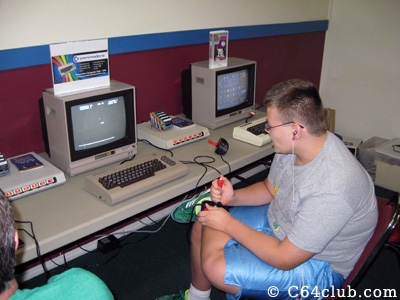 We did a C64 vs VIC-20 game competition comparing the game Donkey Kong on both systems. First we have the C64 version: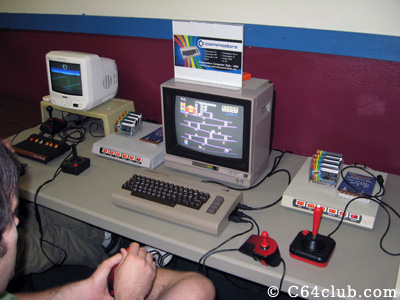 Now we can see the Commodore VIC-20 version. Which one is the winner? You decide: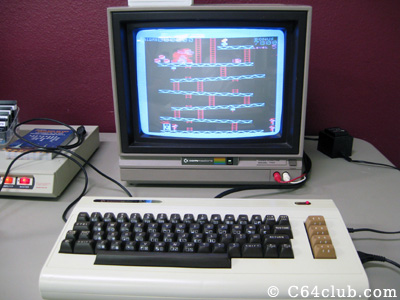 Long time club member Tommy listening to 8-bit chip tunes on Conrad's gaming and music PC he showcased at the meeting: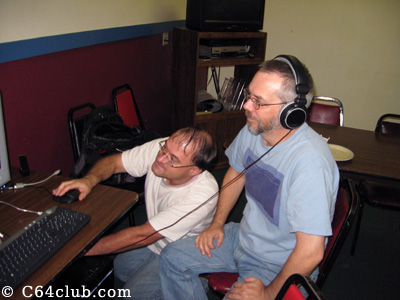 Here we can see the game Kickman being played during gametime: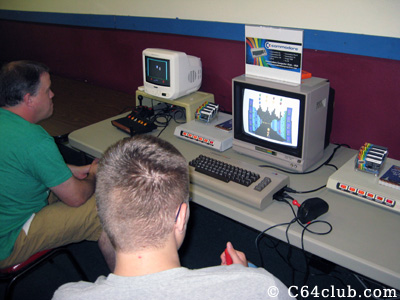 Root beer Tapper for the C64 was a lost leader at the meeting. Someone needs to make a homebrew version of this game adding in the Budweiser logo like the coin-op version: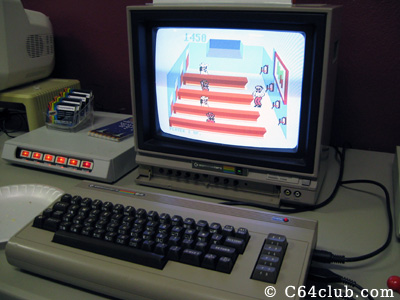 Here we can see club member Seth enjoying the Atari 2600 game Missile Command being played on the Atari Flashback 2 game console: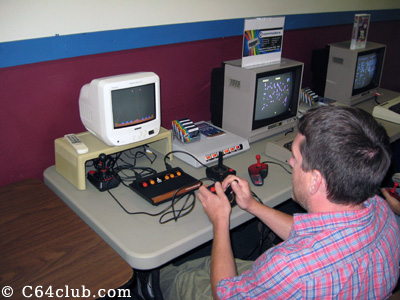 Club member Mike saying "whooo Commodore BASIC running on an Apple iPad" is pretty cool: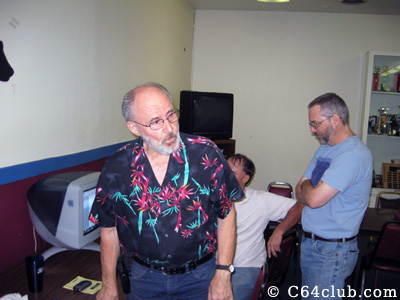 Here we can see the Commodore 64 boot screen on the Apple iPad: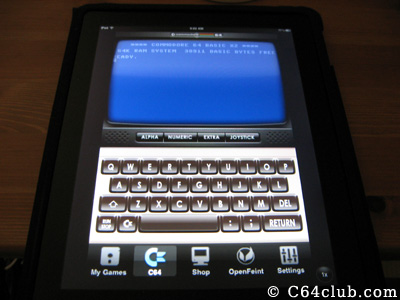 Take a look, here it is, Commodore 64 BASIC ready to be loaded on the Apple iPad: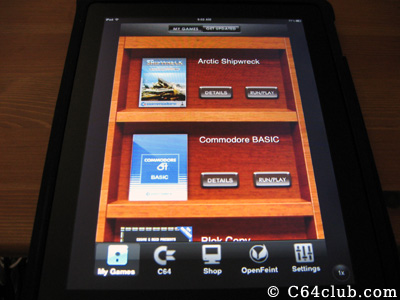 The Commodore 64 cartridge Wizard of Wor received a lot of game play during the monthly PDX Commodore Users Group meeting: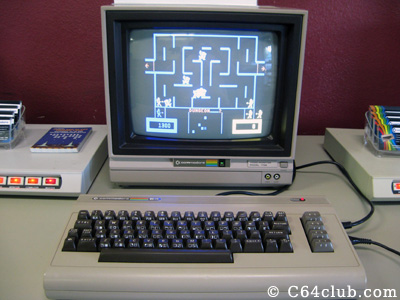 Seattle, WA based club member Conrad decided he wanted to do some research on VICE, the C64 Emulator for modern day computers: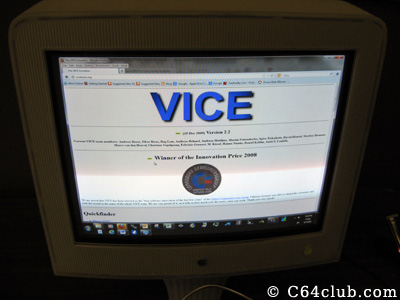 Commodore Computer Club members enjoying a little C64 Spy Hunter and VIC-20 Centipede gaming action: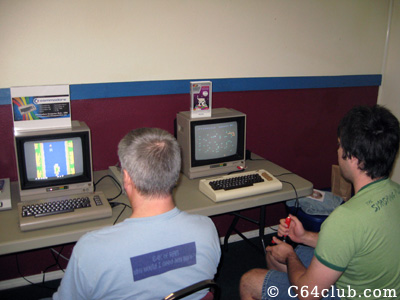 C64 Direct-to-TV C64DTV (hardware design by Jeri Ellsworth) always on hand at the meeting: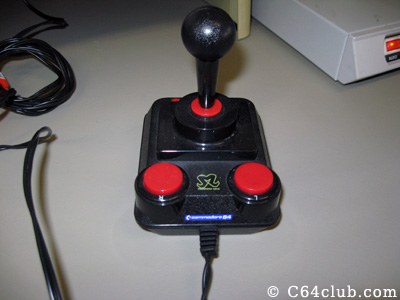 Popeye is a really fun platform game available on cartridge to play on the Commodore 64 as seen here: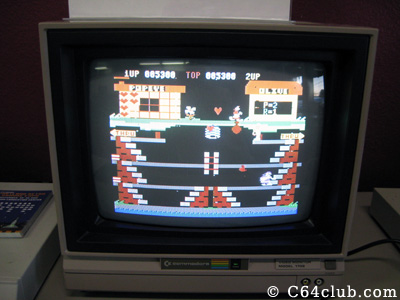 Always something for everyone on the Buy, Sell, Free and Trade tables at the C64 Club: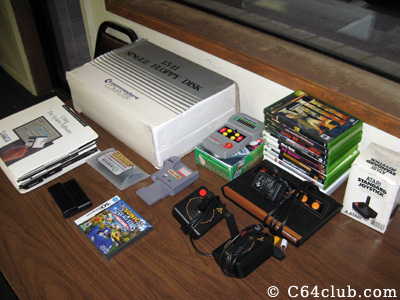 We did a ton of game playing at the meeting which was really nice. Here is a screen shot of Moon Patrol for the Commodore 64: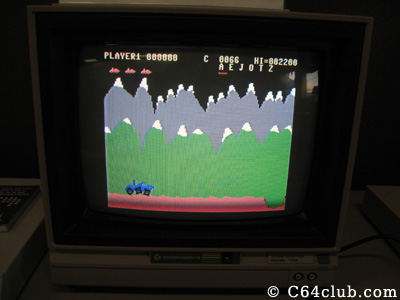 As seen here, the game Blue Max which is sort of like Zaxxon for the C64 being served up by the Commodore EasyFlash cartridge: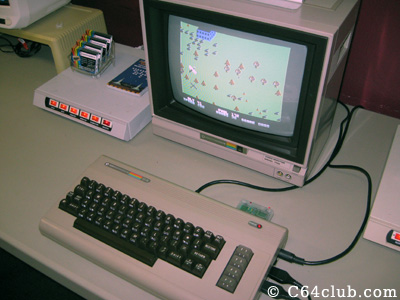 Tommy playing QBert. Apparently he's a Q*bert gaming master. He kicked everyone's butt who dared to challenge him to a game: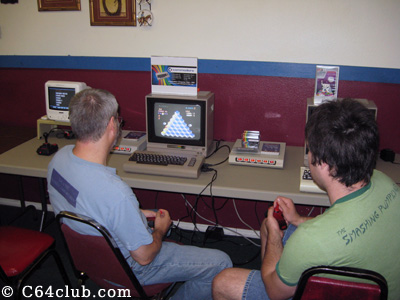 Seth enjoying some Atari 2600 River Raid which looks amazing for a game that's 30 years old: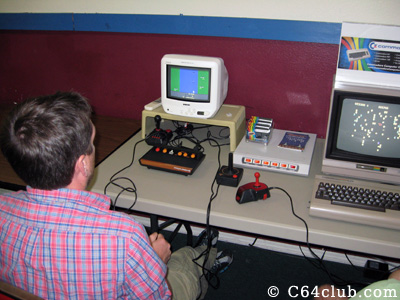 As always, "Thank you" to everyone from the Pacific Northwest and surrounding area who continue to support and attend our Commodore Computer Club meetings. It's really appreciated.
Our next scheduled meeting will be Friday October 5, 2012, so be sure to mark it down on your calendar. We hope to see you at the next meeting! Come to learn, come to share.
If you like this post, please consider subscribing to our full RSS feed. Be sure to also Like Us on Facebook and Follow Us on Twitter.