We represented Commodore computers to thousands of people at the 2010 Portland Retro Gaming Expo which was a two-day event. It was a huge success for everyone involved.
One of my favorite moments at the Expo (besides representing Commodore) was seeing little kids ranging from 5 to 10 years in age playing games on 25+ year old Commodore 64's and VIC-20's having a blast and smiling the entire time.
Below are some of those awesome moments I was able to capture with my digital camera at our Commodore Computer Club vendor area. Enjoy the pictures!
8 year-old Dade from Vancouver, WA playing the game Frogger on a 1983 Commodore 64 computer using an Atari 2600 joystick: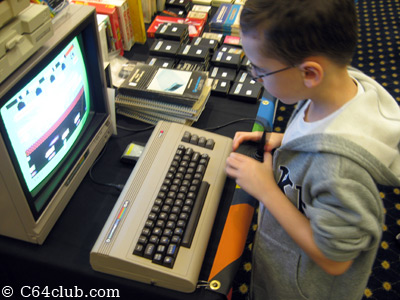 While playing Frogger at the 5th annual Portland Retro Gaming Expo, 8 year-old Jonathan was really focusing on his game play skills: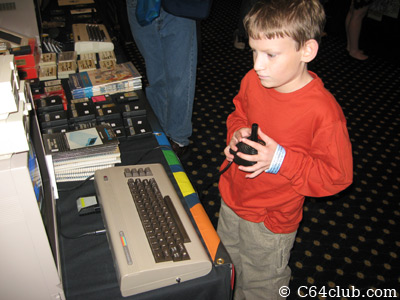 A cute 5 year-old girl named Sammy (her dad Hank Sawtelle on the left) playing Dragonfire on a Commodore Vic-20: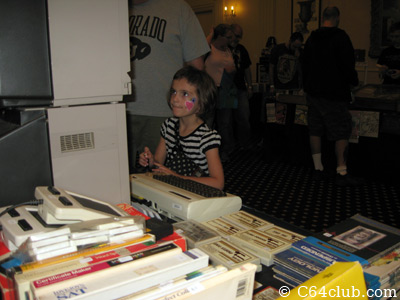 All I can say is kids really loved playing the game Frogger at our Commodore Computer Club vendor table it seems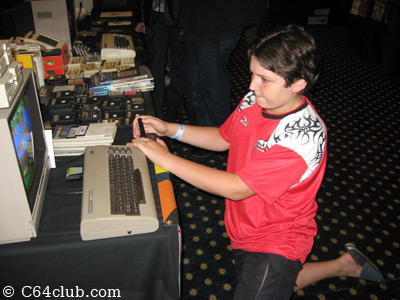 "Just one more level…" as seen on this boys t-shirt while he plays a Gorf, another kid favorite being played on the Commodore Computer Club's Vic-20: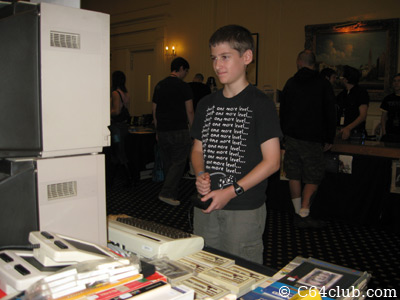 These two boys were playing Omega Race on the Commodore 64 computer. Side note, I love the Pac-Man shirt being worn by the kid on left: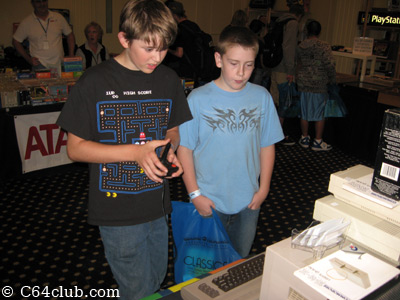 This young kid was wearing a cool hat while he played Imagic's Dragonfire on the VIC-20: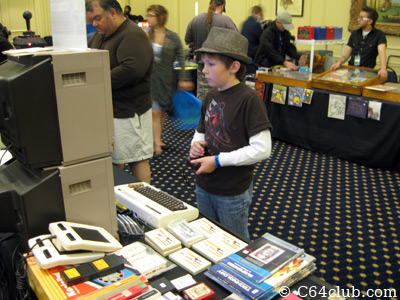 Speaking of cool hats, here's 11 year-old Abby with a hip hat and colorful shirt playing Dragonfire Commodore VIC-20 style: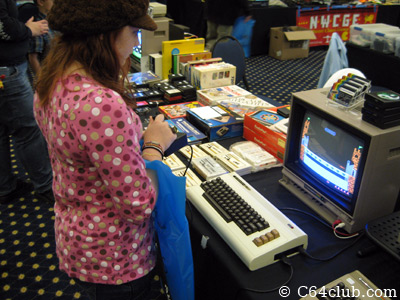 Here's one final picture of a boy playing Atlantis (one of my favorite classic games by the way) on the VIC-20: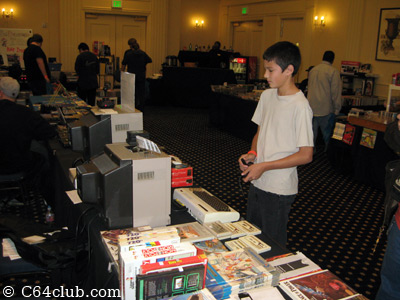 If you are a parent and recognize your kids in the photos and want me to add their names or ages, let me know. It would be nice to know exact ages to go with my post and pictures.
I'd like to say "thank you" to all the rad parents who brought their kids to the 2010 PRGE to experience some retro game play. Most of these games and systems have held up very well as we've seen and are still a lot of fun to play.
In closing, over the next few days I'll have even more pictures to post from our time at the Portland Retro Gaming Expo, so stay tuned.
If you like this post, please consider subscribing to our full RSS feed. Be sure to also Like Us on Facebook and Follow Us on Twitter.