Just a heads up for Commodore Computer Club members who will be attending the 6th annual Portland Retro Gaming Expo on September 24 and 25, 2011, David Crane and Garry Kitchen will be guest speakers.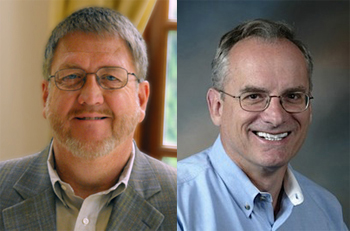 A little about David Crane (left) and Garry Kitchen (right):
David Crane formed game publisher Activision in 1979 and wrote the landmark game, Pitfall! among others. Activision pioneered third-party game development for the Atari 2600 platform and Commodore 64, selling millions of games. Crane later went on to co-found Absolute Entertainment with Garry Kitchen, releasing the NES game A Boy and His Blob.

Garry Kitchen developed Coleco's port of the popular Donkey Kong arcade game for the Atari 2600 in 1982. Donkey Kong went on to earn over 100 million dollars for Coleco. Kitchen later moved to Activision where he wrote Pressure Cooker and the 750,000 unit-selling game Keystone Kapers. Kitchen co-founded Absolute Entertainment with David Crane in 1986 which went on to release over 120 software titles.
There will be other amazing pioneers of the video game and computer industry at the Expo too like Bob Smith (iMagic, Atari and Accolade), Rob Zdybel (Atari and Sega) and Tod R. Frye (Atari) just to name a few. It will be an awesome time for anyone into vintage computers and consoles, so be sure to come and check it out.
Special thanks go out to Sean of the Commodore Computer Club who was instrumental in bringing David and Garry to the Expo.

-PRGE Staff
You can find out more by going to www.retrogamingexpo.com
If you like this post, please consider subscribing to our full RSS feed. Be sure to also Like Us on Facebook and Follow Us on Twitter.