On the evening of Saturday September 24, 2011 there was a private invite-only PRGE VIP dinner at the Portland Doubletree Hotel and because the Commodore Computer Club was instrumental in bringing David Crane and Garry Kitchen to the Expo, we were invited to the VIP dinner.
In attendance at our table from left to right: David Crane, Garry Kitchen, Bob Smith, Tod R. Frye and Rob Zdybel: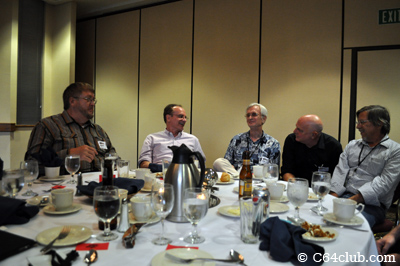 Here's a group picture taken shortly after we all finished our dinner and dessert. In the back: Yohan, Lee, Rick, Sean and James and of course in front are the programmers: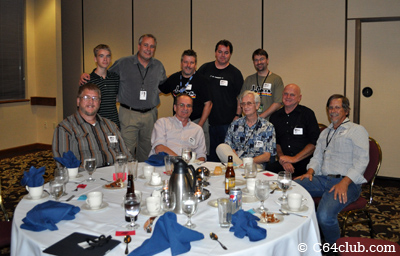 The food served by the hotel was amazing, plus the conversations and stories shared by the programmers truly blew our minds. This was one dinner that will be remembered forever.
If you like this post, please consider subscribing to our full RSS feed. Be sure to also Like Us on Facebook and Follow Us on Twitter.