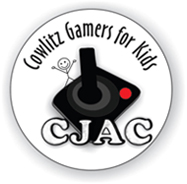 Just a small reminder that good friend and Commodore Computer Club member John Hancock is organizing the 2nd Annual Cowlitz Gamers for Kids Classic Video Game Show which is this Saturday April 9, 2011 in Kelso, Washington.
The Commodore Computer Club is a confirmed vendor and 50% of the proceeds we earn at our booth will be donated to the Childrens Justice and Advocacy Center (CJAC).
If you're looking for great deals on Commodore computer items, other retro gaming stuff like Atari, Nintendo, etc., and want to help a good cause, be sure to stop by our vendor booth.
Since our original post back on January 14, 2011 about the Cowlitz Gamers for Kids Expo, we've got an update on what you can expect to see and do at the event.
Full-Size Arcade Games:
This year's Cowlitz Gamers for Kids Expo will feature at least 8 full-size retro coin-op arcade games, all set to freeplay! It'll be like the 1980's all over again. Totally rad!
The lineup of games is subject to change, but this is the current list of arcade machines that will be on hand for the show:
Atari Asteroids
Namco Galaga
Nintendo Mario Bros
Namco Ms. Pac Man
SNK Neo Geo
Nintendo Playchoice 10 with Dual Monitor
Tecmo Rygar
Capcom Super Street Fighter 2
Atari Tetris
Arcade games are provided to the show courtesy of Minus World. I'm personally looking forward to playing some Galaga and Atari Tetris.
Special Guests Thor Aackerlund and Robin Mihara to Speak:
1990 Nintendo World Championship winners Thor Aackerlund (1st Place) and Robin Mihara (3rd Place) will speak in a special panel discussion. They will share their experiences competing in the 1990 NWC and be available for questions from attendees. Additionally, they'll compete in an exhibition match on the original NWC competition cartridge used by Nintendo for the 1990 Nintendo World Championships.
Robin Mihara will discuss the upcoming release of the film Ecstacy of Order: The Tetris Masters that follows several top gamers as they compete in the 2010 Tetris World Championships.
Fun fact: Some footage for Ecstacy of Order was shot at the 2010 Cowlitz Gamers for Kids Classic Video Game Show.
Classic Game Tournaments:
There will be two tournaments held at the show with the first-place winners of each taking home a unique trophy. Both tournament stations will open shortly after the show starts at 10:00 AM and end in the afternoon. Play as many times as you like, but competitors must go to the end of the line after each try. Top 3 scores for each tournament will be posted in realtime as the tournament progresses.
Atari 2600 Berserk – Game 9 High Score:
In game 9 of Atari 2600 Berserk, Evil Otto is invincible and moves quickly. Also, no additional lives can be earned. Competitors must clear every room without leaving a single robot. Game ends when you have exhausted your lives or fail to clear all robots before you exit a room. Highest score wins.
NES Super Mario Brothers – World 1-1 Speed Run:
It's the most iconic level of the most iconic Mario game ever. The goal is simple: run through World 1-1 of Super Mario Bros. as quickly as you can. You may not use warp pipes. Quickest to the flag wins.
For more information and up-to-date changes and additions to the 2nd Annual Cowlitz Gamers for Kids Expo, feel free to check out the official Cowlitz Gamers for Kids page powered by the Portland Retro Gaming Expo.
If you like this post, please consider subscribing to our full RSS feed. Be sure to also Like Us on Facebook and Follow Us on Twitter.