Greetings program! Computer hackers and enthusiasts from the Vancouver, WA and Portland, OR metropolitan area, our upcoming Commodore Computer Club and Users Group meeting is this coming Friday August 6, 2010 at 6:00 pm PST.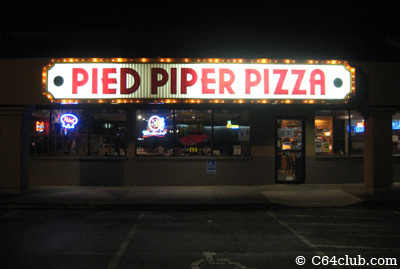 Our Commodore users group meets at Pied Piper Pizza, a local pizza place here in Vancouver, Washington which is approximately 20-30 minutes from downtown Portland:
Pied Piper Pizza 12300 NE Fourth Plain Rd. Vancouver, WA 98682
Club members and guests from the Portland metro area typically show up around 6:30 pm – 7:00 pm PST due to the work happening on both the 5 and 205 freeway and bridges. With that in mind, please allow for a little extra drive time with possible traffic.
Confirmed Commodore hardware, game cartridges and demo's that will be at the meeting:
Early version of the Commodore VIC-20 computer
Commodore SX-64 (Executive 64) computer
C64c (Commodore 64c) with matching 1541c disk drive
1581 disk drives (with JiffyDOS installed)
KoalaPad Touch Tablet (complete in box)
MSD SD-2 Super Disk Drive (22 second verified backups)
1702 Commodore monitors
Various RUN, Ahoy! and other Commodore magazines
For additional details, directions, etc, please check out the official Commodore Computer Club meetings page.
We look forward to seeing you at the next meeting on Friday August 6, 2010.
If you like this post, please consider subscribing to our full RSS feed. Be sure to also Like Us on Facebook and Follow Us on Twitter.