I didn't want to post this yesterday because here in the USA it was April Fools Day (April 1, 2012) and most people might think it was a joke, however it's now April 2, 2012, so it's safe to post.
Yesterday a couple of us from the Commodore Computer Club and Users Group went on a road trip to Bend, OR for a Commodore computer rescue: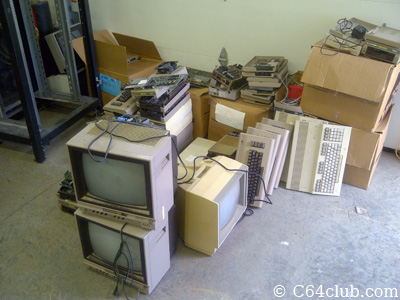 The picture above shows what we were greeted with upon arriving on location prior to loading it up for the trip back to Vancouver, WA. The end result of the rescue was the following:
Commodore 64 computers – C64
Commodore 128 computers – C128
1541, VIC-1541 and 1571 Disk Drives
C64 and C128 PCB boards (repair parts)
Boxes of cables and power supplies
Boxes of C64 cases and keyboards
1701 and 1702 monitors
A bunch of Commodore manuals and books
Road trip details: 8 hour 398 mile round trip over Mount Hood, dealing with rain, snow, a full tank of gas and spending most of Sunday between driving, loading and unloading everything up. The end result? A couple of tired but happy Commodore geeks.
"Thank you" to Jeremy K. of Bend, Oregon for donating this awesome lot of Commodore computer goodness to the club. It will be used for repairs, trades, given away, sold to raise money to fund other road trips, etc.
If you have anything Commodore related that you would like to sell, trade or donate, please let us know by using our contact form or leaving a comment below.
If you like this post, please consider subscribing to our full RSS feed. Be sure to also Like Us on Facebook and Follow Us on Twitter.