Yesterday a couple of us from the Commodore Computer Club and Users Group went on a road trip to Kirkland, Washington for a CBM PET and other vintage computer rescue: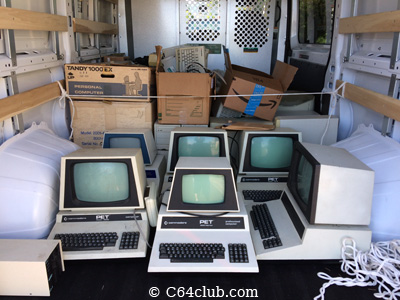 The picture above shows what the van looked like after loading it up for the trip back to Vancouver, Washington. The end result of the rescue was the following:
Commodore PET PCB boards (repair parts)
CBM Series 2001 (with original factory box and manuals)
CBM Model 4016, Model 4032, Model 8032
CBM 4040 dual disk drive (5.25″)
Tons of floppy disk and cassette tape software
Box of IEEE cables
A bunch of Commodore manuals and books
Tandy 1000 and classic Apple computer "stuff"
Road trip details: 12+ hour day driving 386 miles round trip in a 9′ Uhaul cargo van, a ton of hard labor loading and unloading. The end result? A couple of tired but happy Commodore geeks.
"Thank you" to Don T. of Kirkland, WA for working out a fair deal on this awesome lot of vintage retro computers. The Commodore Computer Club hopes you enjoy your retirement abroad.
If you have anything Commodore related that you would like to sell, trade or donate, please let us know by using our contact form or leaving a comment below.
If you like this post, please consider subscribing to our full RSS feed. Be sure to also Like Us on Facebook and Follow Us on Twitter.