Since it's now December and technically Winter, the Commodore Computer Club figured it was time to break out the Commodore SX-64 and play some Winter Games by EPYX…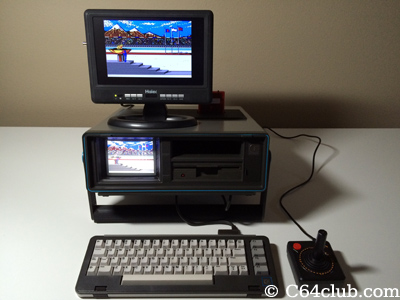 Winter Games is so much fun, especially this time of year when it's cold and snowing in many places around the world.
For those wondering, sitting on top of the SX-64 is a Haier model HLT10 portable 10.2″ digital LCD TV using a Commodore video to RCA cable. Here are some of the LCD specifications:
10.2″ Wide LCD Screen
Built-in ATSC/NTSC Tuner
Built-in Rechargeable Battery
Audio Video (AV) input (Red, White, Yellow RCA)
Wireless Remote Control
Not too many people realize that you can connect up an external monitor to a Commodore SX-64 computer. Now you know and knowing is half the battle

You can usually find these Haier model HLT10 monitors on eBay or Amazon for $50.00 USD or less and they are totally worth it for the portability factor.
If you can get one, just do it because anything with AV connections or even a coaxial connector will connect up perfectly, think vintage computers, retro game consoles, etc.
If you like this post, please consider subscribing to our full RSS feed. Be sure to also Like Us on Facebook and Follow Us on Twitter.